Plenty Mercantile has quickly established itself as one of Oklahoma City's "gotta go there" destinations. The authenticity is palpable as you walk into their shop located in a converted Chevrolet dealership in Automobile Alley. It is one of my favorite spots to pop in and grab a birthday or housewarming gift. And no matter the amount you spend, you are sure to gift a story along with a unique item. Add to the buying experience by looking up the maker on Instagram to get a sneak peek into their process or to find others the maker has impacted.
"PLENTY. It doesn't mean plenty of things. For us, it's that full feeling in your heart when you walk into your mom's house or when the whole family is gathered around the dinner table. It's knowing that not only is there enough to go around, there is always plenty. We just have to see it and share it." plentymercantile.com

I love the reference to walking into your mom's house, because for most of us our mom is our biggest fan, and with her is the place we feel most loved and supported. Plenty wants to re-create that same safe haven to be creative and try new things in their store, and with their vendors. As a customer, I walk in with someone in mind to buy for and all that anxiety to find the perfect gift goes away. Even something as simple as drinkware has a story and life to share.
In the age of "Made in China", shopping centers and mass production we need places like Plenty Mercantile to keep the dream of the shopkeeper alive. The education in their workshops, the inspiration of their styling, and the origin stories of each product will perennially inspire you in your home. This positive outlook from a community oriented business shines through not only in how they buy for their mercantile, but also in what they buy.
I like to imagine a world where the items we bring into our home remind us every day to love, stay kind, and give back. Because you never know how a small change in your outlook might affect change in someone else's life.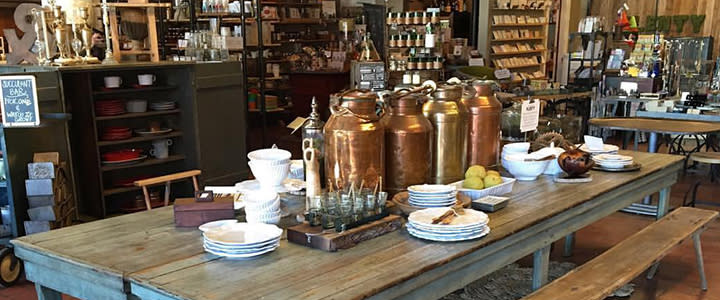 A stranger's smirk at your quirky "Go Team T-Shirt" could snowball into a toothy grin at a busy over-worked barista.
A friend's glance at your "Perpetual Celebrations Calendar" could be just the reminder they need to start planning an uplifting birthday lunch for a quiet employee tucked in a corner cubicle.
Lounging on the "Ben Franklin Quote Pillow" might be the motivation you need to take those donation boxes in, finally.
The "You Earned It Bottle Opener" may bring to mind that even small accomplishments can be cause for celebration.
Hang this "Sugarboo Letter For You Art Print" in a common space at home and be sure to repeat it to anyone that shares the room.
Next time you are out shopping for a gift for someone special, adding to your home style, or just treating yourself: be intentional with what you spend your money on and how it will affect the people around you. Where did it come from? Who made it? And why?
At Plenty Mercantile- they will be able to tell you!
For more information on shopping/ hosting an event/ attending a workshop visit PlentyMercantile.com. Follow along with their stylish story on Instagram. Like their page on Facebook.