You're hot, the summer heat is beating down on you and you can see it in your kids' eyes… the longing for something different, something cold and something sweet.You're hot, the summer heat is beating down on you and you can see it in your kids' eyes… the longing for something different, something cold and something sweet. Although you love a good traditional snow cone, you want something unique to wake up your taste buds on a blistering hot summer day. Fortunately, Oklahoma City has an array of one-of-a-kind snow cone stands to quench your thirst.
Raspados Hawaiian may have the most authentic Mexican shaved ice in Oklahoma City. Located at NW 23rd Street just west of MacArthur Boulevard, their scrumptious snow cones include options with real chunks of fresh fruit such as mango, strawberry, peach and more. Not in the mood for fruit? Try a snow cone with horchata (a cinnamon-vanilla rice drink popular in Mexico), lecherita (condensed milk) or pina colada. For a twist, you can splurge on shaved ice garnished with real chili powder. And of course, there are kid friendly drinks with bubble gum, vanilla or cookies and cream. The flavor is so good, it stays on your lips long after you've finished off your drink.
If its light and fresh you're looking for, you can find it at Katiebug's Shaved Ice and Hot Chocolate. Katiebug's travels in their vintage trailer food truck and makes frequent pit stops in Oklahoma City… check out their social media pages to find out where. You can feel a bit better about stopping for sweets here, where the ingredients of choice are natural shaved ice and fresh flavors. You will not be indulging in chemicals, dyes or artificial ingredients. This might be the closest thing to a healthy snow cone in Oklahoma City. All the syrups use 100 percent organic cane sugar, fresh fruit and local herbs.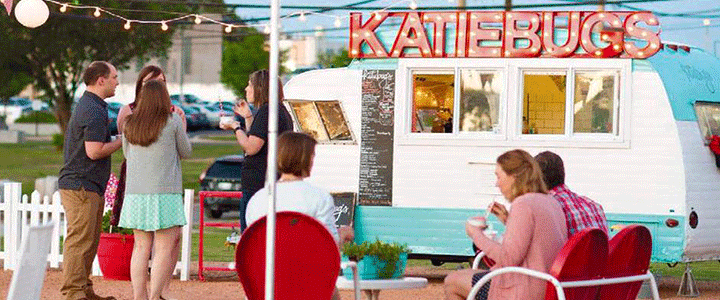 Need an additional excuse to splurge on a snow cone? How about buying one that gives back to the local community. If so, you should definitely check out Sasquatch Shaved Ice in the Plaza District. We tried the delicious Batman snow cone that was full of black cherry and banana goodness. Even the brain-shaped gummy candy on top was fun and tasty. But here's what makes this place really awesome - the nonprofit snow cone stand provides employment opportunities to low-income youth in the Classen Ten-Penn neighborhood of Oklahoma City. Classen Ten-Penn is the neighborhood directly south of the Plaza District. Sasquatch matches dollar-for-dollar what employees save towards life-enriching opportunities like education, transportation, and housing. Together, Sasquatch and Oklahoma Employee Credit Union provide financial literacy classes. If that's not enough to get you there, then the reasonable prices for their yummy snow cones should do the trick. I wholeheartedly agree with what they say, "Doing good never tasted so sweet!"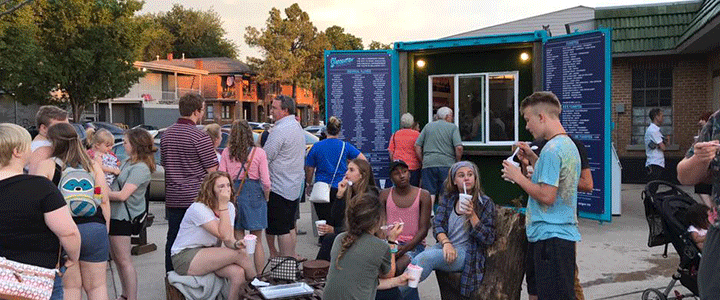 How about something a little more eclectic? Snow S'more Food Truck has a different take on snow cones. The food truck is in an airstream travel trailer and the camping theme doesn't stop there. You can order the S'more snow cone to help complete the motif. The price may seem steep, but the snow cone is ginormous. You may want to ask for extra syrup to make sure the flavor gets all the way to the bottom. Track down where to find them on their social media pages.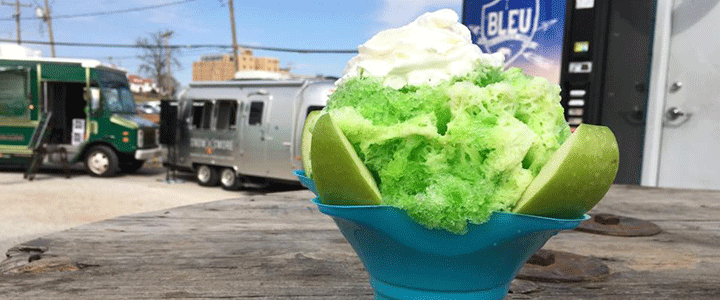 This should get you started on the ways of beating the hot Oklahoma weather while keeping your kiddos, and you, happy! Enjoy these unique ice creations in Oklahoma City.