Summertime in OKC brings longer days and school kids with new-found freedom. And, it also brings hot, muggy days that just beg for a cool dip in a refreshing pool. OKC has you covered: Along with full-fledged water parks and water features, the city boasts many public pools and splash pads. Make a pack with your clan to try a few new places this summer or take your friends to your top favorites.
Either way, all you need to do is grab your sunscreen and a towel: Here's your guide on where to go and how to stay cool in OKC.
White Water Bay
An obvious choice for an all-day, cool-off spot is Oklahoma's largest water adventure park featuring more than 30 rides, slides, pools and activities. And all summer long, the water park hosts Dive-In Movie Nights in its giant wave pool.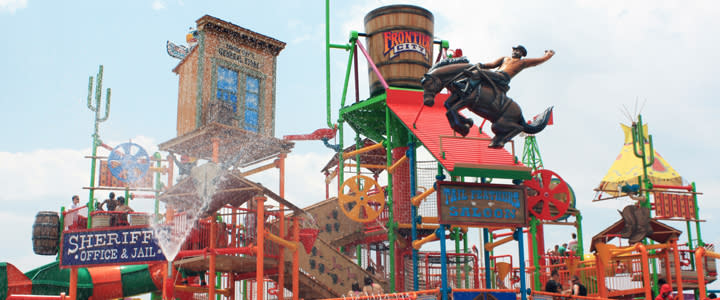 Frontier City's Wild West Water Works
OKC's major amusement park opened its own water park attraction in May 2019. Kids can splash and play throughout the brand-new complex, but check out the Gully Washer, a 66-foot tall water ride complete with loops, twists and curves that also opened this year. This new area joins the other water rides at the Western-themed amusement park, the Mystery River Log Fume and the Renegade Rapids, allowing guests to stay cool wherever they go.

Myriad Botanical Gardens Thunder Fountain
In the heart of downtown and next to the Myriad Botanical Gardens Children's Garden, is Thunder Fountain, a large and interactive splash pad open every day from 10 a.m.-8 p.m. This splash pad features booming thunder sounds and lightning displays to add excitement to your kids splash time. And, for mom and dad, enjoy the large wrap-around bench in the shade while you watch your kiddos play. Start with burning off energy in the Children's Garden or walking through the indoor botanical gardens then cool off in the splash pad. Best part? All outdoor activities, including Thunder Fountain, are free.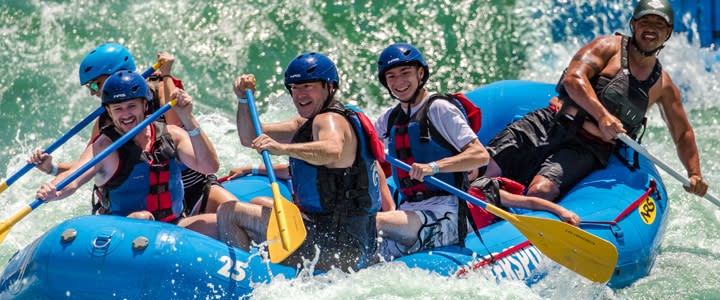 RIVERSPORT Adventures and the Boathouse District
Do you have older kids or a group of friends who want a watersport adventure? Book some time with RIVERSPORT Rapids and its Class II-IV whitewater rafting course. Go with a guide on a whitewater raft, try it on your own or tube or riverboat through its $45.2-millioin whitewater rafting and kayaking center. Even if the water doesn't cool you off, you'll have too much adrenaline pumping to even notice you're hot. Too much for you? Grab a flatwater kayak and set out on the Oklahoma River at your own pace. Sign your kids (or yourself!) up for lessons and let the breeze off the water cool you down.

Lost Lakes Amphitheater & Water Park
Try out Oklahoma's only wake park this summer. The Wake Zone offers wakeboarding, water skiing, kneeboarding and wakeskating using a cable system. And, the amphitheater is a live music venue as well. Not enough options? Try out the park's three Extreme Water Slides or the floating obstacle course.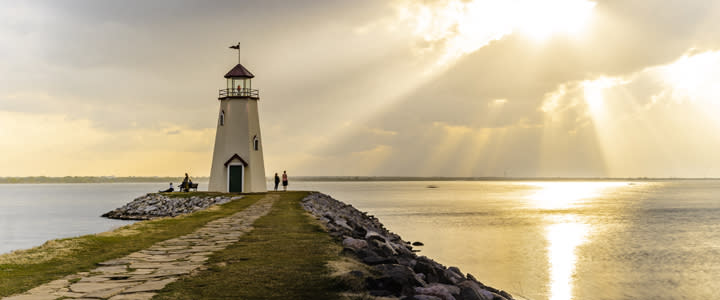 OKC's lakes
Do you have a boat and looking to set sail? Want to fish or swim? How about waterskiing or jet skiing? OKC has some great lakes to do all that and more. Lake Hefner is known for sailing, and Lake Overholser is a favorite among jetskiiers and boaters. Try Lake Draper if you want to waterski, and Lake Arcadia is your choice if you are looking for a day of swimming.