Dining out is always an adventure, and like adventures, they can be tailored to your tastes or spin completely out of control. It's kind of like the difference between a movie date with a film you selected, popcorn, soda, and the person you love, versus a haunted house. You chose the latter, but you have no idea what's about to happen as you step into the darkness.
If you're okay with the haunted house version of dining out, there are experiences in Oklahoma City that will take you on a culinary ride that's full of delicious surprises. Fair warning, though, every course is not for every taste, so it really is an adventure, and depending on the experience you choose, you might have to splurge a little.
One of the most popular choices in the metro for good and obvious reasons is Vast, a fine dining restaurant on the 49th floor of the Devon Tower. Vast provides diners access to a stunning view of Oklahoma City from the restaurant, bar or cocktail lounge, and upscale American food from the culinary genius of our most decorated chef, Kurt Fleischfresser. The wine list is outstanding, and the view inside the restaurant is nearly as beautiful as the views out the windows.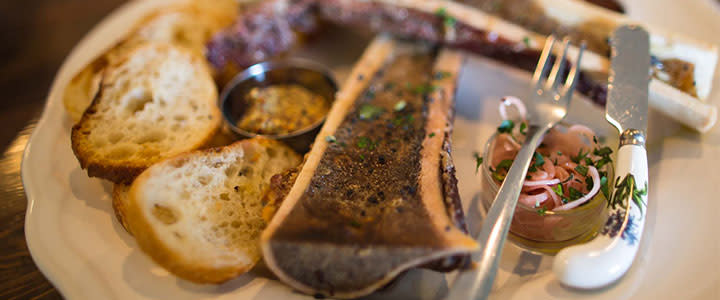 Ludivine was the pioneer of farm to table in Oklahoma City, and while it still works with local and regional providers, the best experience at the Midtown restaurant is the tasting menu at the chef's table (bar). Chef-owner Russ Johnson and his team put together a seasonal tasting menu Tuesday through Saturday every week that is both a sampling of cooking techniques and a deep dive into local ingredients, including foraged components. The only choice you need to make as you watch the magic unfold in front of you is which of Ludivine's excellent wines to pair with your courses.
Oklahoma produces some of the best beef in the world, and no matter how you feel about steak, you owe it to yourself to try one of the city's prime steakhouses while you're here. Mahogany Prime Steakhouse is a popular choice, and the downtown restaurant's location across from Chesapeake Arena makes it a perfect choice for pre-game or pre-concert dinner. The interior is stunning, especially the expansive bar area, and the lobster cargot will absolutely change your life. There is a Mahogany up on Memorial, too, or stop by an Oklahoma City institution, Ranch Steakhouse, for an incredible bone-in rib eye and one of the metro's largest wine lists.
Also on Memorial, is a relatively new dining experience, Wagyu Japanese BBQ, the city's first Yakiniku restaurant. The style is all about grilled meat, so every table comes equipped with a small grill to cook the beef, chicken, pork and seafood options. Don't worry about the process; your server will walk you through the whole process. Your protein selections are complemented by chef-prepared sides, and the a la carte menu offers Wagyu and Prime beef in three to four-ounce portions that make it possible to taste a variety of flavors without going broke.