The mercury is rising here in Oklahoma City with our first one-hundred degree temperature expected this week!  What better way to cool yourself off than with a delicious ice cream cone, snow cone or frozen treat?  We've rounded up some of our favorite spots in town to beat the heat with a something cool in hand!
What started off as the cutest little food truck ever has now found its way to the Plaza District with a brick and mortar store front at 1732 NW 16th Street.  You can visit the store front or check them out on Twitter to see where their truck will be each day @RoxysOKC. Don't miss out on the pistachio and coconut ice cream! They are fabulously cool!
KATIEBUG'S SHAVED ICE AND HOT CHOCOLATE
Alright,  keep the hot chocolate in mind for cooler days, but be on the lookout for Katiebug's Shaved Ice this summer.  Katiebug's sells their refreshing goodies out of a vintage 1958 Canned Ham Trailer ablaze with a marquee sign on top. Katiebug's handcrafts all their syrups for their shaved ice with 100% organic cane sugar, fresh fruits and local herbs for unique flavors like Cardamom Rose, Pineapple Lavender, or Juniper Orange or try one of their hand crafted sodas over ice if you prefer!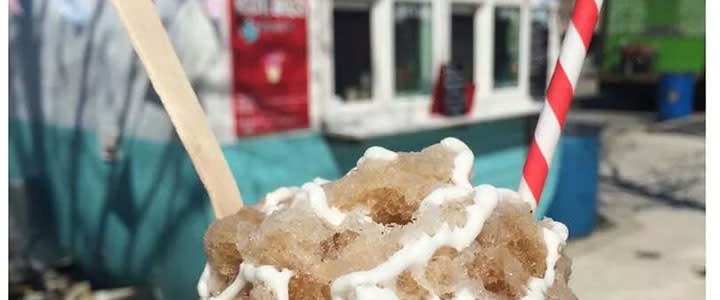 BRAUM'S ICE CREAM SHOP & BURGER RESTAURANT
While Braum's Ice Cream Shop and Burger Restaurant is a large chain, we are proud to boast that it originated and thrives in Oklahoma and there will be one very close to where you are in every neighborhood.   With 110 flavors to choose from, you can visit any of their locations and find premium and light ice cream, frozen yogurt, sherbet and other frozen delights. Personal favorites include Peanut Butter Cup Ice Cream and Cappuccino Chunky Chocolate Frozen Yogurt!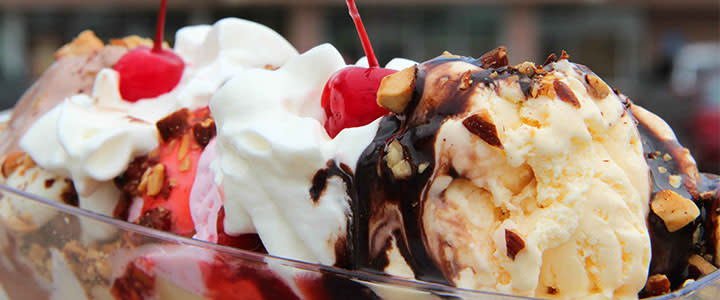 ICE HOUSE AT THE MYRIAD GARDENS
The Myriad Gardens offers a tour of some beautiful foliage and flowers and you can take it all in and then grab a cool drink at Ice House along with burgers, hot dogs, Frito Chili Pie and more. Satisfy your thirst with a shake or malt like the Birthday Cake Shake, a concoction of creamy ice cream topped with sprinkles, cold brew iced coffee or their specialty – the Barq's Creamy Root Beer Float. Take a break from the sun by enjoying it all at table on the patio shielded by a large umbrella!
Visiting Bricktown is a great idea when visiting Oklahoma City, so head downtown and make sure and finish off your dining experience with a stop at Bricktown Candy Co. You can enjoy one of their twenty-four unique flavors of gelato like bubblegum, fresh coconut and key lime pie while strolling down the Riverwalk in Bricktown.
Wherever you choose to endure the heat this summer, one of these Oklahoma treasures is sure to help you keep cool in a delicious way!