Myriad Botanical Gardens packs the summer calendar with tons of outdoor excitement from crafting and fitness fun, to concerts under the stars. Every day offers a new chance to spend quality time in Downtown OKC's most beautiful destination. Whether it's SUP Yoga, spreading out blankets for SONIC Movie Nights, or playing in the water features, Myriad Botanical Gardens is the place to get active, create new experiences and celebrate summer in OKC!
Water Features
The two water features are family favorites in the Gardens. The Thunder Fountain near the Children's Garden is a unique water structure that combines water play with sound and lighting effects of a rain forest. Seasonal Plaza water feature is next to the brand-new outdoor cafe, Pitchfork in the Park. It features spray fountains and a reflection pool kids can splash in. Both water features are open at 10 a.m. - 8 p.m. and have standard public water feature rules plus, they are free anytime!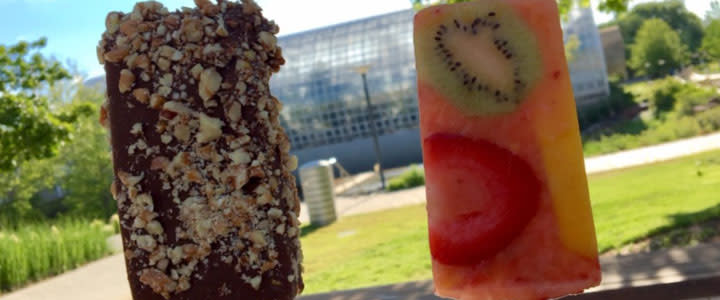 Popsicle Parties
Speaking of Pitchfork in the Park, we invite you to stop by & cool off with Jacob and Andra's hand-made popsicles with a variety of flavors including: lime, watermelon, Grandma Etta's Pecan, strawberries and cream and even one named after the Crystal Bridge! They also offer chicken sandwiches, wraps, salads & more. They are open seasonally and menus are available online.
Ride & Run
Join the Full Moon OKC bike ride & run on full moon nights (including July 8, August 7 & September 6). No bike? No problem! You can rent a Spokies bike for $5 per day if you don't have your bike with you. The run is a leisure 5K through downtown Oklahoma City. The bike ride is also a leisure activity and is usually a 6-8 mile ride toward the Oklahoma River.
Ongoing activities include SUP Yoga and Paddle Boarding on Sundays at our lake, Yoga Tuesdays at 5:45 p.m. Weekly Walk-ups on the Children's Garden Porch, Monday - Friday from 10 a.m. - 12 p.m. and a monthly guided walking tour of the gardens on the last Saturday of each month at 10 a.m. that leaves from the south lobby.
Dance with Us
Dancing in the Gardens takes place on the seasonal Plaza (by Pitchfork in the Park) on Friday, July 14 featuring 90's Hip Hop! It's FREE and open to all ages. Another Dancing in the Gardens featuring the Cabaret style featured in La La Land will take place on September 1!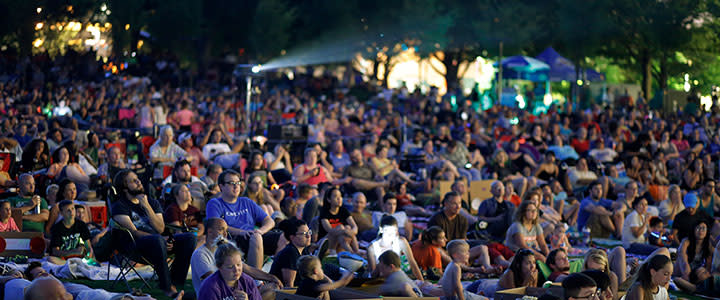 Watch an Outdoor Movie, See a Concert & Enjoy Cat Video Fest
SONIC Summer Movies take place on the Great Lawn every Wednesday night through July 26th starting at 9 p.m. Screenings include Fantastic Beasts & Where to Find Them (July 12); Moonrise Kingdom (July 19); and 42: The Jackie Robinson Story (July 26). Food trucks are available or bring a picnic! Blankets or lawn chairs are encouraged.
Saturday, July 22, Myriad Gardens is thrilled to present a special concert on the Great Lawn featuring Grammy award-winning singer-songwriter, Dom Flemons. Local group Stealwind, will open at 7:30 p.m. with Flemons performing at 8:30 p.m. Enjoy food, ice cream and hand-crafted popsicles from Pitchfork in the Park. Beer and wine will be available for purchase. Enjoy great music and great food in a beautiful scenic backdrop.
Attend the 4th Annual Internet Cat Video Festival on Caturday, August 12. This raucous, 75-minute romp through the Internet's finest cat video offerings and the shared hilarity with thousands of cat lovers is not to be missed. The film starts at 9 p.m. but put on your whiskers and cat ears and come early for pre-screening festivities complete with food trucks, live music and more.
Visit the Crystal Bridge
The Crystal Bridge Tropical Conservatory offers 13,000 square feet of plant display area in two distinct climates: Tropical Wet Zone, which is at the south end and watered daily and the Tropical Dry Zone at the north end. Some 2,000 varieties of plants and a 35-foot waterfall round out the spectacular features of the Conservatory. Prices are $8 adult tickets, $7 Seniors and Military. Other discounts apply.
The Myriad Gardens is downtown OKC's oasis and is just walking distance to Bricktown. If you're visiting this summer, make sure you stop by!