The American Banjo Museum in Oklahoma City's historic Bricktown is the only museum in the world dedicated to the history of America's instrument, the banjo, as well as a truly unique visitor experience. This winter is the perfect time to stay warm and enjoy exploring all the hidden treasures of the American Banjo Museum!
With more than 12,000 square feet of exhibit space and 400 instruments on display at any given time, the American Banjo Museum boasts art you can not only see, but hear as well!
The museum is home to some of the rarest banjos in the world. One such instrument made by Baltimore drum maker William Boucher in 1845 is one of less than 40 known to exist and the only one on permanent display in the world!
Another rarity is the Gibson Les Paul Electric Banjo. Although best known as a pioneer of the electric guitar, Les Paul began his career performing as a hillbilly alter ego "Rhubarb Red" in the late 1920s. His banjo - now on display at the museum - was given to Paul by the Gibson company in 1955 – at which time he promptly modified it into his own custom electric banjo!
One of the strangest instruments in the museum is the one-of-a-kind Player-Banjo built in 1984 by Dr. Don Gilbrech, a professor at the University of Arkansas. The Player-Banjo is built on the premise of a player piano with holes in a large paper role that correspond to a particular note, string or picking pattern. Contained in a wood cabinet, the Player-Banjo is a one-of-a-kind banjo curiosity.
Among its many treasures the museum is home to a bit of presidential history as well. After a 1933 Thanksgiving Day performance by banjoist Perry Bechtel in Warm Springs, Georgia, President Franklin D. Roosevelt expressed his appreciation by signing the calfskin head on Bechtel's banjo. After Bechtel's death in 1982 the banjo head vanished until 2008 when it resurfaced and was acquired by the American Banjo Museum.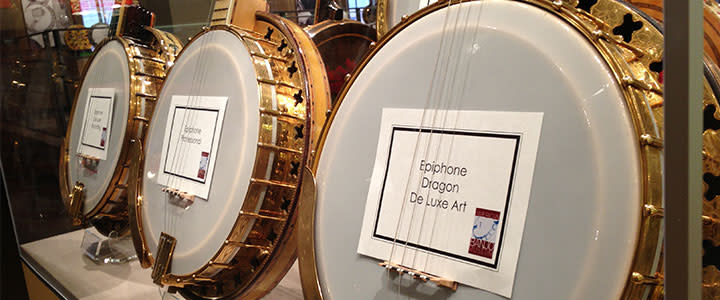 The American Banjo Museum houses beautiful instruments ranging from the mid 1800s to the modern day, covering musical styles from minstrel to classic to jazz to bluegrass to folk to alternative rock.
At the American Banjo Museum, the artistry that goes into crafting highly ornate instruments and the skill and talent that goes into playing them is on full display.  The American Banjo Museum brings history and art together in a song hundreds of years in the making. 
The American Banjo Museum is located at 9 E. Sheridan, Oklahoma City, OK. Hours of operation are Tuesday – Saturday, 11 a.m. to 6 p.m. and Sunday Noon to 5 p.m.