It's Tax Free Weekend in OKC! From quirky boutiques to outlet shopping, OKC can serve up all the retail therapy you can handle.  And, since you can save a few bucks this weekend, it's the perfect time to swoop up some of OKC's best!
Here's the rules on this cash-saving weekend: Certain clothing and shoe purchases are exempt from sales tax for this time period only. Qualified items are exempt from state, city, county and local municipality sales taxes. Retailers are required to participate and may not collect state and local sales or use tax on most footwear and clothing that are sold for less than $100 during the holiday.​
Now, here's a guide to get you started:

Red Coyote in Classen Curve
No matter what you're training for, Red Coyote is your one-stop-running-shop. Try the video recorded treadmill to determine your instep and let trained staff find the perfect shoe for you. They carry just about every athletic brand you can imagine, so stock up there and conquer your run. Your tax-free special: Everything is tax free including kids shoes and you get free socks with any kids shoes purchase.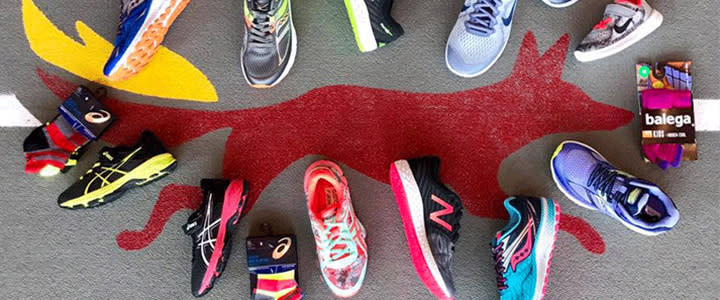 Jumpin Jackalope Mercantile in Bricktown
Located in the heart of Bricktown, Jumpin Jackalope is a modern day general store decorated in rustic, yet posh southwestern flair. Whether you're looking for Oklahoma inspired goods or wanting to sample the handmade fudge and jerky, there's always something new to take home. Your tax-free special- Save on  items that are under $100 and meet the requirements.
On A Whim in Classen Curve
The only place in Oklahoma you can find the beautifully hand-painted Mackenzie-Childs ceramics, On A Whim is your one-stop-shop for gifts for any occasion. Found in luxurious Classen Curve, you're guaranteed to find that perfect present and something for yourself, too. Your tax-free special- Save on tax for items that are under $100 and meet the requirements.
Prairie Dust Soaps & Stuff in Stockyards City
Nestled next to Cattlemen's Steakhouse on historic Stockyards City Main Street is the hidden gem Prairie Dust Soaps & Stuff.  You'll walk away from this charming mercantile with arms full of "Made in Oklahoma" soaps, bath bombs, candles and more. We're not aware of any specials this weekend but if you're exhausted from shopping, they have the best bath bombs for relaxing!
Collected Thread in the Plaza District
The Plaza District is home to many hip, quirky shops and restaurants where you can find local beers, locally sourced food and local shopping that's second to none. Collected Thread is the perfect place to find a unique piece from a local maker that you can't find anywhere else. Your tax-free special: Save on tax for items that are under $100 and meet the requirements. Also, the first 25 people that come in Friday, Saturday and Sunday and spend $50 get $10 from local company Finch Creative.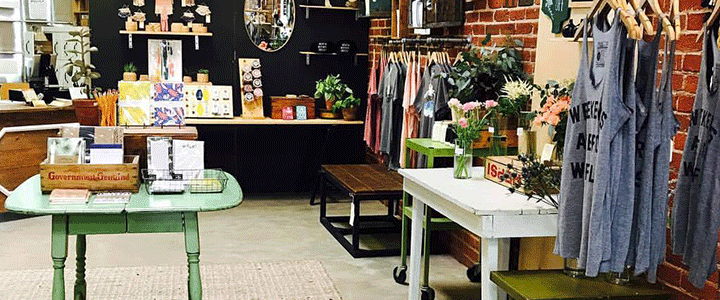 Blue Seven on May Avenue
Located on the north side of OKC, you'll find the local favorite, Blue Seven. Known for its eclectic urban style, you can find stylish leather accessories, uniquely illustrated paper goods, locally printed t-shirts for the whole family and everything in-between. Your tax-free special: Everything is tax free in the store plus all apparel is 15% off. Mark down items are an additional 30% off.
Painted Door in Bricktown
Painted Door is filled with a wonderful selection of decorative accessories, home furnishings, gourmet foods, bath and body care, candles, children's clothing and accessories and so much more. Best of all, Painted Door's gift wrap is second to none when you're looking for the perfect gift for family or friends! Your tax-free special: Save on tax for items that are under $100 and meet the requirements.
Mode Fashion in Midtown
Mode fashion is your new favorite place to shop in Midtown for women's clothing. Outfit your entire wardrobe with the latest styles all in one place. Your tax-free special: 10% off of everything in the store including shoes, jewelry, candles and more. Plus their $15 rack is 10% off, too!

And, you can continue your shopping savings at our three major malls and outlet:
The Outlet Shoppes at Oklahoma City
On the western edge of the city off Interstate 40, you'll find the Outlet Shoppes at Oklahoma City. There's more than 80 stores with names like Michael Kors, Ralph Lauren, The North Face, Express, Forever 21 and J. Crew, to name a few.

Penn Square Mall
Central to the city, you'll find Penn Square Mall, one of two large malls with everything your family will need. Dillard's, Macy's and JCPenney serve as the anchors, and inside you'll find OKC's only Apple and Microsoft stores, as well as Coach and Madewell.
Quail Springs Mall
If you're going to be in the northern part of the city, Quail Springs is where you'll want to shop. The main department stores you'll find are Dillard's and Von Maur. Quail Springs has Oklahoma City's only H&M, a two-story super-store full of fashion for him, her, children and even the mom-to-be.