No trip to Oklahoma City is complete without a visit to some of the city's many locally-owned gift shops, clothing stores, and home decor boutiques. Here's your guide to finding fun shops located just steps away from downtown hotels - perfect for getting outside and sight seeing along the way!
Automobile Alley
Located north of OKC's Central Business District on Broadway Ave., Automobile Alley was developed in the 1920's as a commercial district for the city's burgeoning auto industry. At that time, the late 19th century wood frame homes in the area were demolished to make way for the iconic two to five story brick buildings the district is known for today.
Rawhide - 1007 N. Broadway Ave. - This boutique offers a stylish take on western culture. Offerings include ranch-style home furnishings, clothing, and accessories. Choose Rawhide to take a piece of the old west home with you and add a bit of cowgirl flare to your life.
Sara Kate Studios -1100 N Broadway Ave. No. 102 - An always eclectic sampling from interior stylist Sara Kate Little, customers love the wow-factor in the furniture, textiles, and accents in this highly "Instagrammable" shoppe.
Plenty Mercantile - 807 N Broadway Ave. - Products found in this "mercantile" always check boxes for sustainability, authenticity, and stylishness. If you are lucky you might also catch one of the store's many arts and crafts workshops while you are in town!
Midtown
Not far from Downtown, Midtown offers plenty of food choices, the OKC Museum of Art, Oklahoma City National Memorial & Museum and the fun and friendly outdoor food truck park, Bleu Garten. Nestled between all of this, you'll find some great stores-perfect for taking home some OKC branded swag.
Black Scintilla - 1112 North Walker Suite 104 - Find the perfect gift, grab a local shirt or get some great jewelry for your evening night out. Black Scintilla has it all.
Chirps and Cheers - 1112 N Walker Ave #101 - Conveniently located on Walker Avenue, this is by far the cutest stationary store in the region. Go in for a gift, and be sure to check out their new studio!
Mode - 1227 N Walker Ave - This reasonably priced and beautifully curated clothing boutique is an excellent new addition to Midtown. Mode leads the list of where the "it girls" in OKC are shopping.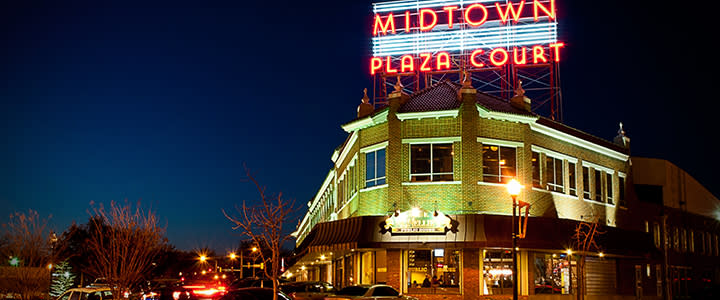 Bricktown
Sure, Bricktown offers plenty of food and nightlife but there's one place you must stop when visiting. Not only will you find fun, quirky items, there's some fancy gifts to be brought home from long-time owner, Avis Scaramucci.
Painted Door - 124 E Sheridan Ave. - This one-of-a-kind gift shop celebrated its 25th anniversary by expanding to offer a new storefront and tasting kitchen. The store has a diverse mix of accessories, furniture, and food, not to mention jewelry, handbags and apparel. Locals will tell you, Painted Door is also famous for its unique gift-wrapping service.