Let's be real...sometimes you just want to indulge, not count the calories and have some down-home southern cookin', right?
Let's be real...sometimes you just want to indulge, not count the calories and have some down-home southern cookin', right? 
We've got a list that is sure to please any belly and even some suggestions of our favorite must-eat options, too!
If you're a po-boy (fried seafood on a sandwich) fan or just a lover of great Cajun-fusion, you're going to adore Hillbilly's!  All main dishes items are offered on fresh-baked baguettes from local favorite La Baguette Bakery, or served over a bed of steamed rice or mixed greens. The main menu offers items like fried or grilled shrimp, oysters or crawfish but there is also drip beef, chicken and mushroom and other varieties for the land lover as well. You must start off with a moonshine-based cocktail and a starter like the fried pickles and onions or the fried oyster nachos. Sweeten the deal with the bread puddin' for dessert, a baked wonder topped with apple pie moonshine glaze.
Walking into Aja Bleu Café will make you feel like you're home, with its friendly service and fresh flowers on the table. Try them on Soul Food Sunday from 11 AM to 4 PM for home-cooked items like baked, smothered or fried chicken, delicious fried catfish or salisbury steak. It's difficult to pick off the sides menu with southern offerings like blackeye peas, fried green tomatoes, dirty rice, fried okra and cornbread dressing. On regular weekdays, try one of their hamburgers or sandwiches or try their famous chicken chunk dinner or wings and waffles. For breakfast, feast on favorite items like skillet potatoes or grits along with traditional items like eggs, bacon or sausage and waffles.
3. Ann's Chicken Fry House & Gift Shop
This former gas station located on historic Route 66 is the place to go for its namesake dish – Chicken Fried Steak. However, the comfort food doesn't stop at chicken fry! There is much more southern fare like fried chicken, catfish, okra, meatloaf, onion rings, beans and cornbread and more.  It's all served up in a vintage diner setting complete with a juke box and fronted by the pink Cadillac outside on the front lawn!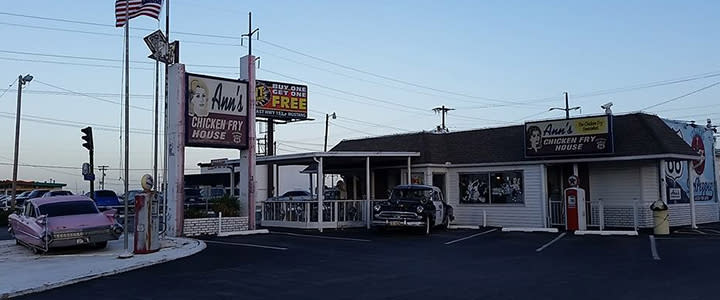 If you're hankering for southern comfort-food in a classy setting, head over to Legacy Grill in downtown Oklahoma City where the fried chicken leaves one craving for more.  Start out with a bowl of gumbo and then just try to pick from one of their delicious House Specialties like honey fried chicken, pot roast, shrimp and grits or blackened stuffed catfish. Legacy also has an extensive wine list, draft beer and an array of artifacts to gaze at of Oklahoma greats from astronauts and actors to sports stars, singers and more.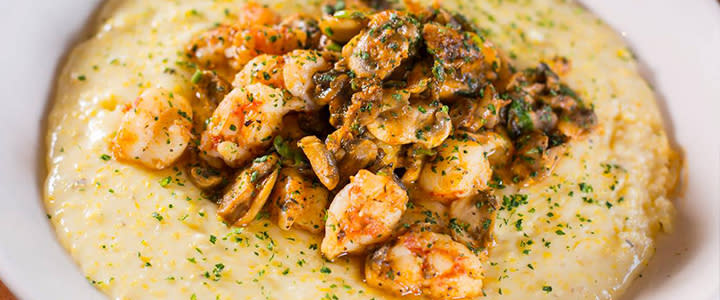 5.Off the Hook Seafood and More
What was once one of OKC's favorite food trucks is now a legitimate brick and mortar establishment and it's  a win-win for the city! Locals clamor for their favorite dish – the Smothered Seafood Fries made up of crispy hot fries doused in a lobster cream sauce full of shrimp, crawfish, lump crab and baby clams and sprinkled with bacon, cheese, fried onions and chives. You can also choose fantastic other menu items like the grilled Jerk Chicken Kabob or the Flying Pig, a pulled pork sandwich with smoked gouda, fried onions and mango habanero BBQ sauce. Accompanying savory sides include things like fried okra, cheesy grits, collard greens with smoked turkey and Cajun cole slaw. Those feeling adventurous can dive into something new like their Kool-Aid Pickles in flavors like cherry lime-aid and green apple.