You might feel like a tortured soul when August comes around. The Oklahoma heat can get to everyone. Finding something to help your kiddos get out of the house while keeping cool can be a daunting task. Here are a few ideas.
Indoor playgrounds are always a great break from the blistering heat. There are places that can really help get some wiggles out like Dynamo Gymnastic's Playzone. The 3-story high obstacle course is open to the public. It's $5 per child and socks are required, there's also a separate toddler area. Bouncin Craze offers another way to help your child expend his or her energy. There's an inflatable arena, game room, free wi-fi and a snack bar. It's $9 per child and socks are required. Jump!Zone can help alleviate the need for rough-housing. Your child should be worn out after coming here. Massive inflatable play slides, obstacle courses and bounce houses are some of the fun you can find. Children can climb, slide, jump and race on the indoor playground. There are also interactive games and toddler activities. It's $9 per child during the week, $10 per child on the weekends. Socks are required.
Museums are another wonderful way to get away from those scorching summer days. The Science Museum Oklahoma has interactive exhibits to help curious minds stay sharp. The Oklahoma City National Memorial & Museum has a state of the art museum technology lab focusing on lessons learned in the Oklahoma City bombing called the Uncover-Discover Lab. Hands-on learning opportunities engage students in science, technology, engineering and mathematics. The Museum of Osteology is America's first skeleton museum, displaying hundreds of skulls and skeletons from all corners of the world. Stop by the Oklahoma Hall of Fame at the Gaylord-Pickens Museum on August 13 for the final See You Saturdays. There, you and the kids can discover some of the many great Oklahomans whose stories are told at the museum. The event will include hands-on activities, food trucks, interactive crafts, guided tours and giveaways. Other local museums that will help you stay cool: Oklahoma City Museum of Art, National Cowboy Western & Heritage Museum, Oklahoma State Firefighters Museum and Memorial, and Oklahoma Railway Museum.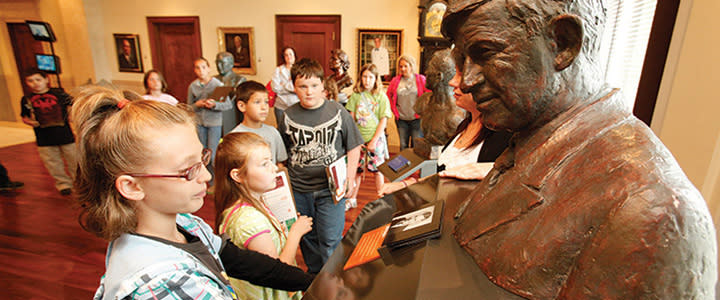 Speaking of indoor culture, there are plenty of places where kids can get those creative juices flowing while staying out of the blazing hot sun. Make + Take Workshops at Oklahoma Contemporary happens every second Saturday for parents and their children to create, at no cost, art-making projects inspired by works of art on view at Oklahoma Contemporary. Gymboree Play & Music is an option for fun indoor activities. Paint N Station provides a fun break where you can paint your own pottery. LEGO Monthly Mini Model Build at the Lego Store in Penn Square Mall is held every first Tuesday and Wednesday of the month. Build a mini model and take it home free of charge. Registration is required. The Metropolitan Library System always has terrific free options for children, from story times and music to arts and crafts.
One-stop-shops for indoor entertainment that provides games, rides and food: Chuck E. Cheese's, GattiTown, Brickopolis, Main Event Entertainment, and Dave and Buster's.
For the adrenaline junkies who need an indoor outlet, play laser tag at Laser Quest or race on a go-kart at Pole Position Raceway.

If you want to stay really cool, indoor ice skating or roller skating can help. Some other oldies but goodies shouldn't be overlooked either, get refreshed by catching a movie or getting in a game of bowling, both of which will keep you out of the sizzling sun.