Oklahoma City has a range from very spooky to so cute, it's scary, when it comes Halloween festivities. We've gathered our top picks for the whole family, including events without kids and those specifically designed for our pups to play!
Family Friendly
Myriad Gardens' Pumpkinville is a must-see in OKC! The Children's Garden will transform into a fall wonderland featuring thousands of pumpkins, hundreds of gourds, fall foliage and piles of fun to be had. A ride on Mo's Carousel is included in admission. Pumpkinville is the best place to snap a photo of your little pumpkin this fall. Pumpkinville will be held through October 27.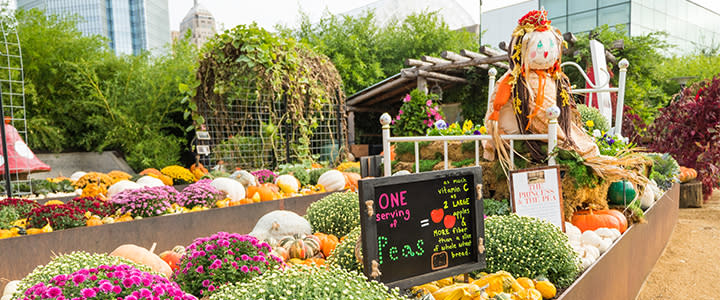 The Oklahoma City Zoo's Haunt the Zoo will be held on the two Saturdays and Sundays leading up to Halloween. Children and parents are invited to explore the zoo and visit themed booths to trick-or-treat. You can expect quality candy and treats along with animal sightings!
The Orr Family Farm and Pumpkin Patch offers a classic, fall experience, just 20 minutes south of Downtown. Make plans to visit to pick your pumpkins and return for Trick Orr Treat with bonfires and a screening of The Great Pumpkin.
Downtown's newest attraction, Scissortail Park will host its first-ever movie screening, E.T. on October 26th. Get in the spooky spirit with costumes, lawn games, face painting and enjoy food trucks along with on-site bars while you enjoy the movie. The Scissortail Park Concert Series will also hold a special themed concert on Halloween.
For those who want to enjoy the Trick-or-Treat experience in a safe environment we recommend Haunt the Hill on Halloween. Gather along the historic strip of Capitol Hill, Calle Dos Cincos, for storefront trick-or-treating, games, costume contests. The event is free, pre-registration is required. Downtown OKC Inc.'s Brick or Treat invites families to trick-or-treat through Bricktown on Halloween. The central hub will be outside Mickey Mantle Plaza of Chickasaw Bricktown Ballpark.
Adults Only
Ready to venture out for a kid-free night? The Dinner Detective brings a bit of mystery and taste of gourmet to the historic Skirvin Hilton Hotel on Saturdays in October and a special Halloween edition. Enjoy a four-course meal, interactive show, lots of laughs and a big thrill!
Tired of the same old Halloween Parties? Gather your friends and Haunt the River with Oklahoma River Cruises. Enjoy onboard tunes, cocktails and appetizers. Haunt the Zoo: All Grown Up will return for a second year, even scarier than before with hair-raising haunted experiences, food trucks, specialty cocktails and beer.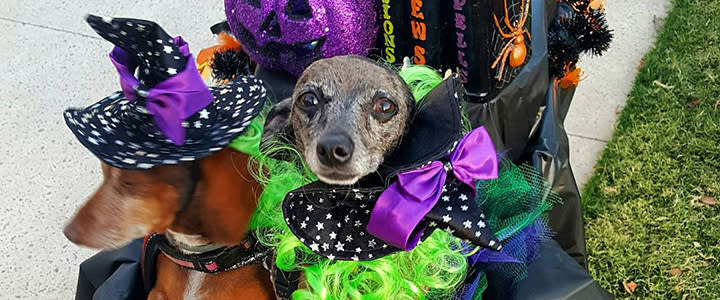 Dog-Friendly
Everyone and their dog should plan to join in the Spooky Pooch Parade at the Myriad Gardens. There will be live music, a performance by OKC Disc Dogs and prizes for creatively costumed pups.
Tricks and Treats Howloween Block Party will be held at the 9th Street Barking lot in Downtown OKC. The event commemorates the 5th Anniversary of The Country Roads Animal Rescue, with proceeds benefiting the nonprofit. Friendly pups and their handlers are invited to join for games, costume contest, vendors, and more.
The Muttser Mash is a Halloween party for pooches and their people at Midtown OKC's Fassler Hall. Pups are encouraged to dress up or costumes can be purchased on site. A digital costume contest will be held after the event, the most likes on Facebook wins! Enjoy treats, games and socializing for furkids along with the rest of their family.