Whether you are looking for a fun way to explore the city or get in some exercise, grab your bicycle and get ready to hit the trail. Oklahoma City's urban trail system crisscrosses the city with over 80 miles of multi-use trails. These trails connect you to the city's top recreation and entertainment districts while providing some of the best scenic views around. Grab your bike and check out these top picks for urban cycling in Oklahoma City.
The Oklahoma River Trail just south of downtown offers visitors one of the best cycling paths and views in the city. Cyclists can enjoy 13 miles of paved multi-use trails along the Oklahoma River taking them past popular attractions like Wheeler Park, Boathouse District, and the Mat Hoffman Action Sports Park. This trail is just one of the ten interconnected trails along the Oklahoma City trails system.
 For additional scenic views, don't pass up a chance to cycle around one of the area's lakes. Catch a glimpse of sail boats and kite surfers while pedaling along Lake Hefner's Bert Cooper Trails. A local favorite for cyclists, this trail offers 9.8 miles of level, paved paths along the Lake Hefner perimeter.  The 3.2 mile Overholser Trail provides cyclists a great view of the eastern side of Lake Overholser and Route 66 Park.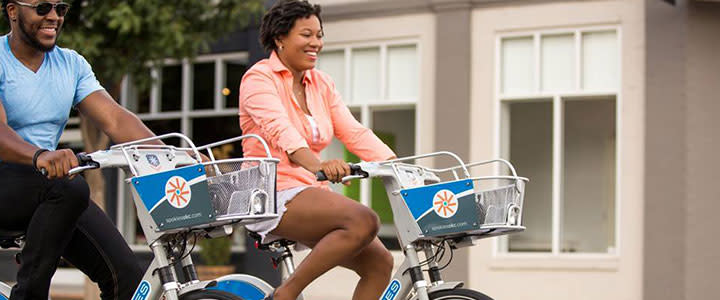 Want to cycle but didn't bring a bicycle?  Rent one from the many area bicycles shops. You can also rent a Spokies bike from one of the self-service stations found all around downtown and Bricktown.
Interested in taking part in a group ride? Many area bicycle shops and local clubs, offer regular meet-ups and scheduled rides.  One popular ride for families during summer and fall months is Myriad Botanical Gardens' Full Moon Bike Ride & Run. It's an evening ride designed for all ages and skill levels. The ride, created by Schlegel Bicycles, takes you on a specially planned route through downtown Oklahoma City.
Oklahoma City provides several single track mountain bike trails for those seeking a more adventurous cycling experience. These wooded trails allow you to get out and explore our famous red clay dirt.
Ranked as one of Oklahoma's top 10 best mountain bike trails, Bluff Creek Trail is an intermediate 4 mile trail loop located just north of Lake Hefner (North Meridian & Hefner Road). This woody trail provides riders a few steep inclines, natural obstacles, and a creek crossing.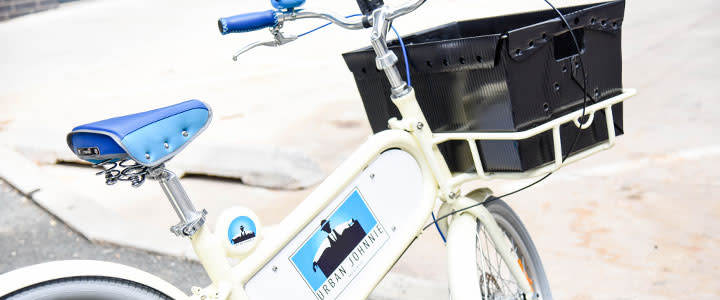 For more trail loop options, Lake Stanley Draper Trails offers six different singe track loops  with over 12 miles in varying lengths. You'll find these on the Northeast side of Lake Stanley Draper (on S. Post Road just south of I-240). Many of the trails here are rated for beginner to intermediate and aren't too technical. One trail is rated expert for those that want a challenge.
Instead of walking or Ubering your way around OKC, be sure to bring your bicycle.  Heartland Flyer trains now allow you to bring your bike free of charge. Reservations are required.
There are miles and miles of bicycle trails for you to explore in Oklahoma City. From urban trails along the river, to woody dirt paths, there's a path perfect for every riding style. Grab your bike and your helmet, and we'll see you soon.