Valentine's Day serves as the most romantic day of the year.
It's the one day that's designated to show your loved one just how much you love them. This year, COVID-19 and winter weather may alter your original plans. However, there are still several unique ways to impress your sweetheart by spending a romantic weekend in OKC. From recreating an intimate dinner at home to simply finding fun and safe things to do for couples, there are several ways to spice up the special day. Stay safe and stay warm with your loved one this Valentine's Day in OKC!
Takeout and Chill
If you don't want to miss out on the dinner aspect of Valentine's Day, most restaurants in OKC offer takeout so you can enjoy a fine dining experience without venturing far. Your only job would be to set the atmosphere wherever you decide to socially distance and set up your romantic date. A special picnic setup or an intimate candlelight dinner is sure to make your significant other feel special.
The most romantic restaurants in OKC reside throughout the city's various districts. The Mantel, Red PrimeSteak, Mahogany, the Ranch, and Broadway 10 are a few of OKC's best steakhouses that will provide you with a classic and intimate Valentine's Day vibe. Cheever's and Picasso Cafe have been popular date night spots for years and continue to serve contemporary cocktails and top-notch cuisine in a charming, whimsical setting. These locally-loved spots offer takeout for a safe date night option at home. For the couples looking to brave the kitchen, try your hand at Chef Jeff's easy side dish, pan-roasted parsnips with maitake mushrooms and hazelnuts, or learn how to make the famous Be Mine, Valentine pizza from Hall's Pizza Kitchen. 

Special Dining Experiences
 At Mary Eddy's, Chef Jeff Patton has created a special three-course prix fixe dinner menu available on Valentine's weekend, featuring Italian classics like homemade spaghetti and meatballs, garlic knots, Caesar salad and a chocolate finish. This menu is available for dine-in only and reservations can be made here. Ludivine in Midtown and The Metro Wine Bar & Bistro are offering special dine-in only Prix Fixe menus for Valentine's Day that are sure to be delectable and unforgettable. Visit OpenTable for more information or to make a reservation. Although they're currently offering dine-in only, you and your date can dine 49 floors above OKC at Vast where you'll find fresh fare, inventive cocktails, and an unmatched view of OKC.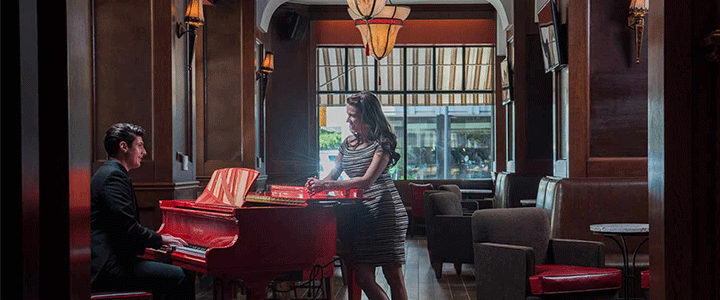 Romantic Hotels in OKC
Maybe you want to switch it up for Valentine's Day and take your sweetheart somewhere new for a different experience. Oklahoma has an extensive catalog of affordable yet romantic hotels in OKC to spend your evening, including 21 C Museum Hotel, Skirvin Hilton Hotel, Ambassador, Wyndham Grand Hotel, or the all-new Omni Oklahoma City Hotel, all centrally located in Oklahoma City. There are several intimate hotels to choose from around the city, including unique and historic lodging options.
Date Night 
Staging the perfect date night in the comfort of your own house is always an option. You could send flowers from Trochta's Flowers and Garden Center, have a romantic movie marathon, watch a new show, or stream a virtual film from the Samuel Roberts Noble Theatre at the Oklahoma City Museum of Art. If you want to make this day extra special for your significant other and don't mind venturing out a little bit, Udander is offering a massage experience at a discounted price for couples, or you and your loved one can stream the performance of OKC Ballet's The Firebird online for just $30. The Myriad Botanical Gardens is also offering free admission to the Crystal Bridge Conservatory on Saturday, Feb. 14th for a special date option that won't break the bank!