Oklahoma City offers an abundance of activities for New Year's Eve, but if a Champagne toast with friends or family is your thing, these metro hotspots have great deals on bottles and glasses of bubbles for welcoming the new year.
OBar at The Ambassador Hotel in Midtown has been opening a Methuselah every year since they opened. The Methuselah is wine industry shorthand for a six-liter bottle of Champagne. (That's roughly eight regular bottles.)
"I pick a different one every year," Cole said. "This year we're opening Billecart-Salmon Champagne, and we'll sell carafes from that bottle."
OBar will have several price tiers for New Year's Eve, with Billecart-Salmon at the top tier, but VIP guests will be able to choose from full bottles, half bottles, and glasses of other bubbles, including the delicious (and very affordable) Adami Garbel Prosecco—an Italian sparkler.
If Plaza District is more your scene, Mindy Magers, the sommelier at The Pritchard Wine Bar, has a list of ten different sparkling wines for the night. While there are some pricey Grower Champagnes on her list, like Gaton Chiquet and Pierre Peters, she also has a wide variety of price points. Included on the list is the new (to Oklahoma) style called Pet Nat. Short for pettilant naturel, these wines are intensely dry, affordable, and stylistically friendly to beer drinkers who dislike Champagne's "yeasty" taste. The Pritchard will have Julian Braud Pet Nat for New Year's Eve.
Closer to downtown festivities, Luke Fry at Park Avenue Grill at The Skirvin is featuring Medivol Cremant de Limoux. The Limoux is the region in France where sparkling wine actually originated, and this super affordable bubbly is also incredibly easy to like: fruity, zippy, and refreshing. The wine features are also available in the Red Piano Lounge, along with live music.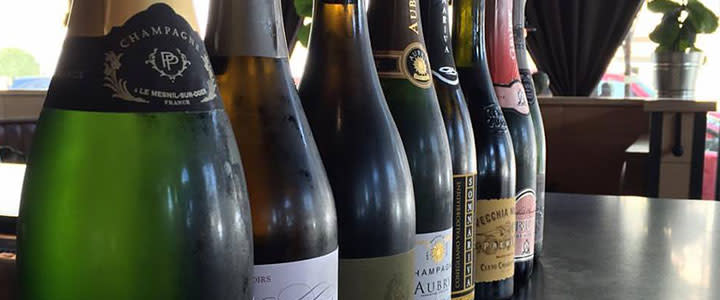 Packard's New American Kitchen will close at 10pm New Year's Eve, but if you need dinner and bubbles before Opening Night, Karen Schones has British bubbles on her list. Yes, British, and, yes, they're delicious. If you haven't had a chance to try sparkling wine from England, Packard's will have Hush Heath "Balfour 1503" Brut Rose for the evening.
Vast has made special arrangements to be open New Year's Eve—the building would normally be closed—but the last bar guests will be allowed in at 11:15pm.
"We have to close the elevators at that point," Chef Kurt Fleischfresser said. "People will obviously still be able to leave, but we won't be allowing anyone to come up after that time."
Dinner service at Vast will begin at 4pm, and reservations for the best view of New Year's Eve are required. The sparkling list is extensive, but glass features include Tintero Moscato d'Asti for those with a bit of a sweet tooth, and rare, by-the-glass pours of Marc Hebrart Reserve, a wonderful Grower Champagne.