While there are many important rules at Wilshire Gun Range, one stands out as extra sensible: no drinking at the Range Café until after you shoot. Wilshire Gun Range is the newest shooting facility in Oklahoma City, and the complex is designed to guarantee a day or night of fun, and not just on the lanes.
For visitors, the process is the same as for regulars, and they have simplified it such that it's a very pain-free, unintimidating experience. Check in up front by presenting your valid driver's license or state-issued ID. Marketing manager Wendy Gerdis said out-of-state licenses are fine as long as they can be scanned. There is a quick background check for felonies, and assuming you've not been naughty, you have access to Wilshire's full range of options, including machine gun rental.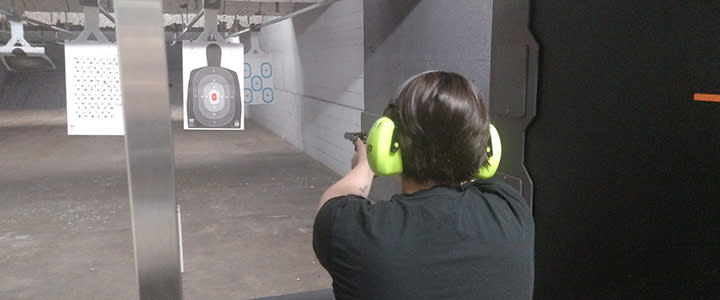 "The machine guns are handled by another company on site," Gerdis said, "and you have to be 21 to rent them."
Most people probably aren't wanting to pay for the 3,800 rounds per minute that emerge from a fully automatic M134 Gatling Gun, but rifles and pistols are also available for rental after the check is cleared. The background check takes a couple of minutes, and then you are assigned a lane: 25, 35, or 101 yards. Wilshire is the only range in Oklahoma with the 101-yard option, meaning you can actually have some genuine skill challenges with a rifle.
The Wilshire Café offers lunch and dinner—and brunch on Sunday from 10 a.m. to 2 p.m.—and while you might think it odd that a shooting range has good food, Wilshire's menus are diverse—berry risotto, anyone?—and the food is delicious. The Caliber Club is a members only club on site, but it's open to the public on certain occasions, including Oklahoma City Thunder games.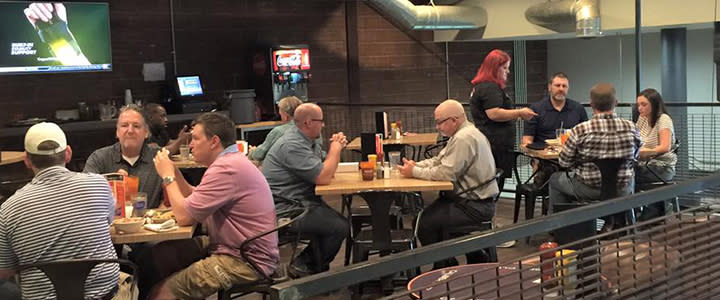 If you've been in shooting ranges that are all about the shooting, Wilshire will surprise you. The ventilation is exceptional thanks to a state of the art filtration system, and so shooting on any of the 24 lanes means you'll breathe easily. Handgun rental is $10 per hour, and includes options from .22 caliber all the way up to a Desert Eagle .50 caliber pistol. Rifle rentals are $15 per hour, and include roughly the same caliber options.
As for the alcohol, the rule really is no drinking until after you shoot. In fact, you have to secure your weapon outside the facility before you can drink, assuming you have a personal firearm. Once the bar scans your license, you will not be allowed to shoot for the remainder of the day.
Wilshire is open Monday 10 a.m. to 6 p.m., and Tuesday through Sunday 10-10.