Marathon weekend is almost here! From the marathon Health & Fitness Expo to the best places to cheer on the runners, we've got you're go-to guide for all things race weekend.Marathon weekend is almost here! From the marathon Health & Fitness Expo to the best places to cheer on the runners, we've got you're go-to guide for all things race weekend.
The Day(s) before the Race
It's time for packet pick-up!  Head over to the Oklahoma City Memorial Marathon Health & Fitness Expo for a two-day, free-to-the-public show that hosts more than 60 exhibitors featuring products and services geared towards runners, walkers and health-minded shoppers. The Expo also features a speaker symposium where attendees can learn about running, fitness and more. The Expo kicks off the race weekend and is the only place where runners can pick-up their packets. (Remember to bring your photo ID!) The Expo is open Friday, April 22 from 11 am to 8 pm and Saturday, April 23 from 9 am to 6 pm.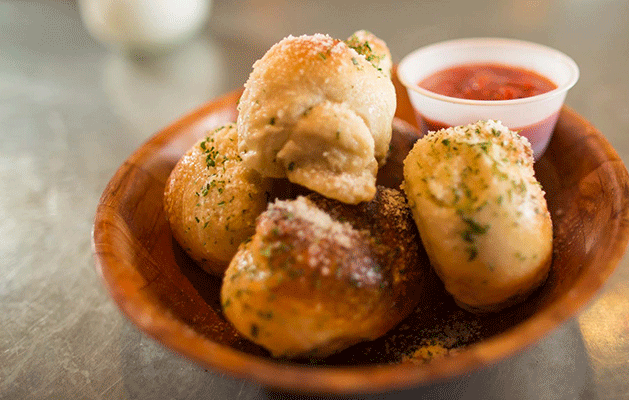 Eats to Fuel Up
Carb loading is a key part of marathon weekend. Here are some of our favorite places to take in those carbohydrates before the big day.
Joey's Pizzeria – Located in Film Row, Joey's Pizzeria offers personal pies and sandwiches that are full of flavor and sure to please your pallet.
Gabriella's Italian Grill - Gabriella's offers a comfortable, casual and cozy feel and a menu that is packed with delicious options. The roasted garlic tortellini with sausage will rock your world. 
Rococo Restaurant - Some of the best seafood and pasta combinations around, complete with a classy and chic atmosphere.
Empire Slice House – For a large slice of pie, head to Empire Slice House in the Plaza District. Their pizza is a favorite among locals and never disappoints. We also suggest trying the 16th St. Garlic Knots, just saying. 
Flip's Wine Bar and Trattoria - A great assortment of moderately priced Italian favorites including sandwiches, pizzas and pastas.
Victoria's Pasta Shop – Located on the south side of OKC, this pasta shop offers fresh, very filling dishes but it doesn't sit heavy so you can be ready to run on race day.
PortoFino's Italian Cuisine - A great selection of staple pasta dishes that are delicious and very affordable.
Stella - A true fine-dining experience, this Midtown restaurant serves several pasta dishes. Highly recommended is the chicken scaloppini on a bed of linguini with tomatoes and garlic red chili cream.
Bellini's Ristorante & Grill - Bellini's takes traditional pasta dishes and adds a Mediterranean-inspired fine-dining flare.
Pizzeria Gusto – One of OKC's newest Italian restaurants located in the Uptown 23rd district, Pizzeria Gusto, offers Neapolitan pizza and a variety of shareable small plates and appetizers including meatballs, calamari and gnocchi.
Zios Italian Kitchen – This casual chain serving plenty of Italian fare  and is located in Bricktown just a mile away from the starting line. (Bonus, there is also a Zios in the Meridian area next to the airport.)
Also available on the evening of Saturday, April 23 is the First Baptist Church of Oklahoma City's pasta dinner. After the "Blessing of the Shoes," enjoy a free-of-charge pasta dinner beginning at 5 pm which is located at their campus off of 1201 N. Robinson. Donations are welcome but not required.

Where to Watch
So maybe you just want to be a cheerleader (and that's okay), we've got the top spots for watching the race for you to support the runners.
The Start – If you've experienced it, nothing more need be said. Like no other in the world, as poignant and breathtaking as you'll find. A must!
Bricktown – (Mile 1-2) As runners get settled in, anticipation is high. The race has not begun to string out yet, so the effect of seeing thousands of runners all at once is stunning.
State Capitol Complex – (Mile 3) The Oklahoma State Capitol is a beautiful setting and the ease of access make this a perfect place to view the early stages of the race.
Sparrow Park / Edgemere Park – (Mile 5-6) Robinson entrance from 36th. This is a notable stomping ground for runners as the road winds through historic neighborhoods with room to view from east side of park.
Crown Heights / Gorilla Hill – (Mile 6-7) 38th- 40th and Shartel Avenue; just beyond 1st relay handoff. As the half and full marathoners get settled in they appreciate seeing friendly faces.
Nichols Hills / Waverly Avenue – (Mile 11) between Wilshire and Britton: From here, runners are well spread out and easy to view. A festive neighborhood atmosphere always abounds; these folks are used to runners zooming by, and appreciate the efforts.
Nichols Hills / Grand Blvd – (Mile 19-20) Park at Nichols Hills Plaza or lot at 63rd and Grand. Can get very near course and see how race is unfolding, and easily proceed downtown to watch the finish.
Classen Blvd – (Mile 20-21) Between 63rd and 50th. This is a long stretch on Classen Boulevard between 50th and 63rd includes the 20-Mile mark, which is an important point mentally for the runners to have support.
18th And Classen – (Mile 23-24) Just before the course turns east towards Broadway Avenue and finish. Historic Mesta Park greets spectators and runners, and leads to one of the oldest, most scenic neighborhood venues-Heritage Hills. Crowd fervor begins to swell, and runners know it, as they know they're coming close.
The Finish – 12th and Broadway Avenue on South to the finish at 5th. Seeing the mass of humanity on the straightaway, finishing to the cheers of enthusiastic crowds. Every emotion imaginable – awe, empathy, surprise and accomplishment can be witnessed and shared. This is the perfect finish to a perfect day!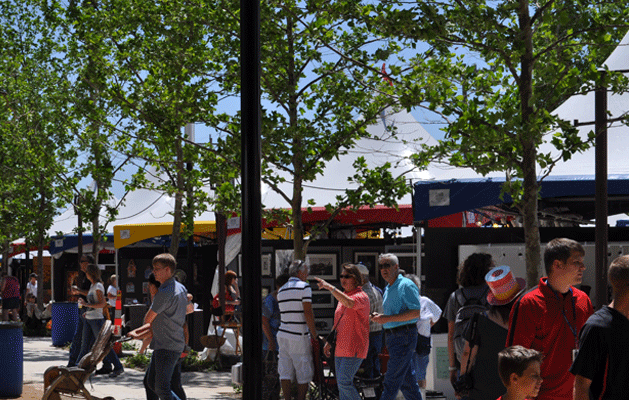 Race Weekend Activities
The calendar is packed with fun for everyone, so take some time and enjoy OKC before the big race. Here's a highlight of some of this weekend's biggest activities.
All Weekend
Festival of the Arts
2016 Better Barrel World Finals
Lyric Theatre's The Fantasticks
Thursday, April 21
Art After 5 Rooftop Event
Oklahoma City Dodgers vs. Memphis Redbirds
Friday, April 22
Oklahoma City Dodgers vs. Memphis Redbirds
Star Trek: The Ultimate Voyage
Saturday, April 23
The Centennial Rodeo Opry
Frontier City Concerts presents Skillet
Oklahoma City Energy FC vs. Swope Park Rangers
Sunday, April 24
Extreme Racing at Remington Park

Good luck to all the runners and we hope your race weekend is a success!