Summer has landed at the Myriad Gardens and we've got plenty of suggestions for you and your family, or for a date night as you're visiting Oklahoma City!
Of course a visit to the Crystal Bridge Tropical Conservatory is always recommended. View 13,000 square feet of plant display area in two distinct climates: the Tropical Wet Zone, which is at the south end and is watered daily; and the Tropical Dry Zone at the north end. Some 2,000 varieties of plants and a 35-foot waterfall round out the spectacular features of the Conservatory. Prices are $8 adults, Seniors & Military $7. Other discounts apply.
With summer here, water features are a family favorite in the Gardens. The Thunder Fountain near the Children's Garden is a unique water structure that combines water play with sound and lighting effects. Seasonal Plaza, next to the Ice House burger stand, features spray fountains and a reflection pool kids can splash in. Both water features are open 10am-8pm and have standard public water feature rules plus they are free anytime!
Join the Full Moon OKC bike ride & run events on July 19, August 16, August 17 and September 16. You can rent a Spokies bike for $5 per day rental if you don't have your bike with you. The run is a leisure 5K through downtown Oklahoma City. The bike ride is also leisure but usually a 6-8 mile ride towards the Oklahoma River. You can see more about this event using the hashtag #FullMoonOKC on Twitter and Instagram.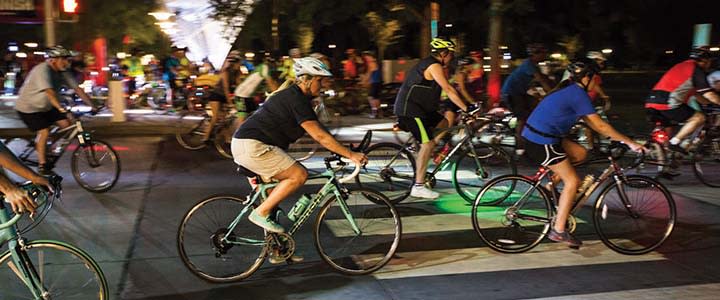 New this summer, The Myriad Gardens have teamed with the Boathouse District to offer monthly Stand Up Paddle Boarding on the lake. It's offered Saturdays, July 30, August 20 and September 24 from 10am to 2pm. The price is $5 per person for a 15 minute session. You can follow more of this activity in Twitter or Instagram using the hashtag #MyriadLife.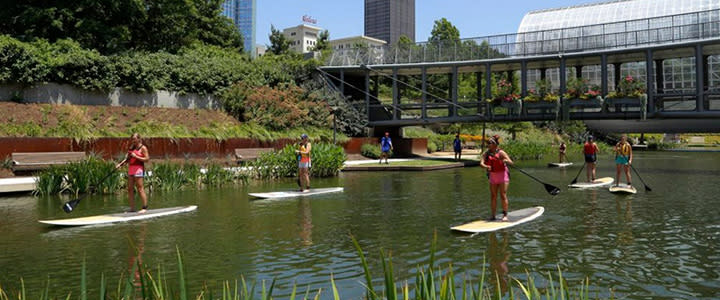 SONIC Summer Movies take place on the Great Lawn every Wednesday night through August 3 starting at 9pm. Screenings include Minions (July 13), Hook (July 20), Spiderman (July 27) and on August 3 see Raiders of the Lost Ark. Food trucks are available or bring a picnic! Blankets and/or lawn chairs encouraged. See more on this at #SONICSummerMovies on Twitter and Instagram.
Visiting in August? Attend the 3rd Annual Internet Cat Video Festival on Caturday, August 6. The Internet Cat Video Festival is back by popular demand! It is a raucous, 75-minute romp through the Internet's finest cat video offerings and the shared hilarity with thousands of cat lovers is not to be missed. The film starts at 9 p.m. but put on your whiskers and cat ears and come early for pre-screening festivities complete with food trucks, live music and more. And of course, you'll want to check out this hashtag: #CatVidFestOKC.

Speaking of pets! Do you travel with your dog? There's a dog park on our east side off Reno!

On Saturday, July 23 join the Myriad Gardens for a music filled night under the stars on the Great Lawn and Band Shell! The evening will kick-off with the Tequila Songbirds at 7pm and at 8pm the headliner, Jason Boland Band and the Stragglers, will take the stage. Jason Boland & the Stragglers are leading lights in the Red Dirt scene, a grassroots movement that mixes honkytonk, outlaw and contemporary country. Come enjoy some great music, great food in a beautiful scenic backdrop.
Dancing in the Gardens takes place on the Seasonal Plaza (by Ice House) from 7-10pm  July 8 (Line Dancing), August 5 (Tango) and September 2 (Cha Cha).  It's FREE and all ages are welcome and no preregistration required. Join us as we transform the Seasonal Plaza into an urban dance space.  Beginning at 7 p.m., instructors from 3Sixty Dance Studio will give a dance demonstration followed by a FREE lesson for all.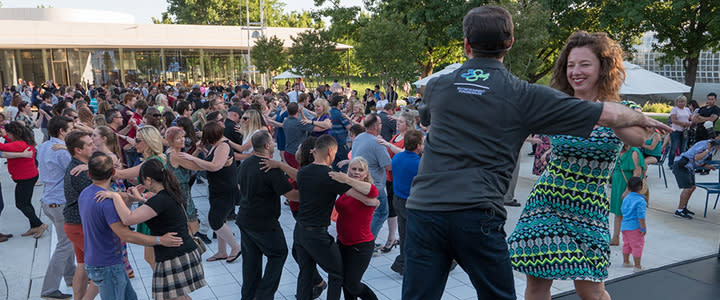 The Myriad Gardens is downtown OKC's oasis and is just walking distance to Bricktown. If you're visiting this summer, make sure you stop by!