The Myriad Botanical Gardens is the coolest place to be during Oklahoma's hottest summer months! The Gardens offer a place to play, relax, focus on fitness, gather and explore an urban oasis in the center of downtown Oklahoma City! The beauty of the Myriad Gardens is that it was created to be an open space for all to enjoy. Most events on the Great Lawn and in Seasonal Plaza are free and all can join. There are some events in secluded Garden spaces and in the Children's Garden that require pre-registration and/or a fee to attend. For a full schedule and more details about the Garden's spaces and events, check instagram, facebook, or the website.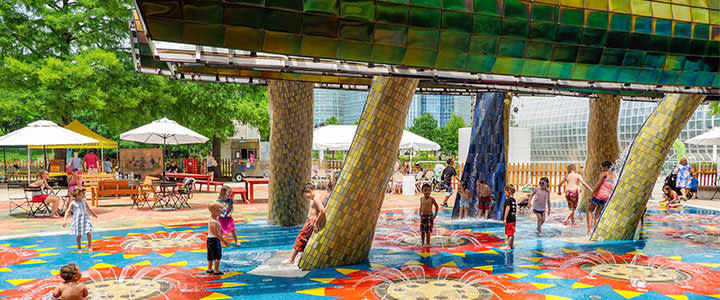 Play
Follow the sounds of laughter and splashing to the two water features within the gardens. At first glance, the Thunder Fountain appears to be a towering, brightly colored work of art just outside the Children's Garden. The children scream with delight as the thunder claps, lightning flashes and rain begins to fall, puddle and gurgle below their feet. The Thunder Foundation provides a full sensory experience of an Oklahoma thunder storm! The Seasonal Plaza water feature provides a different, but equally fun water play experience. Find it next to the outdoor cafe, Pitchfork in the Park. The marble tiles provide a platform for spray fountains and a reflection pool. Kiddos can sit and splash at their leisure or run through the arching sprays of water. Both water features are open at 10 a.m. - 8 p.m. and have standard public water feature rules. They are free and a wonderful way to beat the Oklahoma heat!
The Children's Garden has been recently renovated and upgraded to welcome children of all abilities.The area now features an Ability Wheel, one of only twelve in the United States. The wheel allows room for wheelchairs and offers space for sitting or standing. The wheel, bowl shaped swing, and We Saw are all designed to bring joy to those of all ages regardless of physical ability.
The Children's Garden offers opportunities to explore nature with the ivy canopy, pond, pollinator friendly flowers, and raised beds filled with yummy things to eat. Gates surround the garden with one central entrance to provide a contained space for kids to run and play. Nestled within, the Garden Porch is a place to gather for daily drop-in activities from 10am to noon and other special events. In early summer the Children's Garden is transformed to a storybook wonderland.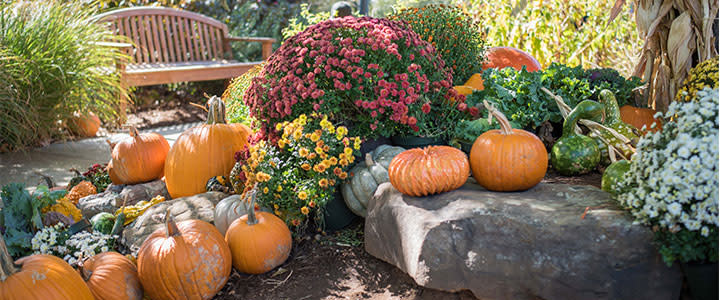 In October, the garden becomes magical Pumpkinville! The calendar for children's activities is packed with high quality, educational activities that kids and parents love! Enjoy the Little Sapling Series (every other Tuesday) and the Bug Out ladybug release (July 13) for kids.
On the East side of the Myriad Gardens, the pups play. The off leash dog park welcomes friendly dogs to play anytime! Owners must take responsibility for their pets and ensure that all rules are adhered to. Pups and their people are invited to Howl at the Moon in the dog park (August 13, 8-10 p.m.) for food trucks, giveaways, and beverages.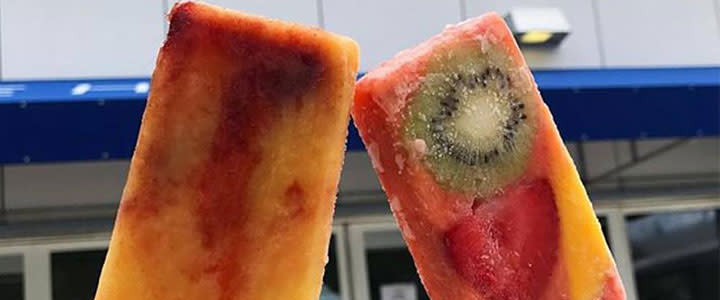 Relax
A peaceful haven amid a bustling city, the Myriad Gardens beckons guests to slow down and stay a while. Take a walk up a stone lined path to the Meinders Garden and sit below the trellis to take in a 360 view of the gardens. Along the wavy path on the west side of the garden, the site of tall buildings fades away among berms and towering trees. Recline in the soft grass and read, enjoy a picnic or take a snooze! The stairs down to the water are lined with cascading streams, lush grasses and flowers. The lakes on the lowest level are also accessible by ramp or elevator.
The inviting Pitchfork in the Park is located in the Seasonal Plaza. Cool off and enjoy handmade popsicles with flavors including: lime, watermelon, Grandma Etta's Pecan, strawberries and cream and a special flavor named after the Crystal Bridge! Chicken sandwiches, wraps, salads and more are offered for lunch during the week and lunch and dinner on weekends. Pitchfork in the Park is open seasonally.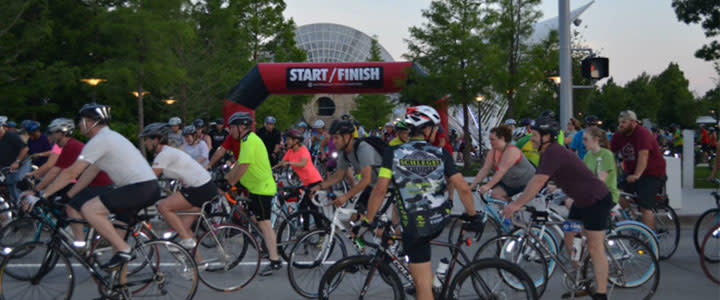 Focus on Fitness
Join the Full Moon OKC Bike Ride and Run on full moon nights (including July 27, August 27 & September 24). No bike? Rent a Spokies bike! Runners enjoy a scenic 5K led through downtown Oklahoma City. Cyclists cruise a route through downtown and along the river. Lights and helmets are required. A $5 donation is required to participate. Register and fill out your liability waiver in advance here
A local favorite and free for everyone, Dancing in the Gardens will wrap up the season with Country Western dancing on August 3. Instructors give a demonstration and free lesson beginning at 7 p.m. Dust off your boots and get ready to kick up your heels in the Seasonal Plaza. Pitchfork in the Park will have refreshments for purchase and the dance floor will be open until 10 p.m.
Ongoing fitness activities include Yoga Tuesdays at 5:45 p.m. and Free Barre3 (August 6, September 10 and October 8 from 6-8 p.m.). The gardens are a fantastic place to focus on fitness. Enjoy leisure walks, a light jog, or take a run through the beauty of the garden! Plants and water features cool the grounds and trees provide shade for a cool off!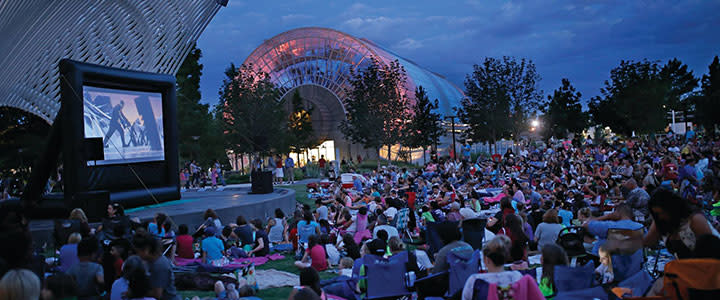 Gather
The Arts Council's Sunday Twilight Concerts Series invites the public to enjoy music from local artists every Sunday from 7:30 to 9 p.m. through August 26th. Enjoy free, live music while reclining on the Great Lawn. Blankets or lawn chairs are encouraged.
SONIC Summer Movies take place on the Great Lawn every Wednesday night through August 1 starting at 9 p.m., with pre-show activities beginning at 7 p.m. Screenings include Paddington (July 11); Space Jam (July 18); Muppet Movie (July 26) and Oklahoma! 1955 Version  (August 1). Food trucks are available or bring a picnic! Blankets or lawn chairs are encouraged.
Experience the Myriad Gardens in a whole new light at Camp Out OKC on July 14 to July 15! The Devon Lawn will transform into an urban campground for families. The evening will include a tutorial on camping basics, disc golf, scavenger hunts, extended Thunder Fountain hours, a screening of Pixar's UP, s'mores, and more! The campout will be wrapped up in the morning with breakfast! Space is limited. REGISTER Today!
Attend the 5th Annual Internet Cat Video Festival on Caturday, August 18. This raucous, 75-minute romp through the Internet's finest cat video offerings and the shared hilarity with thousands of cat lovers is not to be missed. The film starts at 9 p.m. but put on your whiskers and cat ears and come early for pre-screening festivities complete with food trucks, live music, drinks and more.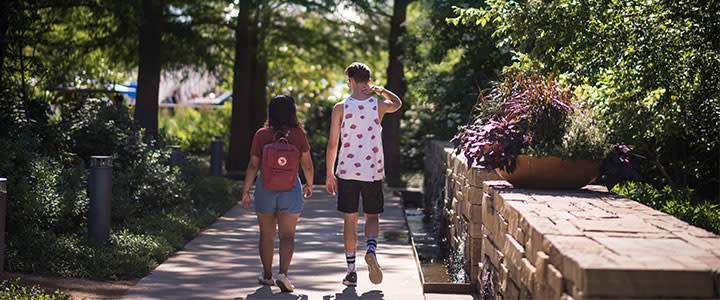 Explore
The Myriad Gardens has deep roots in the heart of Oklahoma City and is committed to connecting people with plants and the wonders of the natural world. While the Gardens are a place to play and gather, visitors would be remiss to overlook the commitment to cultivation and conservation right in the center of our city.
The Crystal Bridge Tropical Conservatory offers 13,000 square feet of plant display area in two distinct climates: Tropical Wet Zone, which is at the south end and watered daily and the Tropical Dry Zone at the north end. Some 2,000 varieties of plants and a 35-foot waterfall round out the spectacular features of the Conservatory. Prices are $8 adult tickets, $7 Seniors and Military. Other discounts apply.
Wondering what to plant in your own garden? Look no further! Explore the Gardens with a self-guided tour and take a look at what's thriving on the grounds to get ideas! Catch the free, monthly walking tour for a chance to ask questions and learn more about wise planting choices for unpredictable Oklahoma weather! The next guided tour is August 25, meet in the North Lobby at 10am. Private tours are also offered at request in advance. Join classes and seminars like Planning your Fall Garden (July 21) or Smart Gardening (July 28) to learn more. Register online and come ready to grow your knowledge of gardening!