With 15,000 hotel rooms and a new convention center on the horizon, set to open in 2020, there's no exaggeration in saying that Oklahoma City will soon be a brand-new city from a meetings perspective. From new places to stay and meet, there will also be plenty of new outdoor spaces to enjoy once the day's meetings are over. Explore Oklahoma City's Boathouse District with teambuilding and outdoor adventures, and take advantage of the city's accessibility with its new streetcar system linking 6 miles of attractions, dining and nightlife. There's no better time to book your next convention surrounded with all things "new." Here's a closer look at what's new and what's coming soon to Oklahoma City for meetings.
New Places to Meet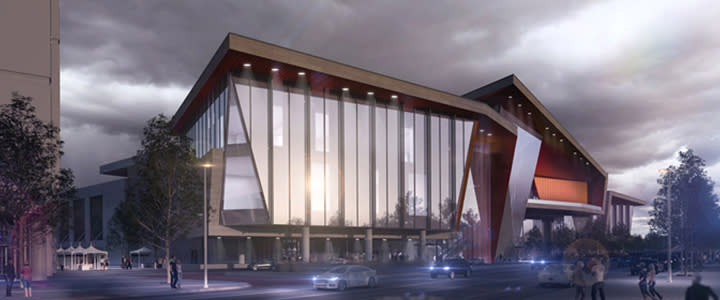 With an overall budget of $288 million, the Oklahoma City Convention, set to open in 2020, will feature nearly 200,000 square feet of exhibit space, a 30,000-sq.-ft. ballroom and 45,000 square feet of additional meeting space. Located east of Scissortail Park along Robinson Boulevard between SW 4th and SW 7th streets, the state-of-the-art building facility broke ground in June 2018. Designed to be energy efficient and resilient against weather conditions, the building will feature a modern design with sweeping views of downtown. Taking cues from Oklahoma City's skyline, landscape and architectural character, the building's angular façade will feature towering glass walls to maximize the use of natural light. Native plants and trees acclimated to the local climate will surround the convention center, with a central plaza connecting meeting-goers to the outdoor venues. In addition to formal meeting areas, the center will also be home to informal meeting spaces, a kitchen, a potential café space, an expansive loading dock and administrative offices.
New Places to Stay

Also set to open in 2020 is a new 605-room Convention Center headquarter hotel from Omni Hotels & Resorts. Directly adjacent to the center and south of the Chesapeake Energy Center, the Oklahoma City Omni will be 18 stories and feature numerous restaurants and retail stores, putting business travelers within walking distance of events along with dining and nightlife options. Preliminary renderings show the addition of a coffee shop, steakhouse and sports bar to be included within the project. Estimated to be a $235.5 million hotel project, the hotel will also offer views of the adjacent Scissortail Park and be home to an 850-space parking garage that will serve the hotel, convention center and Scissortail Park.
New Places to Explore Downtown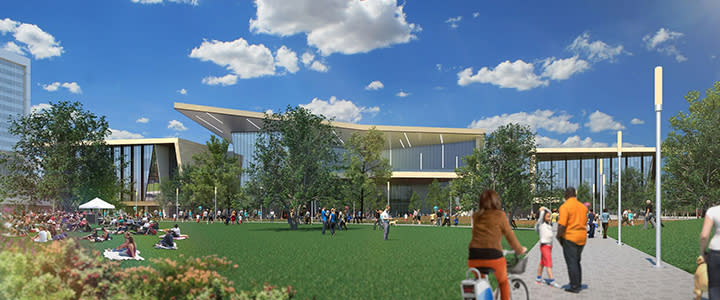 Construction is now underway for the 70-acre, fully programmed Scissortail Park, directly west of the Convention Center connecting downtown Oklahoma City to the shores of the Oklahoma River. The first 40 acres, next to the convention center, will be completed in 2019. The lower 30-acre portion adjacent to the riverfront is scheduled to open in 2021. This new centerpiece will be home to a variety of recreation activities, including walking/biking trails, picnic sites, sports fields, play areas, interactive water features and also a concert venue along the Great Lawn. The park's lake will also be home to boat rentals, allowing visitors a unique way to enjoy the park and downtown surroundings. The new downtown streetcar line connects the park, Convention Center and the Oklahoma City Omni headquarter hotel with the numerous districts throughout downtown, making dining, nightlife and attractions more accessible to locals and visitors to the area.
The MAPS 3 Oklahoma City Streetcars will allow passengers to choose from 22 stops within two different loops: 4.9-mile D Line covering the central business district, linking Midtown and Bricktown, and A 2-mile Bricktown loop will focus on the entertainment district with stops at nearby dining and nightlife venues. While there are set hours for the streetcar service, additional hours can be added to meet the demand for special events and convention groups.
New Places to Have Fun Outdoors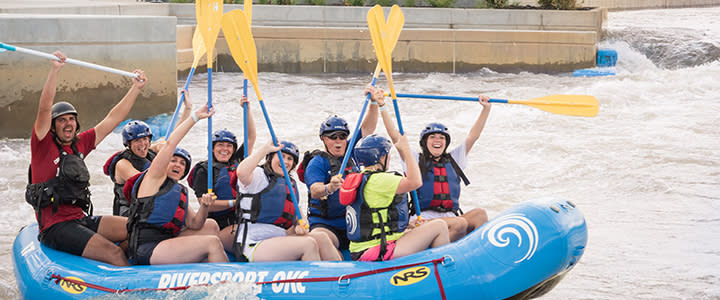 As the only urban rafting and kayaking course in the world of its kind, Oklahoma City's Boathouse District is within walking distance of downtown hotels and the city's Bricktown Entertainment District. Home to the U.S. Olympic and Paralympic training site for canoe and kayaking, the $45.2 million whitewater rafting and kayaking center opened in May 2016 and hosts regattas throughout the year.
Treat your attendees to a day of adventures along the Oklahoma River with teambuilding activities, including whitewater rafting, kayaking, stand-up paddleboarding and more.
For adventures on dry land, strengthen teambuilding and relationships with your attendees at the Boathouse District's Sandridge Sky Trail. This 80-foot structure features six levels of ropes courses for all skill levels, including the 72-foot Sky Slide—America's tallest dry slide. If your group has thrill-seekers, don't miss the 700-foot zip line taking riders back and forth across the Oklahoma River. If you'd rather keep your feet closer to the ground, the Boathouse District is also home to more than 13 miles of paved trails for running, walking or cycling, making it the perfect spot for business travelers to get in a workout before (or after!) a day of meetings.
Ready for a Closer Look at Oklahoma City?
Take a look into the future of Oklahoma City circa 2020 with the 3D flythrough technology at MeetInOKC.com. You can track the progress of the new projects and see what Oklahoma City has to offer you as a meeting planner and your attendees too. In addition to affordable room rates and hospitality, the Oklahoma City Convention & Visitors Bureau offers hands-on convention services and support and a computerized housing bureau and registration technology.Located at the crossroads of Interstate 35, I-40 and I-44, Oklahoma City is within a day's drive of major metropolitan areas. Will Rogers World Airport offers nonstop air service to 22 airports in 19 cities in the U.S., making the city easily accessible for those visiting from both the East and West coasts.
Contact the convention sales and services team to learn more about bringing your next meeting to the area. They are ready to help make your next event a success, filled with everything "new" right here in Oklahoma City!