Are your attendees craving adventure and fun in the great outdoors or the chance to tackle a challenge shoulder-to-shoulder with colleagues and new friends? Attendees at conventions are expecting something different these days, looking for experiences that are unique to an area and that can't be replicated online. Oklahoma City has a wealth of action-packed group activities that will get the heart racing, the mind sharp and will create memories for years to come.

FLY HIGH
Even those with a fear of heights can experience the thrill of skydiving at Oklahoma City's iFly indoor skydiving center. Groups can suit up and enter the Flight Chamber for flight lessons with certified instructors. Private events and parties are also available.
SOLVE AND ESCAPE
You have less than an hour to save the world. Working as a team, you have to foil the plans of a mad scientist or escape a doomed lab, and in order to do that, you need everyone working together. Escape room challenges can engage minds and team-building skills in Oklahoma City. Book group activities at The Escape OKC, The Sanctuary Escape, Trapped OKC, Baker Street Escapes and Breakout Games, all located in the city.

GET PEDDALING
Rev up your heart rate, explore Oklahoma City and enjoy a nice cold one with The Bricktown Bike Bar group tour in Bricktown, a two-hour tour that consists of three bar stops, which can be chosen by participants. In addition to learning about the city, your attendees can make new friends and get a workout on top of it.
CRUISE THE RIVER
The Oklahoma River is famous for watersports like rowing, kayaking and Olympic training, but the river itself and the scenery and wildlife are just as exciting. Hop on an Oklahoma River Cruise for a great way to explore the water, the city and the scenic views.
SUP IT UP
One of the fastest growing sports in the country, SUP is a full body workout that can be as challenging – or as easy – as you make it. Oklahoma City has a plethora of SUP Paddleboard opportunities in which attendees can move leisurely or even race other visitors for a fun challenge. Flat Tide and The Oklahoma City RIVERSPORT Route 66 Boathouse both offer this outdoor experience.

RIVERSPORT TEAMBUILDING
For thrilling ways to improve collaboration, build trust and inspire your group to be more creative, the Boathouse District has multiple options for team building. The activities are held on both land and water and include the tallest sky bridge in the world at the SandRidge Sky Trail, Challenge the Dragon boating events and motivational sessions with Olympic athletes.
TASTE THE ADVENTURE
Get a taste of Oklahoma City and take a stroll with the Foodie Foot Tours of Oklahoma City. This tour is a unique culinary experience that combines great local food with historical and architectural information about the city's distinct neighborhoods. For more information, visit FoodieFootTours.com.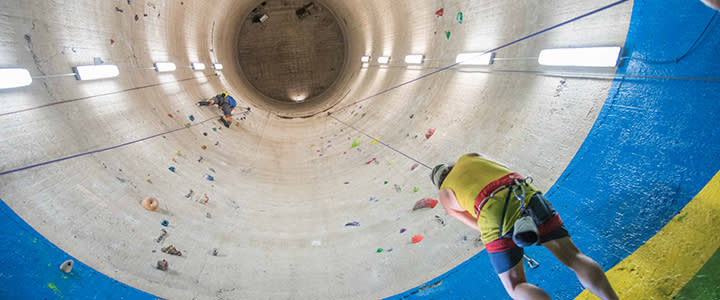 CLIMB TO SUCCESS
Rock climbing, yoga and fitness have come together at Oklahoma City's indoor rock climbing gyms, offering heart-pounding classes that build confidence, strengthen partnerships and help overcome challenges. If you're looking to stay downtown, check out the indoor grain silo known as Summit Gyms. If you're in north OKC, Threshold Climbing Gym is perfect for your group.