Oklahoma City's remarkable growth continues, with exciting recent openings and upcoming projects on the horizon.
Ramsay's Kitchen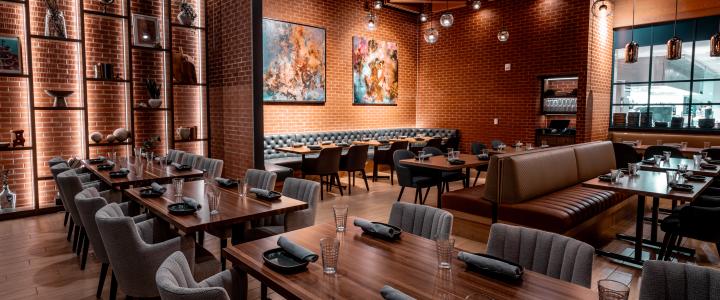 The fourth and most recent location of Ramsay's Kitchen just opened in Oklahoma City. This restaurant, owned by Michelin-starred Chef Gordon Ramsay, is located in Chisholm Creek and serves up well-known favorites like Beef Wellington and Sticky Toffee Pudding as well as local favorites with a twist.
Renovations to the Crystal Bridge Conservatory at Myriad Botanical Gardens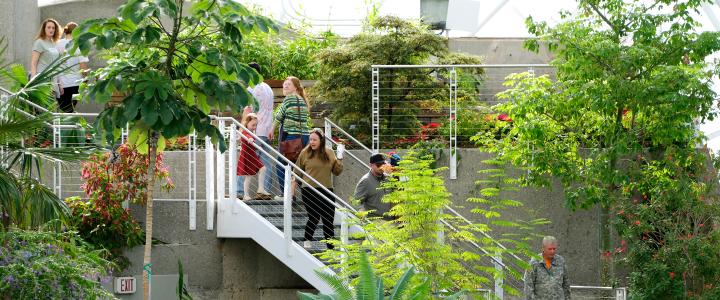 The Inasmuch Foundation committed $2.5 million to the second phase of renovations to the Crystal Bridge Conservatory at Myriad Botanical Gardens. This phase features a complete renovation of the interior conservatory spaces to enhance visitor engagement with a more diverse plant collection, interactive educational exhibits, improved ADA accessibility and a museum-quality gift shop.  
Lower Scissortail Park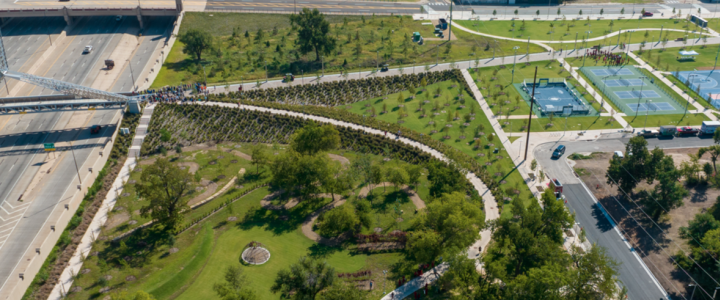 Scissortail Park's 30-acre Lower Park in the heart of Oklahoma City, which completed all of Scissortail Park, provides more open and natural spaces than the Upper Park. There is a focus on space for athletic events and pickup sports, with a soccer field, sports pavilion, pickleball courts, futsal court and two basketball courts. 
First National Center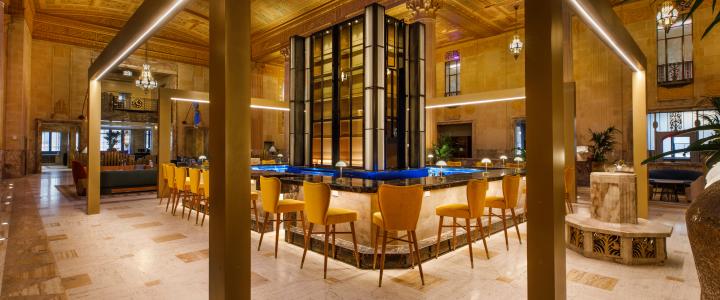 For decades this iconic art-deco style building was the focal point of downtown activity, with its hallowed Great Banking Hall serving as the heartbeat of Oklahoma City commerce, deal-making and business large and small. The $275 million project, which began in 2017, now includes an Autograph Hotel, six dining outlets, two ballrooms, a speakeasy and multiple private dining options in the building. 
Oklahoma City Convention Center and Omni Headquarter Hotel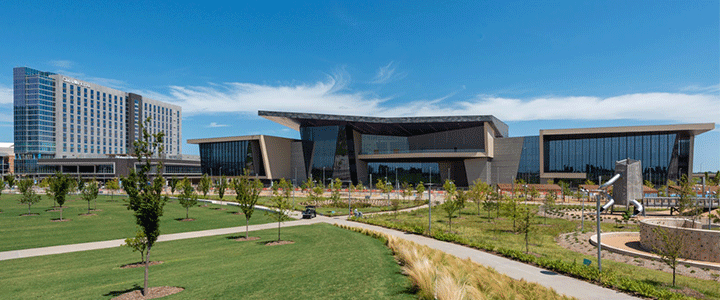 Opened on January 26, 2021, the all-new headquarter hotel by Omni Hotels & Resorts features 17 floors, 605 rooms and approximately 78,000-square-feet of additional meeting, event and pre-function space located on the second floor. The adjacent convention center features 200,000 square feet of exhibit space, a 30,000-square-foot ballroom and 45,000 square feet of additional space paired with a prime location in downtown. 
Blessed Stanley Rother Shrine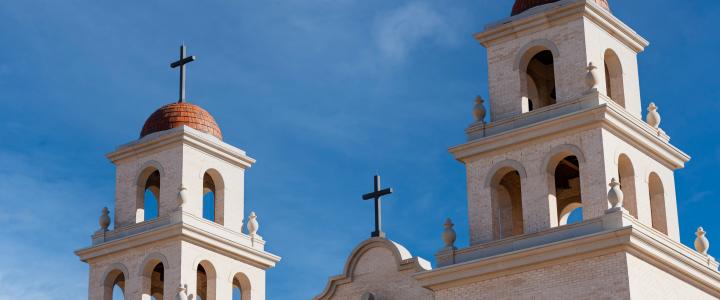 Built to honor and serve as a final resting place for the first U.S.-born priest and martyr ever beatified, the Shrine Church was designed in the Spanish colonial-style, inspired by the church Blessed Stanley served in Santiago Atitlán, Guatemala. Inside the 6,000 square-foot facility, visitors can find an orientation room with a video documentary, a gift shop and a museum.
First Americans Museum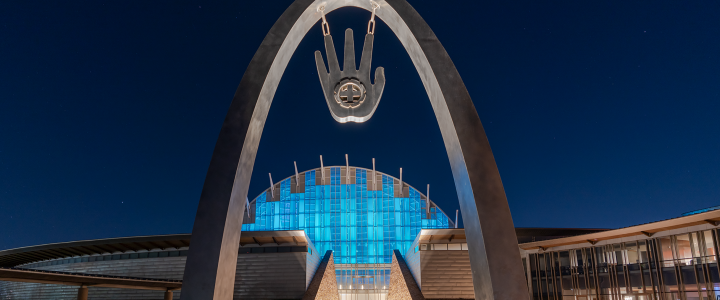 September 2021 marked the opening of the First Americans Museum, where you can experience the collective histories of 39 distinctive First American Nations in Oklahoma today. The museum showcases state-of-the-art exhibitions in history, culture and art; featuring live public and educational programs, visitor amenities such as a café and coffee shop, a full-service restaurant presenting unique cuisine inspired by First Americans and a museum store. 
OKANA Resort & Indoor Waterpark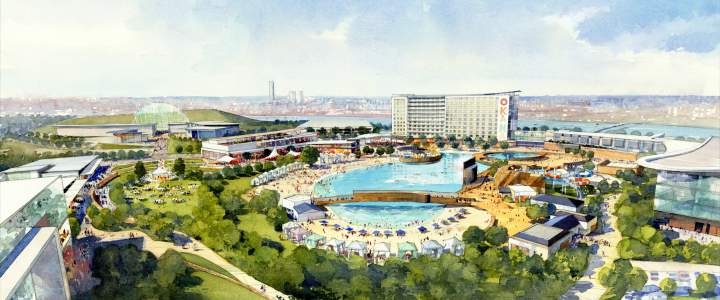 Situated along the Oklahoma River near downtown Oklahoma City, OKANA Resort & Indoor Waterpark will be a $400 million tourist destination designed to continue the momentum of economic development in the up-and-coming Horizons District. The OKANA Resort will include a riverfront hotel, spa, outdoor adventure lagoon, amphitheater, indoor waterpark, restaurants, Native American Marketplace and retail outlets. The development is expected to be complete in Spring 2025.
OAK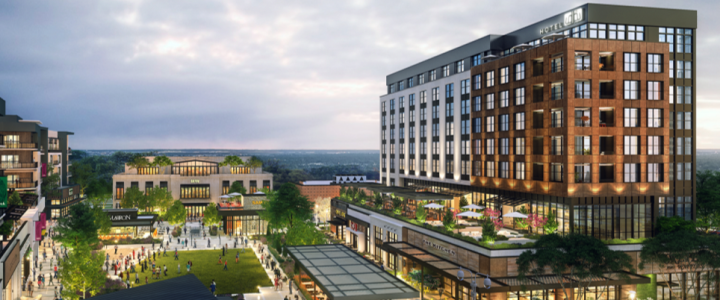 OAK is an exciting new type of development — one that will change the way life is lived and work is done in Oklahoma. It's an entertainment destination that pays off OKC's reputation as a city on the rise. In three phases, it will transform NW Expressway and Pennsylvania Avenue into an entertainment, residential and retail space.
Oklahoma City Zoo Receiving $71 Million in Upgrades

The Oklahoma City Zoo and Botanical Garden will undergo $71 million of new infrastructure through 2028. The next projects include Sea Lion Cove, a three-acre expansion for the Zoo's California sea lions and Expedition Africa, which is expected to open Spring 2024. Long-term projects include a 12-acre conservation preserve and a space for botanical education and events tentatively known as The Farm. 
National Cowboy & Western Heritage Museum to modernize the Museum's Infrastructure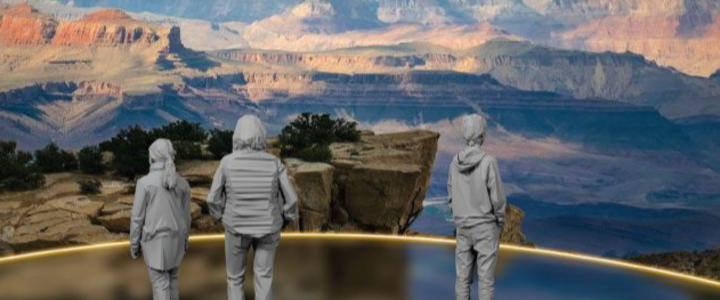 The "Live the Code" capital campaign is an initiative to raise $40 million to modernize the National Cowboy & Western Heritage Museum's guest experiences and infrastructure. Major campaign efforts include transforming the Museum's exhibits by creating best-in-the-world experiences to teach and interpret the diverse history of the West and investing in facility and infrastructure. Updates have already begun, and the project is anticipated to take three years.
Fairgrounds Coliseum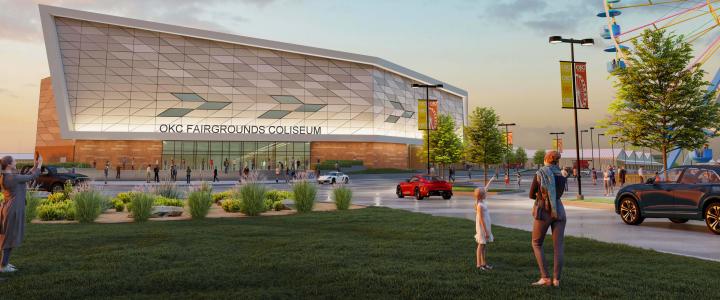 The OKC Fairgrounds broke ground on a new coliseum as part of MAPS 4. This exciting upgrade to the fairgrounds complex will ensure OKC continues to be the "horse show capital of the world." All events and operations will continue to take place in the current Jim Norick Arena during construction. The new coliseum is scheduled to be completed mid-2025.
Clara Luper Civil Rights Center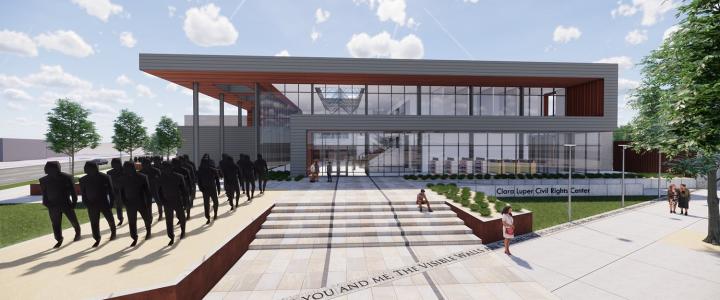 The historic Freedom Center, home of the local civil rights movement, will be renovated. The new five-acre campus, adjacent to the historic building, will include a café, welcome center, outdoor and events spaces and an educational and community gathering place that honors the past, enlightens visitors today and empowers the next generation of leadership. It will be a community gathering place named for our most famous civil rights pioneer.
Bungalow 23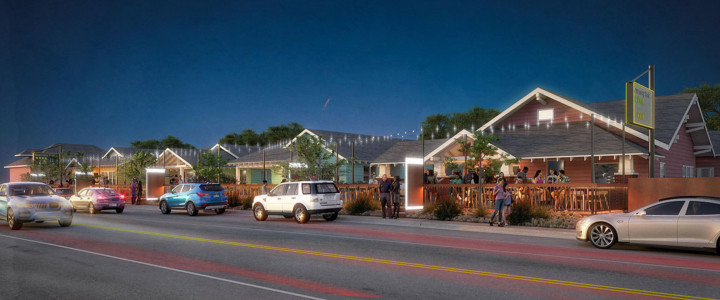 Bungalow 23 will unite 9 separate cottages in a unified plan, with common outdoor space between them for seating, games and entertainment in the 700 block of NW 23rd in Uptown 23rd.
RIVERSPORT Expansion Includes Trailhead and Bike Park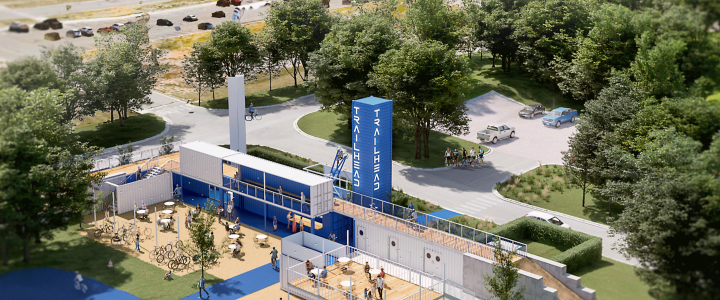 The Oklahoma Trailhead and Bike Park at RIVERSPORT expansion will include a new bike plaza, an outdoor classroom, a community garden, and play area, as well as paved parking. Shipping containers will be used to create a unique gathering place that includes a welcome center, a nature center and ADA restrooms. This project is anticipated to open Spring 2024.
USS Oklahoma City to dock along the Oklahoma River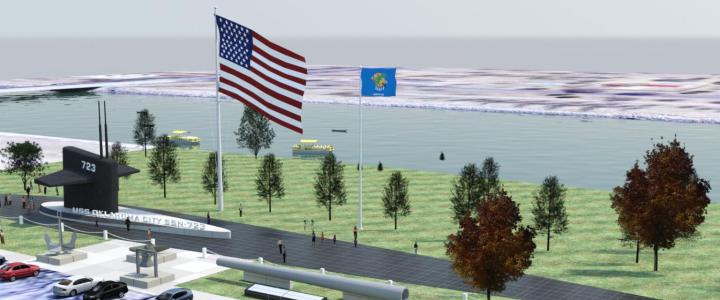 Oklahoma City Council approved construction of a commemorative display featuring nautical items from the USS Oklahoma City submarine and the USS Oklahoma City cruiser. The maritime display will be located along the Oklahoma River, on the north shore of Wiley Post Park, 1700 S Robinson Ave.  
Andretti's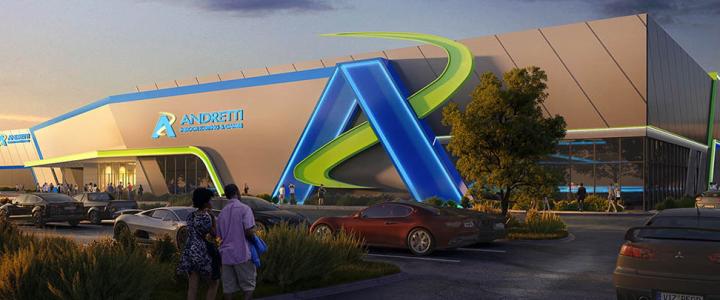 The Half will soon be home to Andretti Indoor Karting and Games, Oklahoma City's newest entertainment venue. The 96,000-square-foot facility will boast several exciting features including electric super-karts, zip lining, rock climbing, a full-service sky bar and more. The entertainment venue's grand opening is expected in 2025. 
Boomtown OKC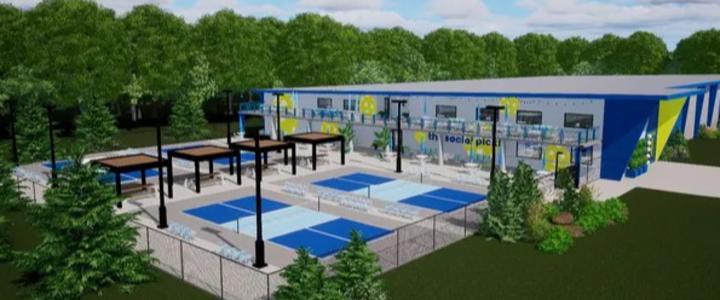 Oklahoma City's Adventure District is getting an upgrade. The beloved district will now be home to a pickleball facility with 16 outdoor courts and four indoor courts. The project will also include volleyball courts, new restaurants, retail shops and eventually, a hotel. The projects are all expected to be completed in 2024.
Hotel Developments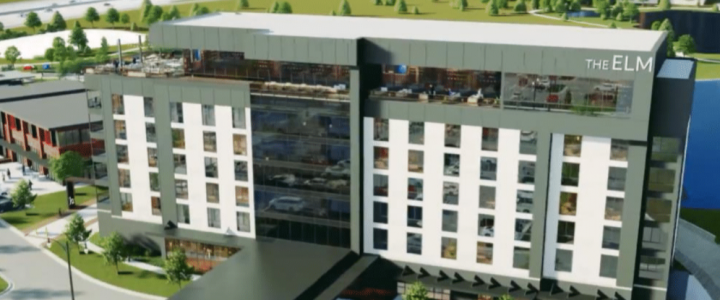 The Elm Hotel, located in The Half, will be a 140-room boutique-style getaway with plenty of luxurious amenities to be enjoyed by guests. The Elm Hotel will include a fitness center, pool, conference rooms and a rooftop bar.  
Celebrated hotel brand and management company Dream Hotel Group announced their plans to open two new Dream Hotel and Unscripted Hotel locations in Oklahoma City, Oklahoma in 2024. Designed by Miami-based CUBE3 Architects and built by general contractor Hensel Phelps, the 220-room Dream Hotel and 174-room Unscripted Hotel will be the centerpiece of a large mixed-use development project with California-based Matteson Capital LLC.
The 77-room, four-story Hamlin Hotel, set to open Spring 2025, will be built across from the Market at Eastpoint at NE 23 and Rhode Island. This will be the first hotel development Northeast Oklahoma City has received in decades.
The $15 million Skirvin renovation will include a comprehensive refresh of the guest rooms, restaurant and banquet and meeting spaces as well as the iconic lobby, public space and ballrooms. The hotel will remain open and operational throughout the renovation period.