What's New
Current Hotel Development
Currently, city-wide rooms are 18,743 with 3,259 in Downtown OKC.
70-acre Downtown Park - Scissortail Park



Scissortail Park is a $132 million, 70-acre urban oasis extending from the core of downtown Oklahoma City to the shore of the Oklahoma River. The Park opened September 27 and is a part of a capital improvement program, MAPS3, which uses a one-cent, limited-term sales-tax to pay for debt-free projects to improve the quality of life in Oklahoma City. This park provides citizens and visitors with a variety of recreation activities, including concerts, walking/biking/running trails, picnic sites, youth sports fields, play areas, a 3.7-acre lake, public art, interactive water features, and outdoor education opportunities, in addition to promoting a more healthy lifestyle. While the first 36 acres opened in 2019, the remaining 40 acres will open in 2021 just south of the Skydance Bridge.
---
Oklahoma City Streetcar


Approximately six miles of downtown streetcar now links major attractions in the downtown area. It is the most extensive of its type in the United States, and the system connects workers to their jobs, residents to events and visitors to our attractions. The streetcar broke ground in Bricktown January 2017 and opened December 15, 2018.
---
Overnight Lodging at the Orr Family Farm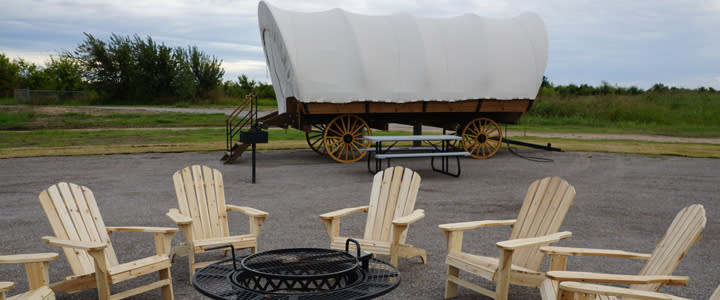 The Orr Family Farm has added 13 historic Conestoga wagons for overnight stays accommodating up to a total of 88 guests. A favorite Oklahoma City family attraction, the Orr Family Farm, has added overnight lodging to their list of activities. The Conestoga wagons are patterned after the great pioneer wagons used in the 19th century to settle the west. They offer eight wagons that each sleep eight people and allow for a camping experience, and five wagons that sleep either four or six people that give guests a "glamping" experience including private restrooms with showers and a Signature Swim Spa. All guests can enjoy temperature-controlled wagons, personal charcoal grills, picnic tables and more, including the traditional Farm activities the Orr Family Farm is famous for. Lodging is offered year-round.
---
Sleep inside a Teepee at Orr Family Farm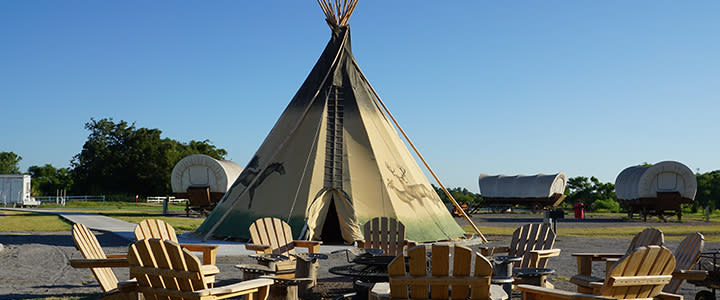 Just when you thought lodging at the Orr Family Farm couldn't get any better – it does, times five! The Orr Family Farm has added tepees to their glamping experience. Modeled after the traditional Indian nomadic tepees, there are five separate tepees, each with its own unique, hand painted mural on the outer canvas. Don't expect to be "roughing it" at the Orr Family Farm though, each tepee comes fully stocked with furniture, deluxe mattresses, heat and air conditioning, a minifridge and a microwave. Plus, you will have access to bathrooms with tile showers. Enjoy roasting s 'mores by the central fire pit or cooking a meal on your charcoal grill and playing at the Farm's attractions. That's what's new at the Farm, y'all!
---
Factory Obscura Mix Tape
Factory Obscura, the artist collective responsible for SHIFT, BEYOND, and other interactive art experiences in Oklahoma City, opened "Mix-Tape," their first permanent installation, on September 22, 2019. Mix-Tape pays homage to the 1980s custom of creating homemade musical compilations on cassette tape to give others as a way to express emotion, garner friendship, and to tell a story about the person  creating it. Through the Mix-Tape experience, the artists of Factory Obscura will produce a 20th-century version of the classic audio autobiography, creating immersive artistic representations of songs that speak to the artists' journeys as individuals and as a collective.  Mix-Tape is Factory Obscura's first permanent experience, building on the experimental legacy of The Flaming Lips at The Womb, and providing a platform for growth as the collective continues to work toward the long term goal of a 50,000 square foot home in Oklahoma City.
---
What's Coming
New Convention Center


Planners will be most excited about the new $288 million convention center coming to OKC in 2020. With 200,000 square feet of exhibit space, a 30,000-square-foot ballroom and 45,000 square feet of additional space paired with a prime location near the Myriad Botanical Gardens, the downtown park and the Chesapeake Energy Arena. Groundbreaking for the new convention center took place on June 15, 2018 and coincided with the launch of MeetinOKC.com, the CVB's meetings site. The new convention center is part of the MAPS 3 approved by voters in 2009. For more information on the new Downtown Convention Center, click here.
---
Omni Headquarter Hotel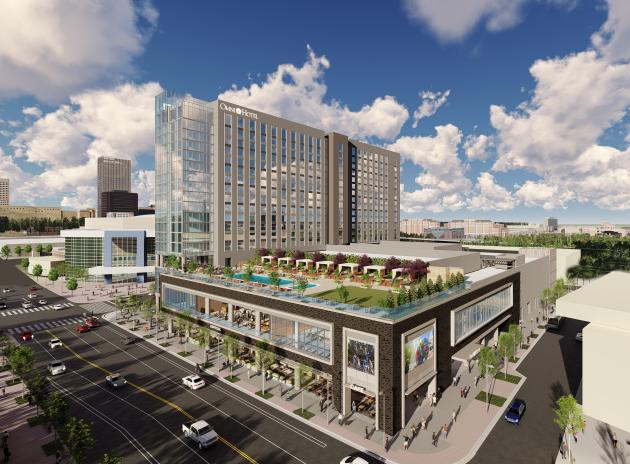 On June 18, 2018, the Oklahoma City Council voted to approve a redevelopment agreement with Omni Hotels for a headquarters hotel to support the new Convention Center. Click here to read more.
The Omni will feature 17 floors, 605 room and approximately 78,000-square-feet of additional meeting, event and prefunction space located on the second floor. Multiple food establishments will be included, a fitness center, full-service spa and pool deck. Groundbreaking for the Omni took place on October 1, 2018 with the estimated completion in 2021.
---
USA Softball Hall of Fame Complex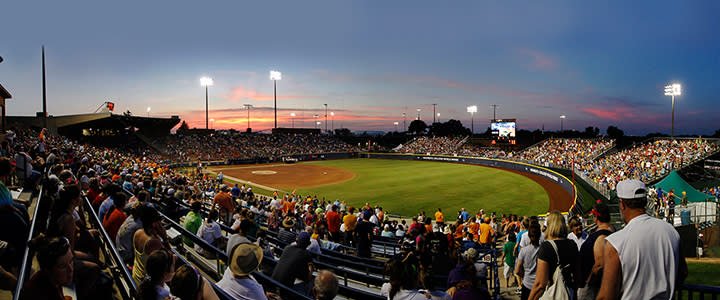 The Softball Capital of the World® is undergoing major renovations during the 2019 off-season. The USA Softball Hall of Fame Complex - OGE Energy Field will get a modernized look with upgraded features to enhance both the fan and media experience. The venue is home to the NCAA Women's College World Series through 2035. When fans enter the Complex, they will be met by beautiful rock and brick facade, a new ticket window and new entrances. For media operations, a three-story press box will feature new interview rooms with tunnels leading from the team locker rooms, a broadcast booth, media work space and upgrades to existing technology infrastructure. A bond package, approved by the citizens of Oklahoma City in September 2017, in addition to private fundraisers, allows for the two final phases of renovations to be completed in time for the 2020 NCAA WCWS.
---
Liichokoshkomo'! at the National Cowboy & Western Heritage Museum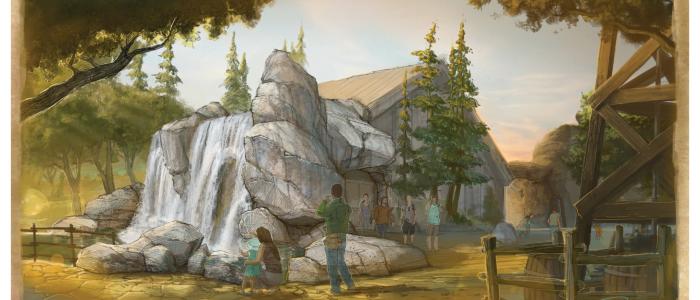 Liichokoshkomo', the Chickasaw phrase for "Let's play", will be a world-class, outdoor, hands-on learning environment where the diverse stories of the West will come alive. Located on the grounds of the National Cowboy & Western Heritage Museum, this cultural meeting place will encourage children and families to explore Western heritage by examining differing viewpoints and historical perspectives through a thematic, hands-on environments. The expected opening is March 2020.
---
First Americans Museum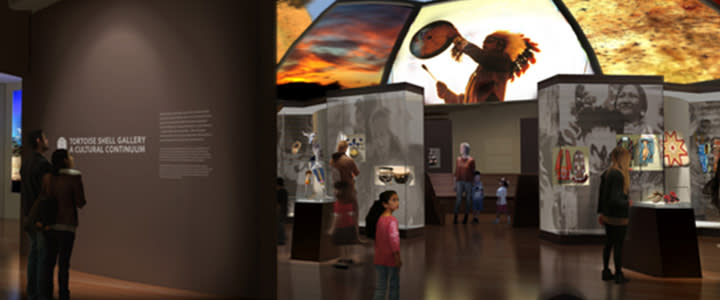 Once First Americans Museum is completed in May 2021, it will be an epic indoor/outdoor adventure for the entire family! Experience one-of-a-kind exhibits, participate in hands-on educational programs, hear first-hand accounts in the theaters and watch cultural demonstrations celebrating the collective histories and contemporary cultural expressions of Oklahoma's original peoples. Explore the outdoor cultural park where the plains, prairies and wetlands converge. Enjoy an intimate connection with the natural environment such as earth, wind, water and fire used to interpret American Indian perspectives.
---
COOP Ale Works New Home at the Historic 23rd Street Armory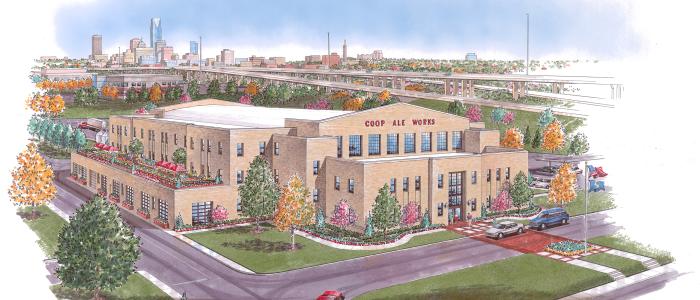 The historic 23rd Street Armory, which previously housed the Oklahoma Army National Guard, will be restored into the new home of Oklahoma's own COOP Ale Works. More than $20 million will be spent to update the 87,000-plus-square-foot building during the next two years. The armory will be transformed into a state-of-the-art brewhouse, 34-room boutique hotel with event space and a full-service restaurant and taproom. Construction will begin Spring 2019 with a planned opening in Spring 2021. Get the latest progress updates by following COOP on Facebook.
---
Oklahoma City Zoo Receiving $71 Million in Upgrades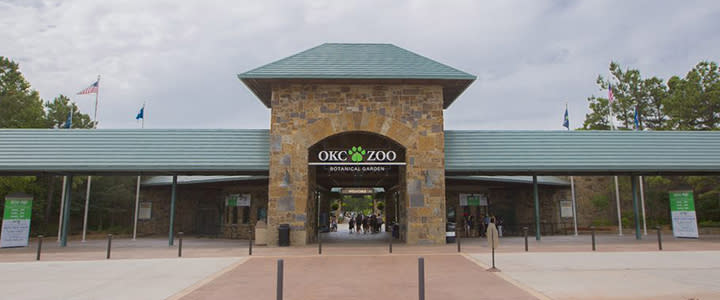 A Zoo on the move! The Oklahoma City Zoo and Botanical Garden recently announced plans for $71 million of new infrastructure through 2028. Near-term projects include a new orangutan climbing structure at the Great EscApe, a dedicated habitat for Galapagos tortoises in the Children's Zoo, plus an exciting Amphibian Plaza with a walk-through water garden featuring various amphibians and carnivorous plants. The Girl Scouts of Western Oklahoma is constructing the organization's first-ever STEM-orientated camp at Zoo Lake that will provide additional educational partnership opportunities. Mid-term projects include Sea Lion Cove, a three-acre expansion for the Zoo's California sea lions and a major transformation at the heart of the OKC Zoo that brings together the Zoo's endangered species from the African continent in a state-of-the-art new habitat located just inside the Entry Plaza. Long-term projects include a 12-acre conservation preserve and a space for botanical education and events tentatively known as The Farm. The Zoo receives a dedicated 1/8 of a cent sales tax in Oklahoma City that serves as the primary source of funding for these and other capital investments.
---
Oklahoma Contemporary Arts Center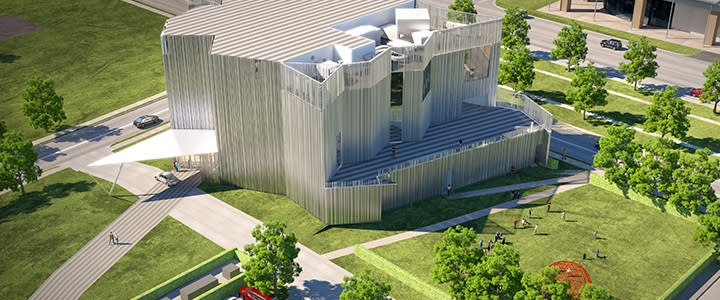 In March 2020, Oklahoma Contemporary Arts Center will open a spectacular new arts education and cultural resource on a 4.6-acre site at NW 11th and Broadway. In addition to providing a world-class facility for exhibitions, performance and education and a breathtaking addition to the OKC skyline, the new campus will become a "creative commons," a place for community to gather, create and experience art. A Studio School will tell the stories behind the art of now and teach the skills to create what's next. Incorporating programming from community partners, Oklahoma Contemporary will be a hub for artistic experiences of all kinds and offer the city an event space like no other.
---
Will Rogers World Airport Terminal Expansion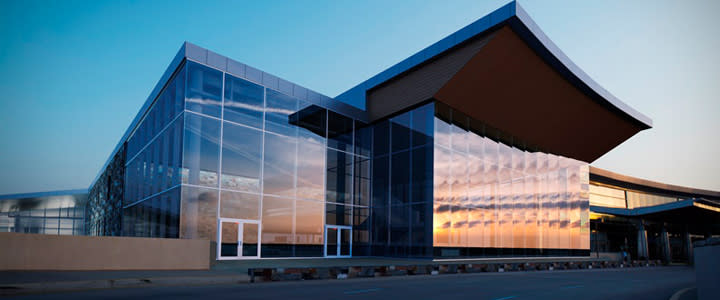 The Will Rogers World Airport Terminal Expansion Project is underway. Among other improvements, the $89 million project will add four new airline gates, a consolidated security checkpoint and much-needed greeting lounge space. One highly anticipated feature is an observation area that will give non-ticketed visitors a place to view airplanes. A significant architectural public art project will be incorporated in the terrazzo flooring and glass panels in the observation area. Construction is expected to be complete in the second quarter of 2021. The expansion project positions WRWA to meet the demand of its continued growth.
---
New Adventures coming to RIVERSPORT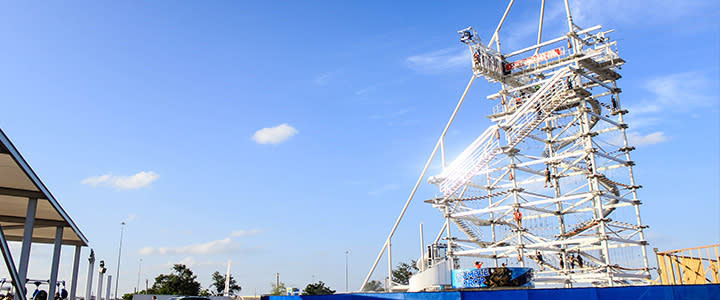 RIVERSPORT will be offering even more exciting adventures in 2020 including a new surfing feature and a zip line across the whitewater rapids.
Surfing is coming to Oklahoma with a new simulated surf experience to be built inside RIVERSPORT's whitewater center. Surf lessons will get novices on the water, while surfing competitions will bring pros to the state. The new zip line will take riders soaring over the rapids and, since it doesn't require climbing stairs, will be accessible to a wider range of people.
---
New Water Slide and Name coming to OKC's Largest Waterpark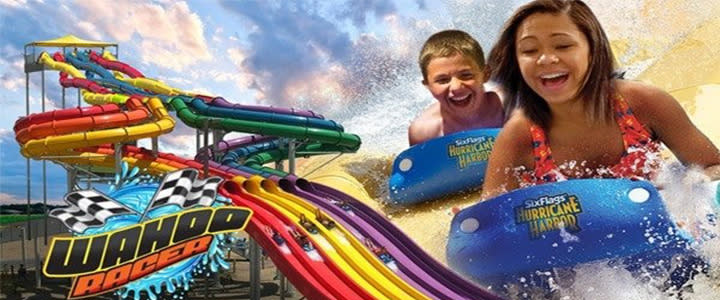 Big things are coming to Oklahoma City's largest waterpark in 2020! A new two-tiered mat water racing slide will be splashing into the park as the lineup of thrills expands. Wahoo Racer features six side-by-side racing lanes, each with its own pattern of twists, hills, and maximum airtime. Lying head-first on a specially designed water toboggan, you'll push off on a splashy high-speed dash for the finish line, sliding around 300 feet of twists, turns, 360-degree loops, and open-air stretches at 40 feet per second.
Even bigger news - the entire park is getting a tropical makeover as it transforms from White Water Bay to Six Flags Hurricane Harbor Oklahoma City! It will feature an island-inspired experience and offer enhancements throughout the park, including upgraded dining and retail locations, expanded seating, fresh tropical paint, and a bold new entrance. With the addition of Wahoo Racer, Hurricane Harbor Oklahoma City will be the coolest place to soak up the sun this summer.