What's New
Current Hotel Development
There are more than 21,000 hotel rooms destination-wide, with nearly 5,000 in Downtown OKC.
First National Center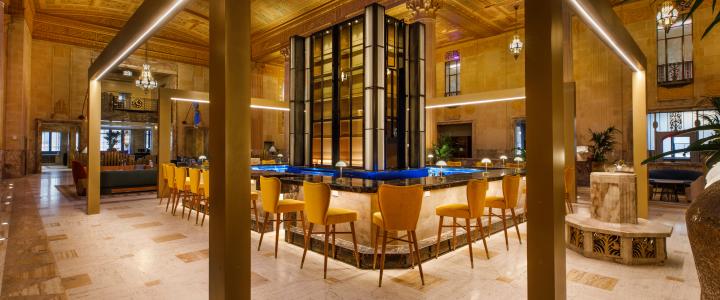 As one of OKC's most cherished skyline buildings, the First National Center towers over downtown OKC at 32 stories and 1.1 million square feet. Originally built in 1931, for decades the iconic art-deco style building was a focal point of downtown activity, with its hallowed Great Banking Hall serving as the heartbeat of Oklahoma City commerce, deal-making and business large and small. Since 2017, the building has seen major renovations and transformed into a mixed-use facility, featuring a full-service upscale hotel with 149 rooms, 210 urban apartments, new restaurants and modern retail spaces. The $275 million project includes six dining outlets, two ballrooms, a barbershop, a speakeasy and private dining options in the building.
---
First Americans Museum
September 2021 marked the opening of the First Americans Museum, where you can experience the collective histories of 39 distinctive First American Nations in Oklahoma today. The highly-anticipated museum showcases state-of-the-art exhibitions in history, culture and art; featuring live public and educational programs; and visitor amenities such as a café and coffee shop, a full-service restaurant presenting unique cuisine inspired by First Americans; and a museum store featuring handmade items created by Oklahoma's premiere Native American artists. The outdoor cultural park provides an intimate connection with the natural environment such as earth, wind, water and fire used to interpret First American perspectives.
---
Ski OKC at RIVERSPORT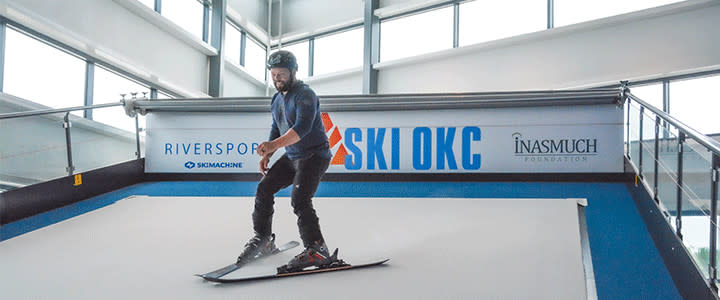 RIVERSPORT features a brand-new indoor slope that allows the facility to bring alpine skiing and snowboarding to the Boathouse District. With an infinite, articulating ski slope, the indoor ski simulator's quick inclination system allows for the slope to go from a Blue ski run to the equivalent of a Black ski run in seconds. With this new addition, RIVERSPORT becomes the first facility in the world to offer snow skiing, surfing and whitewater rafting all in one location. 
---
Omni Headquarter Hotel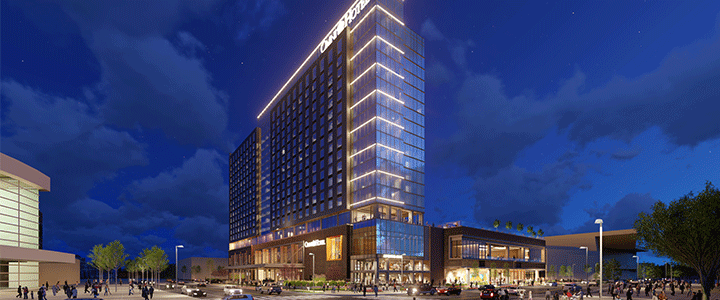 Opened on January 26, 2021, the all-new headquarter hotel by Omni Hotels & Resorts features 17 floors, 605 rooms and approximately 78,000-square-feet of additional meeting, event and pre-function space located on the second floor. Multiple food establishments are included, in addition to a fitness center, full-service spa and expansive pool deck. Groundbreaking for the Omni took place on October 1, 2018.
---
Oklahoma City Convention Center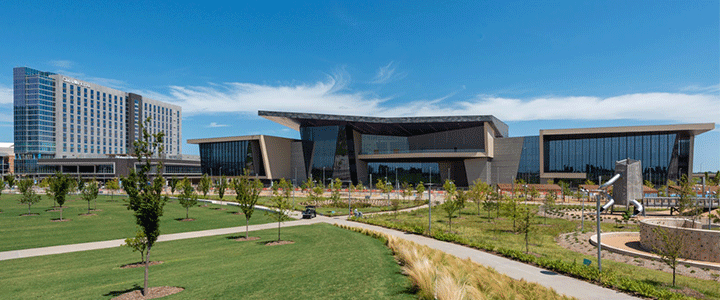 Meeting planners are excited about the new $288 million convention center in OKC. The convention center features 200,000 square feet of exhibit space, a 30,000-square-foot ballroom, and 45,000 square feet of additional space paired with a prime location near the Myriad Botanical Gardens, the downtown park and Paycom Center. Groundbreaking for the new convention center took place on June 15, 2018, and coincided with the launch of MeetinOKC.com, the CVB's meetings site. The new convention center is part of the MAPS 3 approved by voters in 2009. For more information on the new Oklahoma City Convention Center, click here.
---
USA Softball Hall of Fame Complex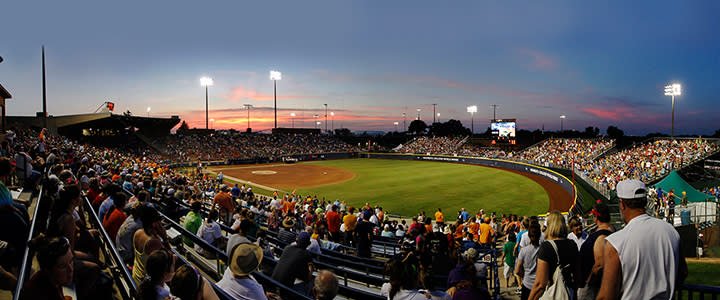 The Softball Capital of the World® saw major renovations during the 2019 off-season. The USA Softball Hall of Fame Complex got a modernized look with upgraded features to enhance both the fan and media experience. The venue is home to the NCAA Women's College World Series through 2035. When fans enter the Complex, they are met by a beautiful rock and brick facade, a new ticket window and new entrances. For media operations, a three-story press box features new interview rooms with tunnels leading from the team locker rooms, a broadcast booth, media workspace and upgrades to existing technology infrastructure. A bond package, approved by the citizens of Oklahoma City in September 2017, in addition to private fundraisers, allowed for the two final phases of renovations to be completed in 2020.
---
The Ellison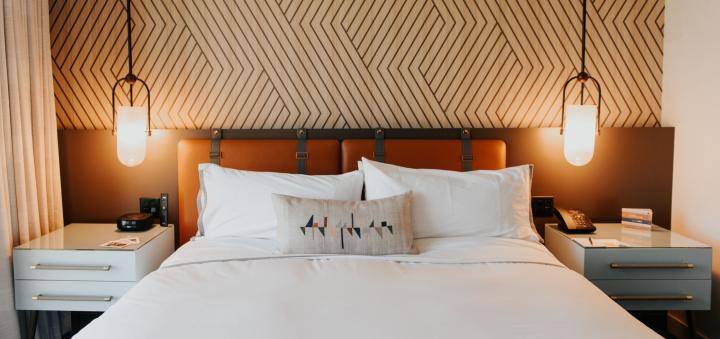 The Ellison Hotel is a stunning, new 120-room lifestyle hotel. As the first hotel in Classen Curve, The Ellison will celebrate creativity and the inclusively charming aspects of life in Oklahoma. Guests are invited to relax, unwind and explore the culinary experiences, recreational activities and a myriad of shops in Classen Curve located just outside the hotel doors.  
---
Will Rogers World Airport Terminal Expansion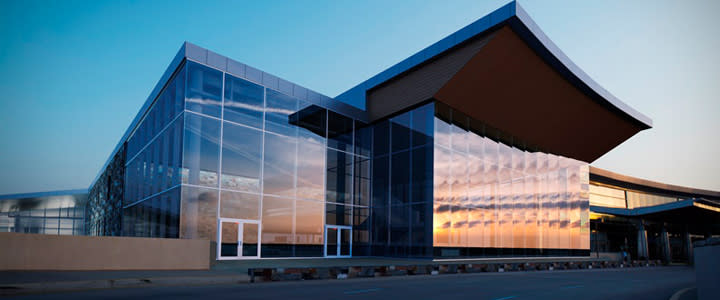 The Will Rogers World Airport Terminal Expansion Project is now open. Among other improvements, the $89 million project added four new airline gates, a consolidated security checkpoint and much-needed greeting lounge space. One highly anticipated feature is an observation area that gives non-ticketed visitors a place to view airplanes. A significant architectural public art project is incorporated into the terrazzo flooring and glass panels in the observation area. This expansion project positions WRWA to meet the demand of its continued growth. Visit this page for more information on new retail establishments and restaurants coming to Will Rogers World Airport.
---
Blessed Stanley Rother Shrine

The Blessed Stanley Rother Shrine is a resource for the entire archdiocese and a beacon of faith to people around the world. Built to honor and serve as a final resting place for the first U.S.-born priest and martyr ever beatified, the Shrine Church was designed in the Spanish colonial-style, inspired by the church Blessed Stanley served in Santiago Atitlán, Guatemala. Inside the 6,000 square-foot facility, visitors can find an orientation room with a video documentary, a gift shop and a museum. The museum highlights the story of Blessed Stanley Rother's life and mission, featuring artifacts from every stage of his life and provides information about his martyrdom and beatification. 
---
Renaissance Hotel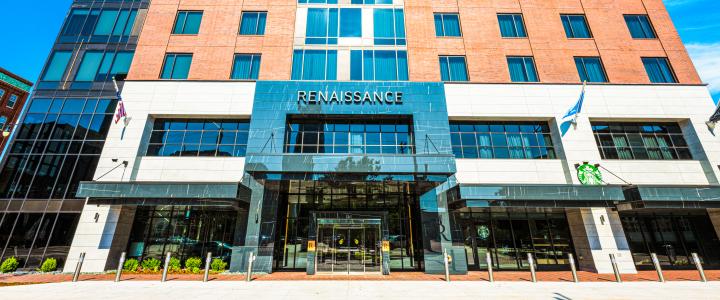 The first full-service hotel in the Bricktown Entertainment District is now open, offering 180 guest rooms, a modern steakhouse, an on-site Starbucks, and 2,500 square feet of meeting and event space. The Renaissance is situated in central Bricktown and surrounded by dozens of dining opportunities.
---
Oklahoma Freedom Announce Inaugural Season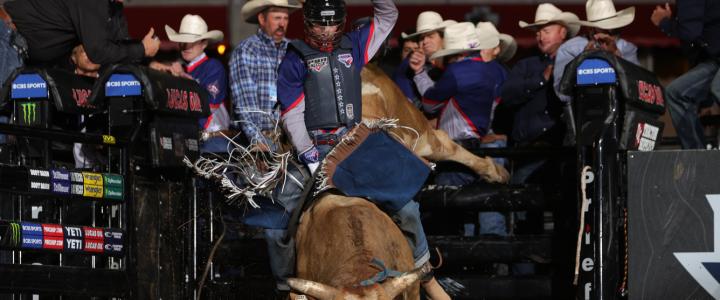 Oklahoma's first-ever professional bull riding team has begun their inaugural season. The PBR Team Series revolutionizes the sport of bull riding, transforming an individual sport into one in which riders join teams to compete in five-on-five bull riding games for a national championship. In the inaugural 2022 season, eight founding teams will compete: the Arizona Ridge Riders, Austin Gamblers, Carolina Cowboys, Kansas City Outlaws, Missouri Thunder, Nashville Stampede, Texas Rattlers, and Oklahoma's own Oklahoma Freedom.
---
Lower Scissortail Park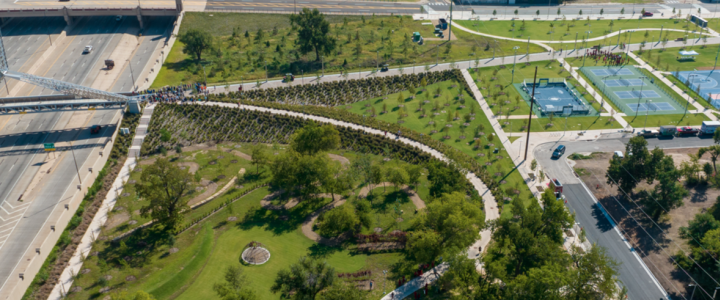 Scissortail Park's 30-acre Lower Park in the heart of Oklahoma City, which completed all of Scissortail Park, provides more open and natural spaces than the Upper Park. There is a focus on space for athletic events and pickup sports, with a soccer field, sports pavilion, pickleball courts, futsal court and two basketball courts. 
---
West Village District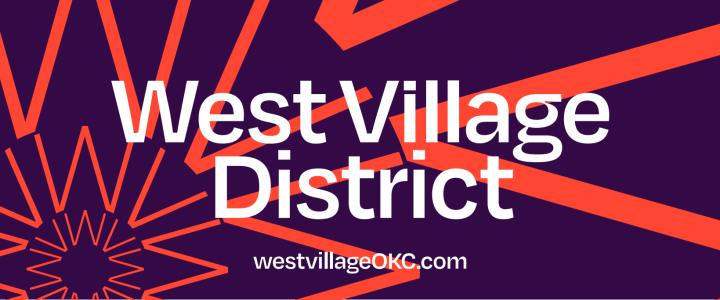 This new district encompasses the southwestern corner of downtown including John Rex Elementary, Historic Film Row, The Montgomery Apartments, Main Street Arcade building, West Village Apartments, The Jones Assembly and 21c Museum Hotel. Formerly, this area was included as part of the Arts District, whose boundaries have been dissolved and distributed between the new West Village District boundaries and City Center. Establishing the new district was spurred by area property owners and business owners who were seeking to generate Business Improvement District (BID) funds specifically for their corner of downtown.
---
Renovations to the Crystal Bridge Conservatory at Myriad Botanical Gardens

Since its opening in 1988, the Crystal Bridge Conservatory has remained the centerpiece of the Gardens, home to thousands of tropical and desert plants within 13,000 square feet and divided into two distinct climates: wet and dry. The Inasmuch Foundation committed $2.5 million to the second phase of a capital campaign to renovate the Crystal Bridge Conservatory at Myriad Botanical Gardens. This phase features a complete renovation of the interior conservatory spaces to enhance visitor engagement with a more diverse plant collection, interactive educational exhibits, improved ADA accessibility and a museum-quality gift shop. The Crystal Bridge Conservatory officially reopened to the public in November 2022.
---
Bar K

Oklahoma City is the second location for a growing Kansas City-based bar and restaurant concept with a furry fan base. Bar K is the first commercial development in the Boathouse District on the Oklahoma River— featuring a bar, fast-casual dining for both owners and pets, and two dog parks; one inside and one outside. The two-acre site also showcases an area called Petfinder Park where pet adoption agencies can bring dogs in need of a home.
---
What's Coming
OKANA Resort & Indoor Waterpark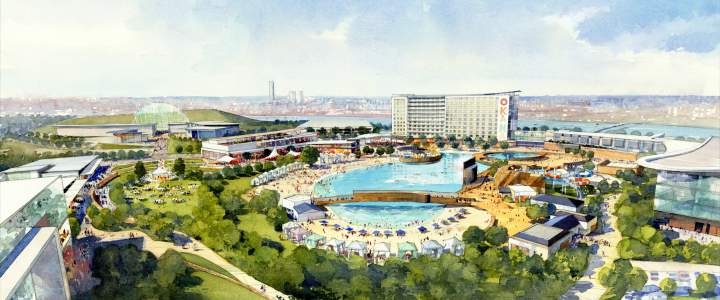 The Chickasaw Nation recently unveiled plans for a major resort-style development to be located adjacent to the newly-opened First Americans Museum. Situated along the Oklahoma River near downtown Oklahoma City, OKANA Resort & Indoor Waterpark will be a $300+ million tourist destination designed to continue the momentum of economic development in Oklahoma City. The OKANA Resort includes riverfront hotel, spa, outdoor adventure lagoon, amphitheater, indoor waterpark, restaurants, Native American Marketplace and retail outlets. The development is expected to be complete in the late spring of 2024.
---
Innovation District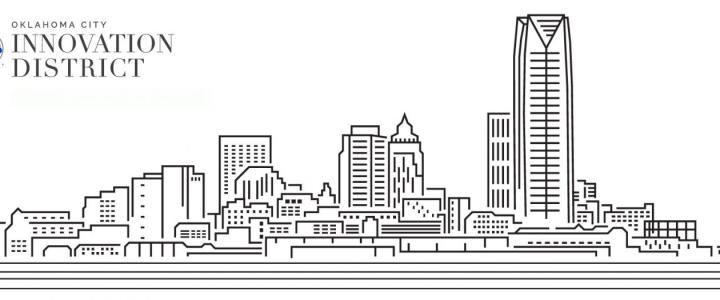 The Oklahoma City Innovation District is designed to be an epicenter for collaboration, innovation, opportunity and economic growth. The Innovation District encompasses about 1.3 square miles east of downtown Oklahoma City, between NE 13th and16th Streets to the north, NE 4th St. to the south, and Robinson and Lottie Avenues to the west and east. It crosses Broadway/Interstate 235 and includes Automobile Alley in addition to the Oklahoma Health Center, University Research Park, the Oklahoma Aerospace Institute for Research and Education (OAIRE) and numerous other institutions. The District is also home to the city's bioscience sector, where many institutions are already conducting groundbreaking research and fostering entrepreneurship and innovation.
---
OAK

OAK is an exciting new type of development — one that will change the way life is lived and work is done in Oklahoma. It's an entertainment destination that pays off OKC's reputation as a city on the rise. In three phases, it will transform NW Expressway and Pennsylvania Avenue into an entertainment, residential and retail space.
---
COOP Ale Works New Home at the Historic 23rd Street Armory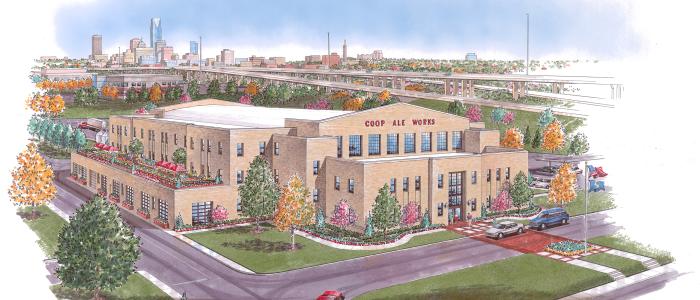 The historic 23rd Street Armory, which previously housed the Oklahoma Army National Guard, will be restored into the new home of Oklahoma's own COOP Ale Works. More than $20 million will be spent to update the 87,000-plus-square-foot building during the next two years. The armory will be transformed into a state-of-the-art brewhouse, 34-room boutique hotel with event space and a full-service restaurant and taproom.
---
Oklahoma City Zoo Receiving $71 Million in Upgrades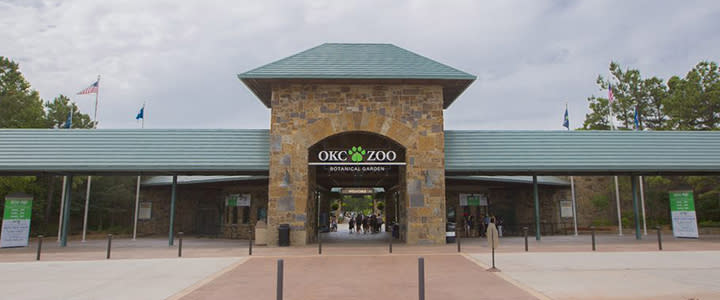 The Oklahoma City Zoo and Botanical Garden recently announced plans for $71 million of new infrastructure through 2028. Near-term projects include a new orangutan climbing structure at the Great EscApe, a dedicated habitat for Galapagos tortoises in the Children's Zoo, plus an exciting Amphibian Plaza with a walk-through water garden featuring various amphibians and carnivorous plants. The Girl Scouts of Western Oklahoma has constructed the organization's first-ever STEM-orientated camp at Zoo Lake that provides additional educational partnership opportunities. Mid-term projects include Sea Lion Cove, a three-acre expansion for the Zoo's California sea lions, and a major transformation at the heart of the OKC Zoo that brings together the Zoo's endangered species from the African continent in a state-of-the-art new habitat located just inside the Entry Plaza. Long-term projects include a 12-acre conservation preserve and a space for botanical education and events tentatively known as The Farm. The Zoo receives a dedicated 1/8 of a cent sales tax in Oklahoma City that serves as the primary source of funding for these and other capital investments.
---
District Hotel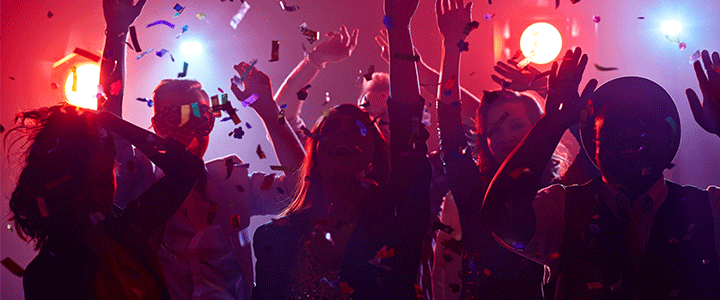 District Hotel, formally Hotel Habana, is an all-inclusive hotel property located in the heart of OKC's LGBTQ+ district—39th Street. District Hotel is a multi-venue experience with two pools, a nightclub, restaurants, a lounge bar, billiards and darts, in addition to several LGBTQ+ friendly bars and nightclubs just steps away. The district is also home to the annual Pride on 39th. 
---
Meinders Event Lawn & Garden at the National Cowboy & Western Heritage Museum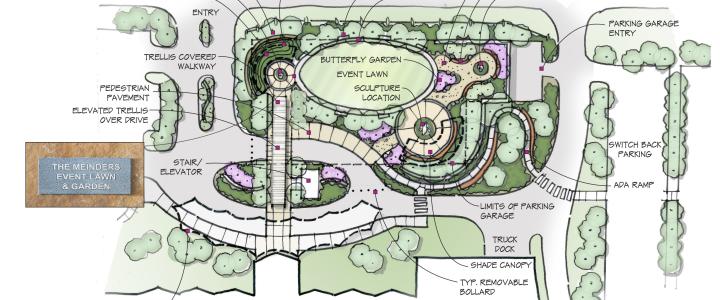 The National Cowboy & Western Heritage Museum continues to grow! The museum recently announced the Meinders Event Lawn & Garden and additional parking structures, as part of Phase II of the Museum's Master Plan. The gardens will include walking paths, an event lawn and a butterfly garden. Additional parking is set to include a parking garage and terraced, uncovered parking spaces on Museum grounds. Construction on the garden and additional parking is the second phase in a three-phase plan to beautify and improve the National Cowboy & Western Heritage Museum.
---
Dream Hotel & Unscripted Hotel announce two new hotel developments in Oklahoma City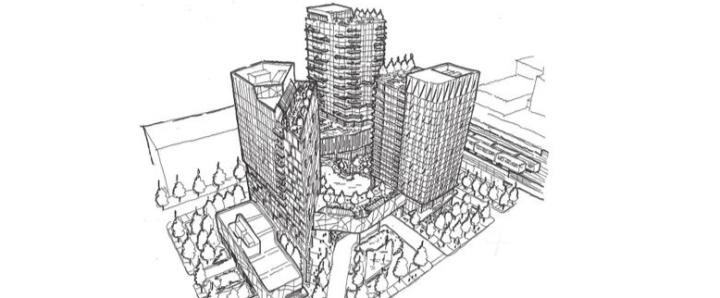 Celebrated hotel brand and management company Dream Hotel Group announced their plans to open two new Dream Hotel and Unscripted Hotel locations in Oklahoma City, Oklahoma in 2024. Designed by Miami-based CUBE3 Architects and built by general contractor Hensel Phelps, the 220-room Dream Hotel and 174-room Unscripted Hotel will be the centerpiece of a large mixed-use development project with California-based Matteson Capital LLC.
---
MAPS 4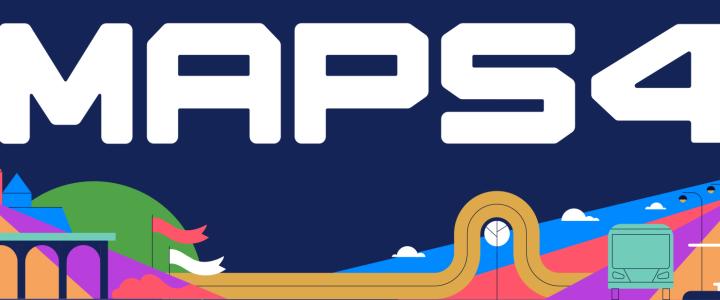 Oklahoma City has invested billions in transformational enhancements over the past several decades through a debt-free public improvement initiative called MAPS. MAPS 4, the latest slate of projects, features 15 quality of life projects across the city, including several significant tourism venues and assets such as: $63 million for a new OKC Fairgrounds Coliseum, $25 million for Freedom Center and Clara Luper Civil Rights Center, $37 million for a multipurpose stadium, $140 million for parks, $87 million for transit, $87 million for sidewalks, bike lanes, trails and streetlights, plus $115 million for improvements to Paycom Center and related facilities. The temporary penny sales tax funding MAPS 4 began April 1, 2020 and will end in 2028. This latest round of MAPS projects builds on decades of quality-of-life improvements for residents, as well as tourism assets such as the new Oklahoma City Convention Center, Scissortail Park, OKC Streetcar, Bricktown Canal, Chickasaw Bricktown Ballpark, among others. 
---
Fairgrounds Coliseum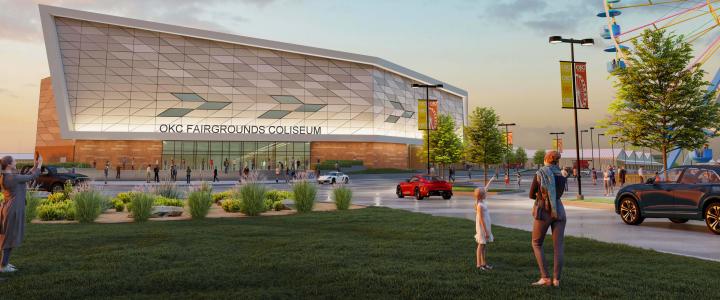 In early 2023, the OKC Fairgrounds is expected to break ground on a new coliseum as part of MAPS 4. This exciting upgrade to the fairgrounds complex will ensure OKC continues to be the "horse show capital of the world." All events and operations will continue to take place in the current Jim Norick Arena during construction.  
---
Truck Yard in Bricktown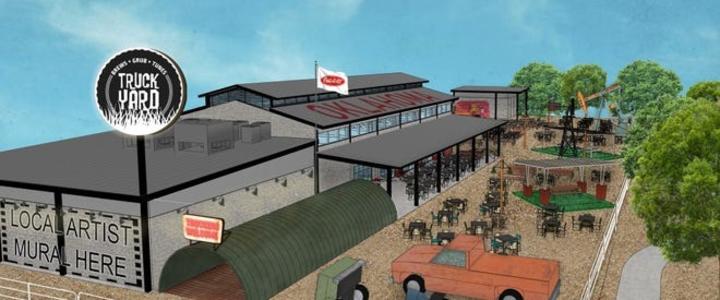 The Truck Yard in Bricktown will be situated along the Water Taxi Canal near the Land Run Monument. In addition to the restaurant and bar, Truck Yard will have a food truck court, a dog-friendly beer garden, outdoor games, public art and live music. This location of the popular Texas chain will be the first in Oklahoma.
---
Clara Luper Civil Rights Center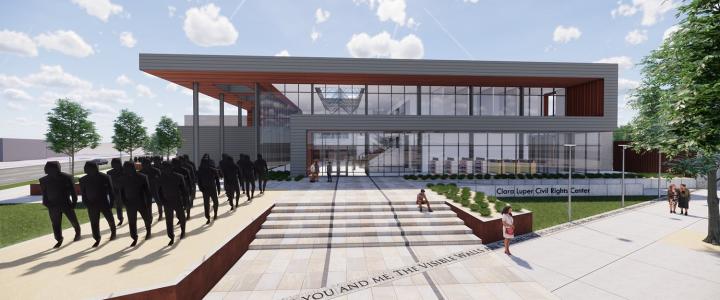 MAPS 4 will save the Freedom Center and build the Clara Luper Civil Rights Center to transform Oklahoma City's knowledge of our civil rights history and to positively influence the future of northeast OKC and the entire community. The historic Freedom Center, home of the local civil rights movement, will be renovated. The new Clara Luper Center will serve as a civil rights museum for Oklahoma City. It will be a community gathering place named for our most famous civil rights pioneer.
---
Women's Professional Fastpitch Adds OKC Spark as Newest Franchise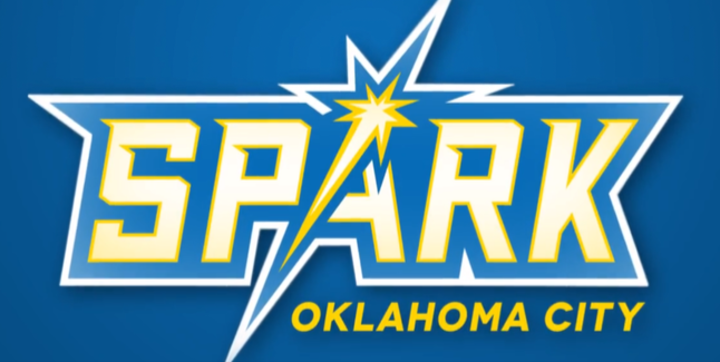 The Oklahoma City Spark joins Women's Professional Fastpitch as its newest franchise, with its debut season planned for 2023. This is WPF's third franchise in its first year of operation. Oklahoma City maintains its reputation as one of the biggest softball hubs in the country, and the addition of a professional softball team continues to elevate the city's softball presence. 
---
Hamlin Hotel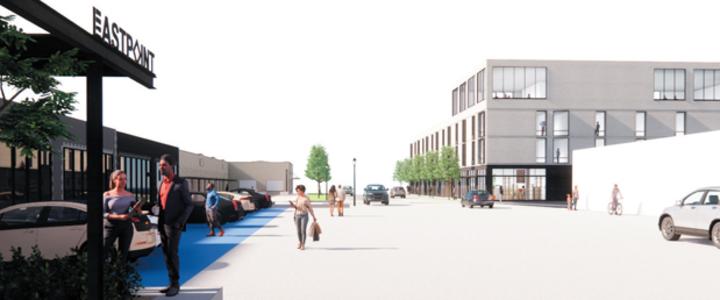 The 77-room, four-story Hamlin Hotel will be built across from the Market at Eastpoint at NE 23 and Rhode Island. This will be the first hotel development Northeast Oklahoma City has received in decades.
---
Gordon Ramsey Restaurants

Celebrity chef Gordon Ramsey is planning a casually refined and inviting restaurant in Chisholm Creek. Experience an all-day dining menu at Ramsay's Kitchen. From breakfast to desserts to late-night cocktails, the restaurant will feature classics like Beef Wellington, local fare and dishes influenced from all over the globe under one roof. 
---
Bungalow 23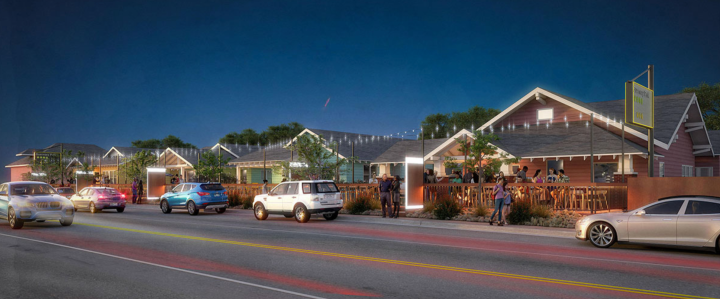 Bungalow 23 will unite 9 separate cottages in a unified plan, with common outdoor space between them for seating, games and entertainment in the 700 block of NW 23rd in Uptown 23rd.
---
Professional Bull Riders' Hall of Fame to be Exhibited at National Cowboy & Western Heritage Museum in Oklahoma City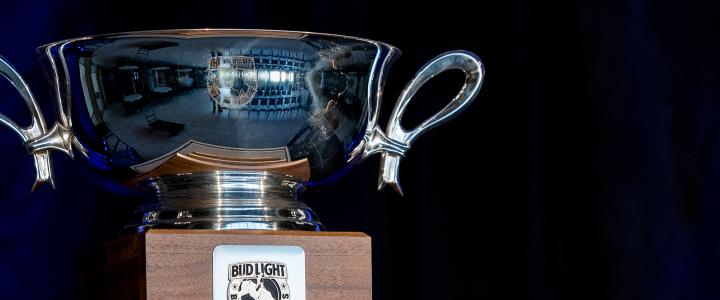 Professional Bull Riders will relocate the organization's prestigious Heroes & Legends induction ceremony to Oklahoma City starting in 2023. The PBR Hall of Fame will be also relocated to OKC and unveiled in Spring 2023 in the National Cowboy & Western Heritage Museum's American Rodeo Gallery, with an expansion planned soon after as part of a major reconstruction and reimagining of the Gallery.
---
RIVERSPORT Expansion Includes Trailhead and Bike Park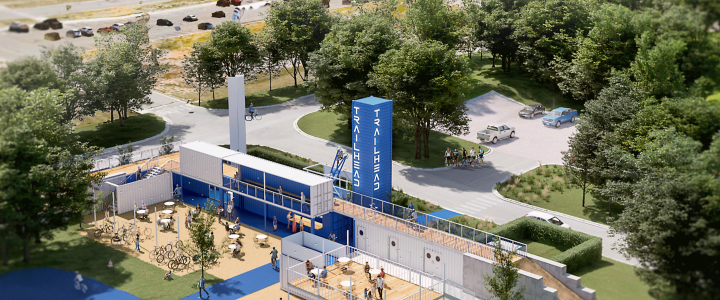 Slated to open in Spring 2023, the Oklahoma Trailhead and Bike Park at RIVERSPORT expansion will include a new bike plaza, an outdoor classroom, a community garden, and play area, as well as paved parking. Shipping containers will be used to create a unique gathering place that includes a welcome center, a nature center, and ADA restrooms. 
---
Renovations to the Skirvin Hotel

The $15 million renovation will include a comprehensive refresh of the guest rooms, restaurant and banquet and meeting spaces as well as the iconic lobby, public space and ballrooms beginning next year. The hotel will remain open and operational throughout the renovation period.
---
USS Oklahoma City to dock along the Oklahoma River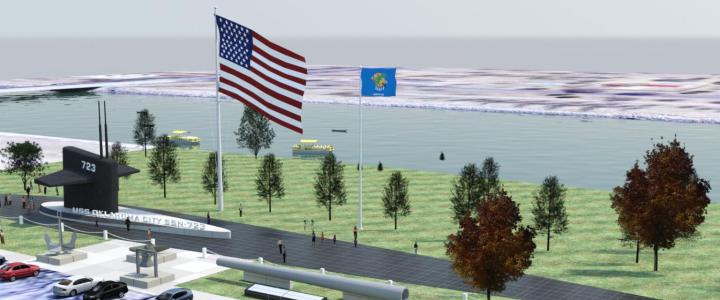 Oklahoma City Council approved a memorandum of understanding with the Oklahoma City Riverfront Redevelopment Authority and the USS Oklahoma City Park Association to design and construct a commemorative display featuring nautical items from the USS Oklahoma City (SSN-723) submarine and the USS Oklahoma City (CL-91/CG-5/CLG-5) cruiser. The maritime display will be located along the Oklahoma River, on the north shore of Wiley Post Park, 1700 S Robinson Ave. It will feature the sail and diving planes (hydroplanes) from the USS Oklahoma City sub (SSN-723), which served the U.S. Navy from 1988 - 2022 and possibly items such as the screw, anchor and ship's bell from the USS Oklahoma City (CL-91/CG-5/CLG-5) cruiser, which served the Navy from 1944 -1979. Narrative panels are planned to tell visitors about each ship's rich naval history.