Route 66 in OKC
Planning a classic road trip along Route 66? Oklahoma boasts more than 400 miles of Route 66 – more than any other state – and Oklahoma City serves as a center point. Travelers will find a mix of historic and modern experiences along the route, as OKC is home to some of the Mother Road's most iconic landmarks, attractions and destination dining. If you're looking to explore the modern and past-alignments of Route 66, explore our Route 66 alignments page.
---
landmarks then & now
---
Iconic Route 66
OKC enjoys dozens of past and present landmarks along its stretch of this famed highway. This map includes some of the most visited and unique Route 66 icons, but keep scrolling for a robust collection of things to do and places to eat along OKC's stretch of the route.
---
Route 66 Landmarks
Route 66 Landmarks
Select a location
Tower Theatre

Will Rogers Theatre

Milk Bottle Building

State Capitol of Oklahoma

Old Gold Dome

POPS

Owl Court Suites

Overholser Bridge

Cheever's Cafe

Ann's Chicken Fry House
Tower Theatre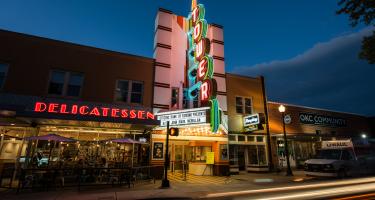 The historic Tower Theatre opened in 1937 and is one of Oklahoma City's last original movie houses with an intact auditorium and iconic neon marquee. After many years of movie premieres and historic runs of classic films, the Tower Theatre closed in 1989. In 2017, Tower Theatre returned as a live music, movie and event venue in the heart of the Uptown 23rd District.
Will Rogers Theatre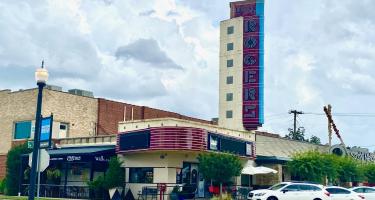 Will Rogers Theater, built in 1945, was one of many single-screen theaters in America post World War II. It opened on September 18, 1946. Back during this time, theaters like Will Rogers were considered exclusive, upper-echelon, and modern. Today, the theater is an event center that is owned by Western Concepts Restaurant Group, which owns and operated the entire building that Will Rogers Theater is attached to.
Milk Bottle Building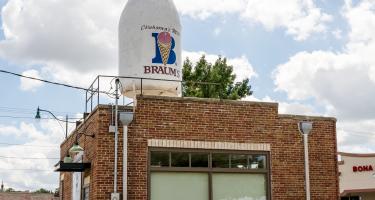 Squeezed into a small piece of land on a busy city thoroughfare, this tiny brick building was built in 1930. Around 1948, its crowning glory was added – a giant metal milk bottle perched on top. Over the years, the bottle has been painted to advertise various dairy businesses, meanwhile the building has served as a grocery store, fruit stand and sandwich shop.
State Capitol of Oklahoma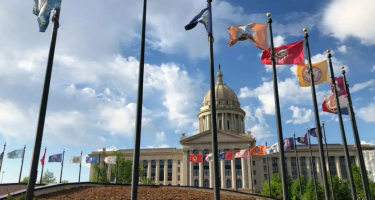 Oklahoma's first capital was Guthrie, Oklahoma, but it moved to Oklahoma City in 1910. Construction began on the Oklahoma State Capitol in 1914 and was completed in 1917. Originally, it housed the judicial branch of Oklahoma, but the state's high courts moved most of their operations to the Oklahoma Judicial Center in 2011, leaving only the Supreme Court Hearing Chamber in the capitol building. The state capitol complex is the only state capitol grounds in the United States with active oil rigs.
Old Gold Dome
This geodesic dome was built in 1958 and originally served as a bank. It was the fifth geodesic dome constructed in the world, using 625 individual panels to create the landmark building. Route 66 travelers and mid-century modern enthusiasts love the unique architecture.
POPS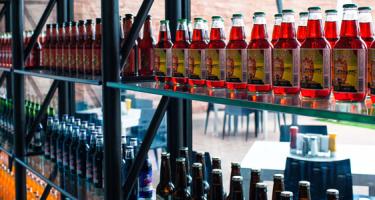 POPS is the newest, coolest landmark along Route 66! This one-of-a-kind, must-see destination starts with a 66-foot soda pop bottle that makes POPS an instant icon. At its base is an ultra-modern gas station, cafe, shake shop, gift shop, and convenience store featuring a list of nearly 500 different sodas and beverages. POPS cafe serves up the best burgers and fries anywhere, super-thick shakes in 10 flavors and breakfast with the fluffiest eggs ever.
Owl Court Suites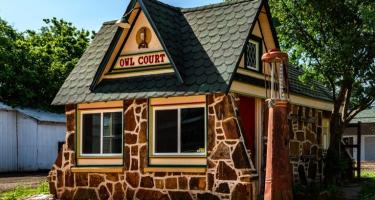 Overholser Bridge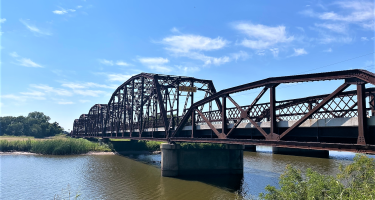 Built in 1924, this bridge boasted a unique design for the time, using the latest steel truss technology and combining a variety of trusses in unusual ways. The Overholser Bridge lost its official association with Route 66 in 1958 when a new highway section and wider bridge was built to the north, but its size and symmetry and long-time service as part of old Route 66 solidified it as a Mother Road landmark. The bridge was listed on the National Register of Historic Places in 2004.
Cheever's Cafe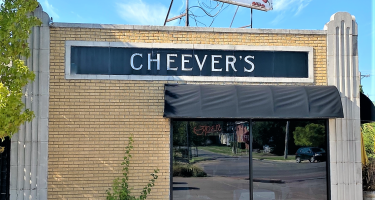 Located on the corner of Hudson and NW 23rd Street in OKC's Uptown 23rd district, specializing in American cuisine with Southwest influences with a variety of sublime prime steaks, seafood and salads. It's also on the original and current Route 66 alignment.
Ann's Chicken Fry House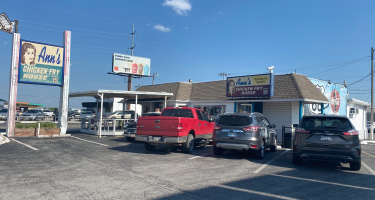 Ann's Chicken Fry House is an OKC must-eat along Route 66 serving up the best of homestyle American grub like chicken fried steak and okra. Check out the retro décor between bites, including the vintage vehicles parked out front. Be sure to bring cash; credit cards are not accepted.
---
OKC Districts On Route 66