Automobile Alley Dining
Bring your appetite. From traditional Mexican fare to wood-fired meats and handcrafted cocktails, Automobile Alley is anything but a drive thru.
---

Broadway 10 Bar and Chophouse
Located in the historic Buick Building, Broadway 10 may be the most beautiful dining space in Oklahoma City. An open kitchen and 40-seat bar greet guests as they enter the 8,000-square-foot facility. It's best to think of Broadway 10 as a chophouse plus. The menu is heavy on chops, seafood, steak and poultry, but they also have sushi.
Broadway 10 specializes in aged cuts, and on the Primal Cuts section of the menu, all selections are aged 28 days, and most of the steaks are certified Prime. Diners may choose between seven sauces to accompany each cut, including veal demi-glace and a made-in-house steak sauce. If you are in the mood for a rare and somewhat expensive indulgence, choose the Akaushi Filet. Akaushi beef comes from a Wagyu breed raised in the U.S., and the meat is tender, creamy and densely marbled.
---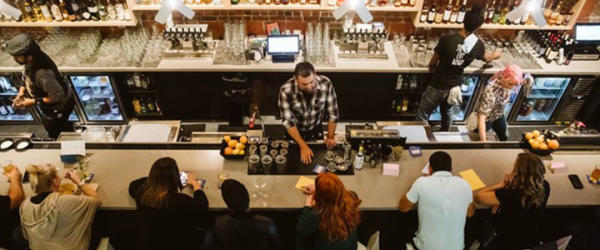 Parlor OKC
Parlor OKC is a collection of chefs and mixologists coming together to advance the concept of what a restaurant/bar could be within an eclectic atmosphere. This is a place for people to relax and socialize while enjoying artisan cocktails, craft beer and phenomenal food from all walks of life.
There are seven restaurants located inside Parlor, guaranteeing there is something for everyone to enjoy including Bad Nonna's, Ray's Chicken Kitchen, Disco Taco, Callahan's Chicago Grille, Pachinko Parlor, Providence Pizza and MOB Grill.
---

Red Primesteak
Red was the first locally owned prime steakhouse in downtown Oklahoma City. Designed by multiple-award-winning architect Rand Elliott, Red is a popular downtown nightspot and fine dining destination. The mezzanine can accommodate small, private parties with a great view of the restaurant, or choose the "spaceship" private table in the back of the restaurant for complete privacy.
Red specializes in aged beef, and the "40 day" prime ribeye is the star of the menu. They also have bone-in ribeye if you prefer, but the steaks, while great in their own right, are made even better by Red's selection of sauces and crusts. You will pay a little extra for the black truffle butter, but just pay the $5. It's nearly transcendent. There is a good selection of seafood, pasta and chops, too, and the horseradish potato gratin is a must for a side dish.
---

Hideaway Pizza
Hideaway first opened in Stillwater in 1955 close to the campus of Oklahoma State University. The concept became a fixture in Cowboy life, and alumni would reminisce at length about the pizza, fried mushrooms and great times they had in the Stillwater Hideaway. When enough of them finally settled in Oklahoma City, it made good sense to bring the brand here. While the brand was established in a university culture, it is now solidly family-friendly. (There is still a full bar.)
Hideaway's specialty pizzas were some of the first in Oklahoma that weren't based on traditional pies. You can build your own if you like the traditional route, but Hideaway became an icon because of the combination of flavors and creativity. For the big eater, there is the Big Country: pepperoni, beef, smoked sausage and Canadian bacon, with red sauce and two kinds of cheese. For a lighter pie, the Maui magic has Canadian bacon, pineapple and mandarin orange. It's a delicious twist on a classic. The Paradise Pie is another local favorite.
---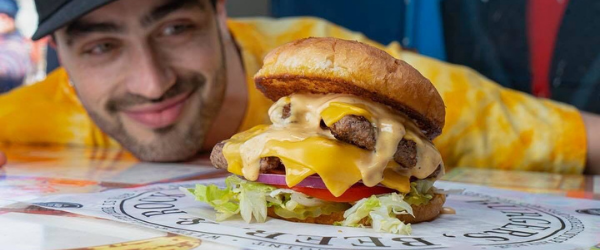 S&B's Burger Joint
S&B's Burger Joint opened its doors to hungry Oklahomans in 2009 offering multiple award-winning sliders and burgers with an array of eclectic flavors and combinations that you won't find anywhere else. With six locations across the metro, there's no doubt that this burger joint is a popular spot for locals and visitors alike. The Fatty features classic burger toppings with grilled onions and a Kaiser bun. Try the full size or sliders with an impossible patty, chicken breast or stick with the classic Angus beef.
Not in the mood for burgers? Try their loaded fries that come with a generous helping of toppings or stop in for a milkshake, both are sure to give you an excuse to be coming back for more. 
---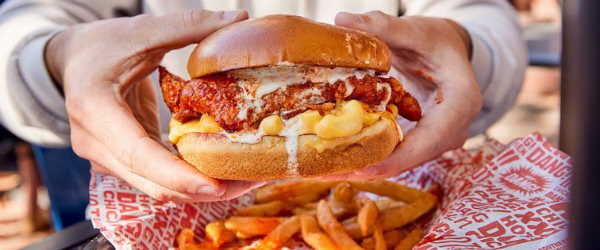 Nashbird Chicken
Nashbird Chicken is more than just a chicken place. The fries with pickled ranch for dipping are addictingly delicious. Nashbird baskets stack the fried chicken high atop a slice of classic white bread with crisp dill pickles on the side.
Nashbird prides itself on being a place for friends and family to hang and enjoy each other's company while indulging on their affordable HOT-DANG chicken combos. For an additional treat, their lemon icebox pie is a constant crowd-pleaser and will have you in a fork fencing match over who gets the last bite.
---