Exploring LGBTQ+ Friendly Bars and Clubs in OKC
Oklahoma City isn't just a city of cowboys and oil wells; it's also a welcoming home to a thriving queer culture. When the Oklahoma sun sets, our city's nightlife begins to pulsate, particularly in our 39th Street District, also known as the Gayborhood, the heart of the local LGBTQ+ social scene. 
As you enter the vibrant spaces of gay and lesbian bars and clubs on 39th Street and across Oklahoma City, expect to be greeted by friendly bartenders and patrons, fresh and delicious cocktails and catchy dance music.

39th Street District–Gay Bars & Clubs 

Angles
Experience the ultimate dance party at Angles, a renowned LGBTQ+ nightclub that serves as a vibrant hub for happy hours, themed party nights and, of course, dancing. Angles comes alive with dynamic lighting and high-definition video screens, intensifying the festive atmosphere for an unforgettable night of non-stop fun.
The Boom
A staple in Oklahoma City, The Boom is an eclectic mix of everything you'd want in a nightlife spot—drag shows that could rival RuPaul's contestants, comedy nights that'll have you clutching your sides and karaoke where you're the star. If you're visiting Oklahoma's gay bars over the weekend, don't miss out on The Boom's Sunday Gospel Brunch, one of the many live shows held there. 
Apothecary 39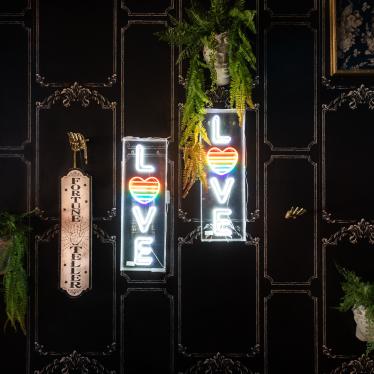 Apothecary 39 is far from your average watering hole. With an old-school apothecary vibe, the laid-back bar offers a unique blend of classic cocktails and a warm, inviting atmosphere. Velvet seating and subdued lighting make you feel as though you've stepped into a bygone era, yet the youthful energy is anything but dated. If you're a bourbon or whiskey lover, you'll find a selection as interesting as the conversations you'll have with your friends, old and new.
Tramps
Add Tramps to your gay bars OKC itinerary. Yes, that's the name, and it promises a no-judgment night of dancing to a varying mix of music, from country to contemporary pop. We dare you to try not to dance to the beat or mingle with strangers on the dance floor or around the pool tables at this LGBTQ+ friendly dive bar. 
Phoenix Rising
Phoenix Rising is a space that defies easy categorization. This venue champions the LGBTQ+ community by hosting drag shows, karaoke and other live performances regularly. The bar is lively, but the patrons make this place irresistible. Whether you're sipping on a craft cocktail or simply enjoying the company of friends, this is one of the several gay bars in OKC offering a setting where you can be yourself.

Explore More LGBTQ+ Friendly Bars & Clubs OKC
Beyond the 39th Street District OKC, you'll see popular LGBTQ+ friendly attractions, bars and restaurants throughout our city, including the Paseo Arts and Plaza districts. Hit up Alibis, one of the few remaining lesbian bars in the U.S., and The Secret Bar & Patio for cocktails, dancing and themed nights.
If you're visiting Oklahoma City over the weekend, don't miss out on Glamour's Sunday Gospel Brunch. This drag show is a parody church service / Gospel radio performance, featuring games, skits, sing-alongs, communion with spirits (the liquid kind), special music and a children's sermon including puppets.  

Come as you are in OKC, where our bars and restaurants welcome you with open arms.