Amusement Parks in OKC
When it comes to family fun and adventurous outings with friends, the amusement parks in OKC offer a smorgasbord of excitement. Whether you're a thrill-seeker looking for your next adrenaline rush or someone who enjoys leisure activities with a view, Oklahoma City has many options to keep everyone entertained.
 
Six Flags Oklahoma City–Frontier City & Hurricane Harbor OKC
Make the most of your trip by visiting not one, but two fantastic Six Flags theme parks in the same city. Frontier City OKC and Hurricane Harbor are both part of the Six Flags family, offering a blend of aquatic adventures and land-based thrills. 
Frontier City takes you on a wild ride through the Wild West, complete with the Steel Lasso rollercoaster, which offers a panoramic view of OKC as you loop around its track. Hurricane Harbor, formerly known as White Water Bay, lets you cool off with an array of splashy fun and water slides. These two theme parks in OKC are a stellar pick for families, couples or groups of friends who want to get their adrenaline pumping during their visit!
Frontier City is open from mid-March until the end of October. Hurricane Harbor is open for the summer, starting Memorial Day Weekend through Labor Day Weekend.
Wheeler District Ferris Wheel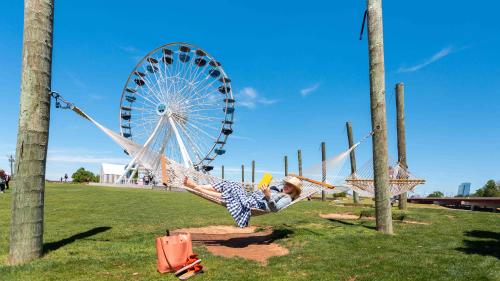 Sometimes, all you need for a good time is a great view, and that's what you get with the 100-foot tall Ferris Wheel in the Wheeler District. Overlooking the Oklahoma River, The Wheel provides panoramic downtown vistas and is perfect for a romantic date or family outing. Beyond the classic amusement ride, the Wheeler District offers weekly markets, diverse restaurants, live music and more.
Celebration Station
When it comes to offering a bit of everything, Celebration Station is the place to be. From go-karts and bumper boats to miniature golf and an extensive arcade, this year-round amusement park provides various activities for a fun-filled day. Plus, when you're ready to refuel, the on-site pizzeria is prepared to serve some tasty treats.
Wake Zone Cable Park OKC
For those who prefer their thrills on water during the summer months, Wake Zone OKC has got you covered. This water sports park specializes in wakeboarding and houses a large inflatable aquatic playground for all-day fun and bonding. If wakeboarding is on your agenda, whether you're a seasoned rider or a newcomer eager to acquire the skills, you're in for an unforgettable outdoor adventure thanks to our certified instructors and innovative cable system.
Riversport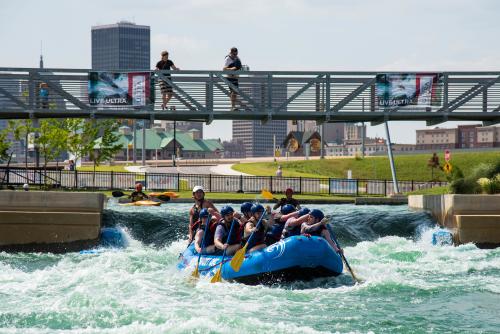 While not a traditional amusement park, Riversport takes adventure to another level by blending high-adrenaline watersports with leisurely fun. Whitewater rafting, kayaking, stand-up paddleboarding, biking, surfing, tubing and zip-lining are available for those looking to flex their muscles in the summertime. Though most of the attractions at Riversport are only available from late spring to early fall, the park has indoor attractions such as climbing walls and an indoor slope for skiing and snowboarding.
Oklahoma State Fair
If you plan to travel to OKC in September or make a special trip for the Oklahoma State Fair, you're in for a treat. The annual event combines all the elements of classic amusement, from roller coasters and carousels to games and live entertainment. It's a tradition that embodies the communal spirit of Oklahoma City.
 
Whether you crave the adrenaline rush of heart-pounding roller coasters, long for the nostalgia of classic carnival rides, or seek the thrill of speedy water slides, there's something for everyone at amusement parks in OKC. So come on down and let us show you a good time!