Summer will be here before we know it—which means there are hot days in OKC that only a dip in a refreshing pool can fix. 
Along with full-fledged water parks and water features, the city boasts many splash pads and public pools. Start planning to try a few new places this summer or revisit your top favorites. Either way, all you need to do is grab your sunscreen and a towel. Here's your guide on where to go and how to stay cool in OKC!
Hurricane Harbor 
An obvious choice for an all-day, cool-off spot is Hurricane Harbor—Oklahoma's largest water adventure park featuring more than 30 rides, slides, pools and activities. To meet social distancing guidelines, tickets should be purchased online and pre-scheduled in advance by visiting the Six Flags website.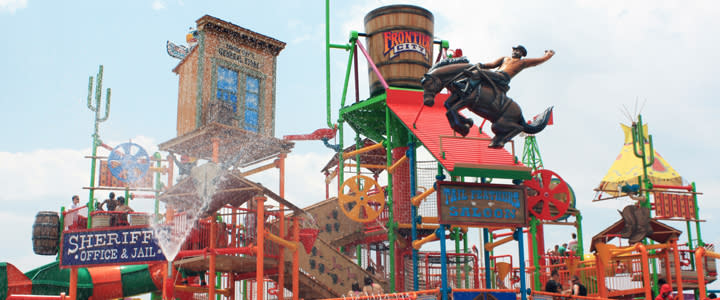 Frontier City's Wild West Water Works
OKC's major amusement park, Frontier City, now offers a novel water park attraction. Kids can splash and play throughout the theme park but be sure to check out the Gully Washer, a 66-foot tall water ride complete with loops, twists and curves. This new area joins the other water rides at the Western-themed amusement park, the Mystery River Log Flume and the Renegade Rapids, allowing guests to stay cool wherever they go. Reservations are required so visit this page to start planning!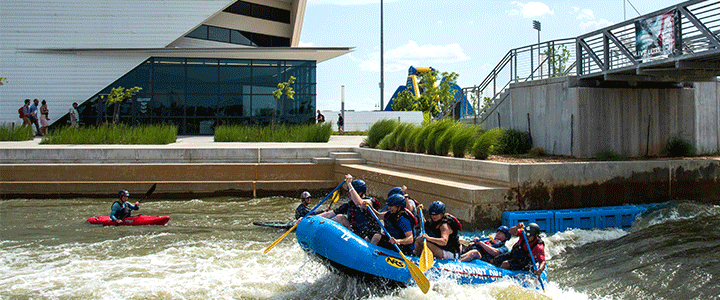 RIVERSPORT Adventures and the Boathouse District
Looking for an epic outdoor adventure? Book some time with RIVERSPORT Rapids and its Class II-IV whitewater rafting course. Go with a guide on a whitewater raft, try it on your own or tube or riverboat through its $45.2-millioin whitewater rafting and kayaking center. Even if the water doesn't cool you off, you'll have too much adrenaline pumping to even notice you're hot. Make sure to check out the newest additions to the Boathouse District; Surf OKC and Skii OKC. Catch a wave on Surf OKC, or if skiing is more your style, hit the slopes on the brand-new alpine skiing and snowboarding experience. Too much action? Grab a flatwater kayak and set out on the Oklahoma River at your own pace. Season or day passes and rafting reservations can be arranged at RIVERSPORT passes and memberships.
Myriad Botanical Gardens Water Features 
Opening late June for the summer season, follow the sounds of laughter and splashing to the two water features within the Myriad Botanical Gardens. The Plaza Water Feature is located just south of the Colcord Hotel while the Thunder Fountain is next to the Children's Garden and provides a full sensory experience of an Oklahoma thunderstorm! Outdoor activities are free at the Myriad Botanical Gardens.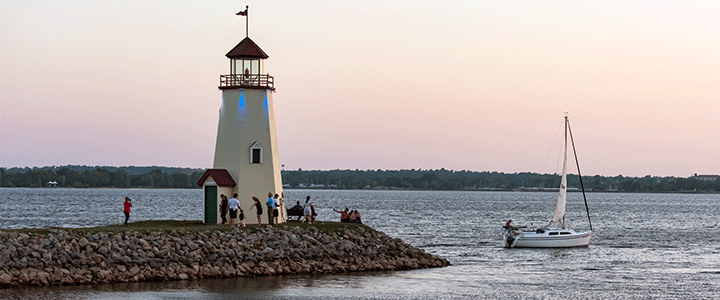 OKC's lakes
Do you have a boat and looking to set sail? Want to fish or swim? How about waterskiing or jet skiing? OKC has some great lakes to do all that and more. Lake Hefner is known for sailing, and Lake Overholser is a favorite among jet-skiers and boaters. Try Lake Draper if you want to waterski, and Lake Arcadia is your choice if you are looking for a day of swimming. View our guide to navigating the great outdoors in Oklahoma City. 
Lost Lakes Adventure Park
Try out Oklahoma's only wake park this summer. The Wake Zone offers wakeboarding, water skiing, kneeboarding and wakeskating using a cable system. Try out the park's three Extreme Water Slides or the Aqua Park floating playground opening in May 2021. Lost Lakes is now open on weekends and features a full restaurant and bar that's open to the public during the Adventure Park hours.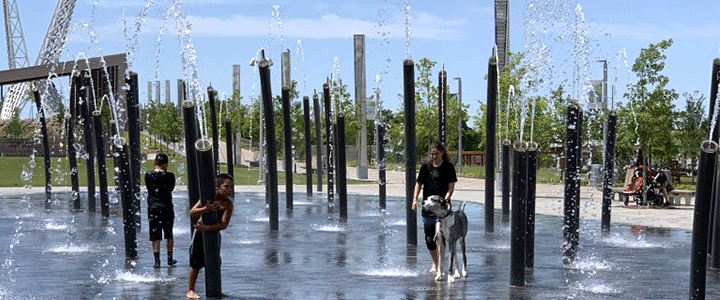 Scissortail Sprayground
Pack a picnic lunch and head out to Scissortail Park on a sunny summer day and explore the many outdoor activities. Providing a much-needed break from the heat, the sprayground is located on the southeast side of the park. The extra-large jets are sure to cool you off in no time!
Now open: check out this list of OKC's other 17 free splash grounds around OKC!