Just a few weeks ago, in the span of about 48 hours, here's what Oklahoma weather did: it started out in the 60s but before long the wind started blowing 40 miles an hour from the south. By evening the wind changed and blew 40 miles an hour from the north, the temperature dropped to the teens and by morning we had a thunder-sleet storm. Talk about weather whiplash!    
This time of year especially, seasoned Oklahomans know that having a handful of go-to indoor spots for fun in your back pocket is a smart move. Here's a gaggle we are pretty excited about: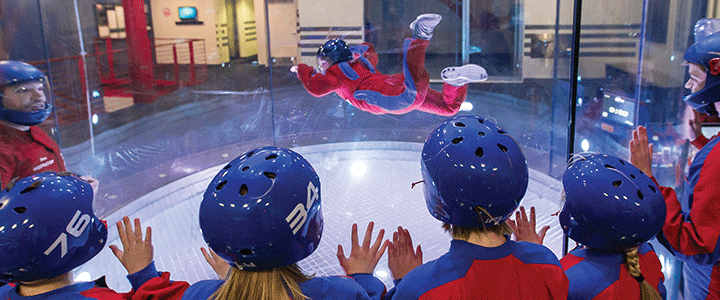 iFly. Ever wanted to experience skydiving without jumping out of a plane? Have we got an idea for you! iFly's indoor skydiving experience allows you to float safely on a column of air for about 60 seconds at a time and longer when you're more experienced. After a quick training course, your instructor will help position you in the tunnel and then the fun begins! iFly welcomes flyers ages 3 and up. 
Bubba Play Indoor Play Zone is an adventure-filled, jungle-themed indoor play space designed for kids 2-16. Activities include a 4-lane slide, a tube slide into a 100,000-ball pit, three interactive levels dubbed the 'Jungle of Fun,' party rooms, a toddler area, café and more.   
Jump! Zone is designed for kids AND parents to burn off a little steam while playing on oversized inflatables, flying through the air on a zipline, sliding, running through obstacle courses and more. Book a party at Jump! Zone or pop in for an unstructured play session. There are arcade games and rides, but you won't need a pocketful of quarters because it's all included in a flat admission fee.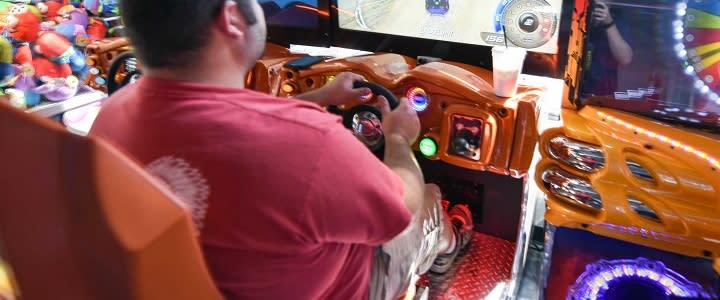 Brickopolis. Three stories of indoor fun offered a la carte in Bricktown – the first floor (canal level) houses fun for the 10-and-under including arcade and other games, plus a shop. Second floor fun (street level) is the Grill, the perfect spot for a burger or beverage. Up on the third floor, you'll find the 'extreme fun zone,' with a laser tag arena and plenty of arcade and redemption games. When the weather's nice, enjoy the outdoor mini golf, gemstone mining sluice and more! 
Main Event. Virtual reality immersive games, laser tag, bowling, billiards, karaoke, gravity ropes, a restaurant with family friendly eats and mocktails, cocktails and so much more. Book a bowling lane online or download the app.   
Blue Zoo Aquarium. An interactive aquarium with hands-on activities and experiences, play areas and more. Feed stingrays, have fun at water play tables, watch six-foot sharks swim past you or say hello to some new starfish friends. You can even dive and see the sharks up close with the help of a certified dive master! 

Summit Climbing is a 90-foot tall climbing gym located near downtown Oklahoma City. Converted to a climbing gym from grain silos in 1999, this gym hosts, top-rope, lead, auto-belay, and bouldering. The incredible mural on the outside of the building is titled "This Land," and is by local artist Rick Sinnett. The inside of the silos are climate-controlled, but weather permitting, there are several routes on the outside of the building, which allow you amazing views of the downtown skyline.
Science Museum Oklahoma. At a whopping 390,000 square feet, Science Museum Oklahoma is guaranteed to keep your crew busy and active for the whole day. It's one of the biggest hands-on science museums in the United States. There are hundreds of activities on the Science Floor alone, but that's not all – there's a Tinkering Garage, a 20,000-square-foot CurioCity where kids can balance on a tightrope or play an instrument, arts activities and a café.