The best way to stay cool for the summer? Enjoying a delicious ice cream cone, snow cone or frozen treat in OKC!
We've rounded up some of our favorite spots in town to beat the heat with something cool in hand.
Perets Dessert & Coffee Bar
Perets Dessert & Coffee Bar is OKC's late night cozy coffee den. It's located in Downtown and has a laid-back, living room atmosphere. Unlike other coffee shops, it is open later in the day, from 3-11 p.m. They have small-batch ice cream and espresso drinks. Visit Perets for the best affogato in OKC.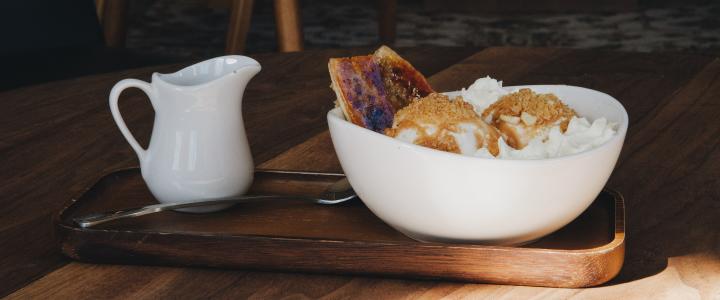 Capitals Ice Cream 
Indulgence is the name of the game at Capitals Ice Cream in Midtown. Start with a vanilla ice cream base then add your favorite topping – fruit, cereal, candy, cookies, pie slices you name it. Capitals then swirls the toppings and ice cream together to create your own unique treat. Get it in a cup, a cone or ask for a milkshake. For those looking for more curated flavor combinations, you can order off of Capitals' rotating monthly menu. Not feeling a delicious ice cream treat? Capitals also offers cold brew and pour-over coffee and local craft beer.
Roxy's Ice Cream Social 
Roxy's Ice Cream Social is a new take on an old classic. This retro ice cream shop specializes in extraordinary flavors, fresh-baked cookie sandwiches, floats, sundaes and more. Roxy's offers both classic and nontraditional ice cream flavors that are made in-house daily. Stop by one of their four metro locations and don't miss out on the pistachio and coconut ice cream! 

Katiebug's Shaved Ice and Hot Chocolate 
All right, keep the hot chocolate in mind for cooler days, but add Katiebug's Shaved Ice to your must-try list this summer. Katiebug's is a mother-daughter-run business that began selling their refreshing goodies out of a vintage 1958 Canned Ham Trailer turned brick-and-mortar in the heart of Automobile Alley. Katiebug's handcrafts all their syrups for their shaved ice with 100% organic cane sugar, fresh fruits and local herbs for unique flavors – or try one of their handcrafted sodas over ice if you prefer.
Sasquatch Shaved Ice 
Nothing helps you cool down in hot weather quite like a snow cone. Sasquatch Shaved Ice in the Plaza District offers more than 112 flavors of snow cones to mix and match to your heart's content, including flavors with fresh-squeezed lime and cream add-ins. One of our favorite things about Sasquatch Shaved Ice? Your tasty treat gives back to the local community. The nonprofit snow cone stand provides employment opportunities to low-income youth and, in partnership with the Oklahoma Credit Union, matches dollar-for-dollar what employees save towards life-enriching opportunities like education, transportation and housing. Sasquatch Shaved Ice has expanded their impact by opening a second location in Bricktown across from Chickasaw Bricktown Ballpark at the corner of Reno Avenue and S. Mickey Mantle Drive.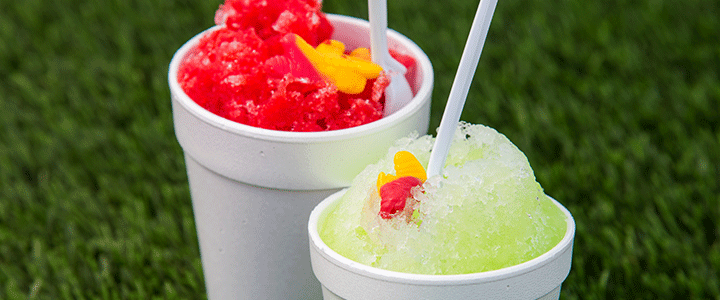 Kaisers 
History comes alive in Kaiser's Grateful Bean Cafe. Originally opened in 1917 as Kaiser's Diner, the café keeps the old-fashioned soda fountain tradition alive with ice cream sodas, sundaes and more. The soda fountain parlor features a fully-operational soda dispenser originally installed in 1950. Choose a traditional Brown Cow Ice Cream Soda or get a scoop of their homemade ice cream from their abridged soda fountain menu. They also offer an unabridged version of their menu to peruse or if you're craving something not on the menu, they'll do their best to make the cool creation for you with the ingredients on hand.
Boom Town Creamery
Support local while you enjoy your chilly treat! Boom Town Creamery creates unforgettable, crave-able and creative ice cream using as many local ingredients as possible. The Espresso Crunch uses the Classico beans from Elemental Coffee, and Carmelita Cookie Crumble has a house-made salted bourbon caramel ribbon made with Same Old Moses bourbon. They opened their first location in Uptown 23rd District a year ago and now they have three locations across the OKC metro. Boom Town offers 24 flavors, which include 4 limited seasonal flavors and 4 non-dairy options. They're always creating fun collaborations with other local businesses, like the pride rainbow layered ice cream collab with Craig's Emporium. Everything at Boom Town is made in-house. from the brownies to the hot fudge sauce.  Choosing one flavor can be hard, but Boom Town makes it easy by offering flights! 
Braum's Ice Cream & Dairy Store
While Braum's Ice Cream Shop & Burger Restaurant is a chain, we are proud to boast that it originated and thrives in Oklahoma, and there will be one very close to where you are in every neighborhood.  With 110 flavors to choose from, you can visit any of their locations and find premium and light ice cream, frozen yogurt, sherbet and other frozen delights. Personal favorites include Peanut Butter Cup Ice Cream and Cappuccino Chunky Chocolate!