So you've got a few hours, a half-day or even an entire day to spare in Oklahoma City? Instead of keeping to your hotel or meeting area, get out and explore the unique areas and attractions the city has to offer.
From quirky neighborhoods to a full day of museums, Oklahoma City has something to experience even if you only have three hours to spare. And with the new Oklahoma City Streetcar, it's easier than ever to get around.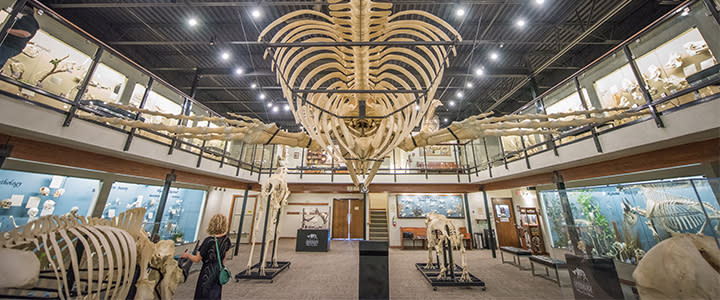 If you only have a few hours
If you have a couple of hours free, take the time to see stunning European and American art displays at the Oklahoma City Museum of Art or pluck away at the cool and musical American Banjo Museum located in downtown Oklahoma City.
The Oklahoma City National Memorial and Museum is an inspiring destination of strength and hope for the city. The Memorial and Museum honor the victims, heroes, rescuers and survivors of the April 19, 1995 bombing of the Alfred P. Murrah Federal Building. Visitors can take a self-guided chronological tour of the events of that day and its aftermath and is an essential stop in understanding the story of Oklahoma City.
Other notable museums include the National Cowboy and Western Heritage Museum, the hissing Rattlesnake Museum and skeletons of the Museum of Osteology.
Even better, all these fantastic museums are close to restaurants, so grabbing a quick bite isn't a problem.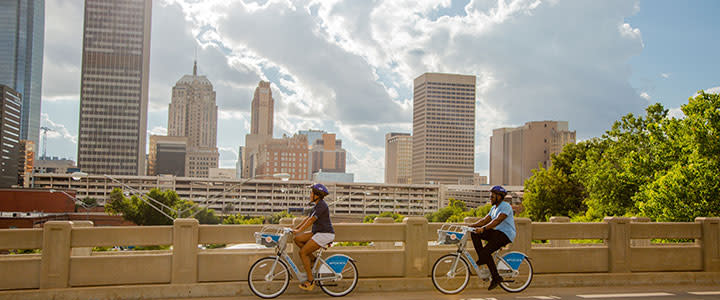 If you have half a day
Use the Oklahoma City Streetcar, the Spokies Bike Share or any ride-sharing service to hit up the cool neighborhoods in Oklahoma City.
The Bricktown Entertainment District on the east edge of downtown is a hot spot for restaurants, pubs, galleries and fun. Pop into Brickopolis for a few hours of miniature golf or laser tag, learn interesting facts while cruising the river on the Bricktown Water Taxi or sip the locally-crafted brew at The Bricktown Brewery.
Oklahoma City's Midtown District is a perfect way to experience the city's urban renaissance. Home to hyper-local restaurants like Ludivine or the nostalgic R&J's Lounge and Supper Club, this area also has great pubs, shops and is home to Bleu Garten, an outdoor food truck area.
The Paseo Arts District is full of local galleries, shops and eateries in an area famous for its American-Spanish architecture.
The Plaza District is a favorite area for locals. In addition to the Lyric on the Plaza Theatre, the Plaza District has some of the quirkiest boutique shops like DNA Galleries where you can find one-of-a-kind Oklahoma souvenirs. The Plaza is a great place to hang out and people-watch while enjoying local beers at Oak and Ore or Saints Pub.
Uptown 23rd Street, the Asian District and the Wheeler District with its Santa Monica Pier Ferris Wheel are areas to explore as well.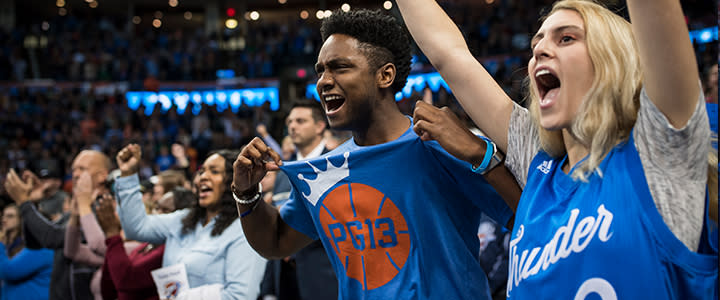 If you have a full day and night
If you're staying overnight in Oklahoma City, get ready for some of the best entertainment around.
Depending on the day, The Chesapeake Energy Arena features nationally-promoted concerts from the world's biggest acts, special events or NBA games with the OKC Thunder.
Other performance venues in Oklahoma City are always a great place to catch evening excitement. The Civic Center Music Hall is home to the Oklahoma City Philharmonic and six other arts organizations, The Jones Assembly hosts both national and local acts, the historic Tower Theatre features performances of all kinds and The Criterion is a cool place in Bricktown to catch your favorite band.
Oklahoma City has countless ways to enjoy a half-day or a full day, boasting of countless pubs, restaurants, dance clubs, bowling, baseball and sporting events, the world-class Oklahoma City Zoo, Remington Park Racing Casino, golf courses and more. There's no excuse not to take in everything this city has to offer!