Oklahoma City offers a variety of grand patio spaces that are bound to make you request outdoor seating. Before the warmer temps arrive and drive us back inside, there are plenty of great choices for outdoor dining in OKC.

One of the best outdoor dining spots downtown is connected to OKC's first skyscraper which is now a historic boutique hotel. Flint features contemporary American cuisine on a spacious, shaded patio complete with misters in warmer months. Flint is inside the Colcord Hotel, making it very convenient to walk to the Myriad Gardens, the Paycom Center and other downtown destinations.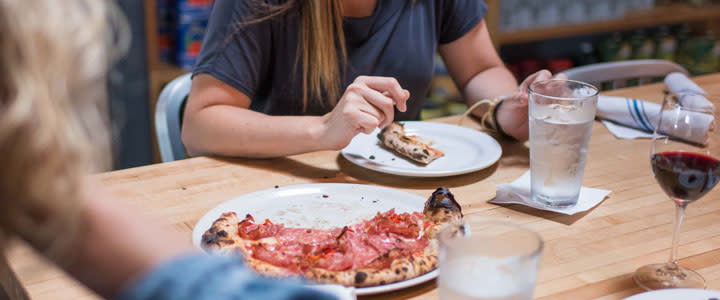 If you like the idea of a secret garden, Pizzeria Gusto has you covered. Gusto holds its own thanks to a tall privacy fence, shade trees, beautiful greenery and flagstones beneath the tables.

Directly adjacent to Pizzeria Gusto is the Pump Bar—it's easily one of the most popular patios in the metro. While it's better known as a bar and hangout, the former gas station features a small food menu, including locally famous tater tots.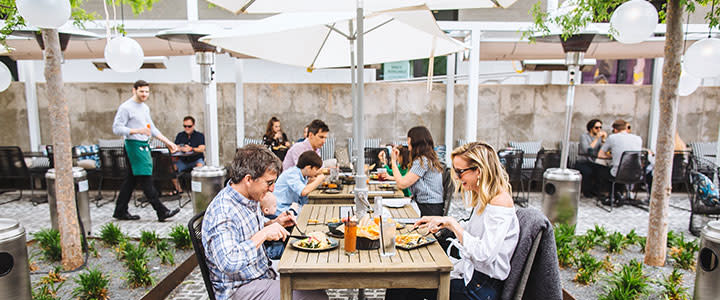 At Barrios Fine Mexican Dishes in Midtown, the patio seats an equal number of guests as the inside, so it's usually busy with diners. The bar puts out stellar cocktails and thanks to the outdoor fireplace, it's even fun and cozy on chilly evenings.

If it's drinks you want, the view of downtown from O Bar's rooftop patio is impossible to beat. The bar sits atop the Ambassador Hotel in Midtown and many of the city's best bartenders have spent time at this craft cocktail destination.

The Collective Kitchens + Cocktails is a food hall and gathering place that features a multi- kitchen concept, a 40-foot bar and a 95-person rooftop patio with a perfect view of downtown as the backdrop.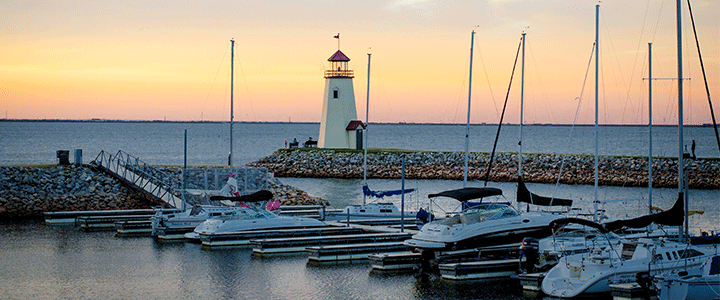 Catch some of the city's most glorious sunsets at Mama Roja's, located on Lake Hefner. Indulge in their house favorites such as their street tacos, hand-rolled chimichangas, sizzling fajitas and signature plates, like the Pescado Vera Cruz and Chile Relleno. They also have a great Fiesta Hour with daily food and drink specials with a lakeside view.

To take in one of the newest views of OKC, head up to the rooftop patio at Social Capital—just west of Scissortail Park. Social Capital is a craft beer destination that serves up cocktails, wine, over 120 draft beers, house-made ice cream and delicious fare.

Guyutes features amazing rooftop patio views and a fun-filled menu of pizza, wraps, salads and vegan-friendly dishes, along with a variety of specialty drinks, beer, ciders and a handful of wine options.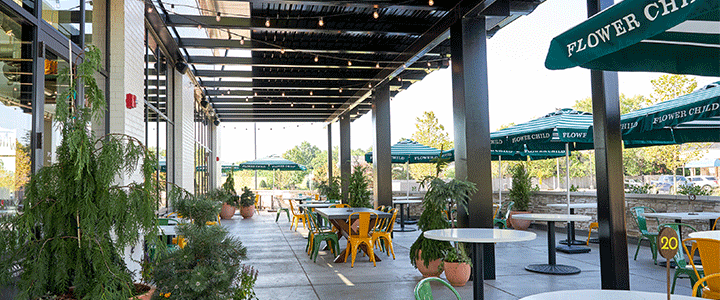 Whether you're vegan, paleo, gluten-free or just hungry, Flower Child serves simple farm-fresh bowls, grains, greens and wraps. The outdoor space is welcoming and vibrant, providing ample room to dine al fresco. 

The Jones Assembly boasts one of the best outdoor dining spaces in OKC. Featuring an impressively large, wide-open space with a retractable roof for nice weather, the Jones Assembly offers a novel atmosphere with two unique patio experiences, two bars, wood-fired pizzas, hand-crafted cocktails and a happening music scene.