From brand-new buildings to recent renovations, Oklahoma City offers high-quality meeting spaces with exceptional amenities for meetings and conventions of all sizes.
Below are five new or recently renovated properties that are ready to successfully host your next event in Oklahoma City.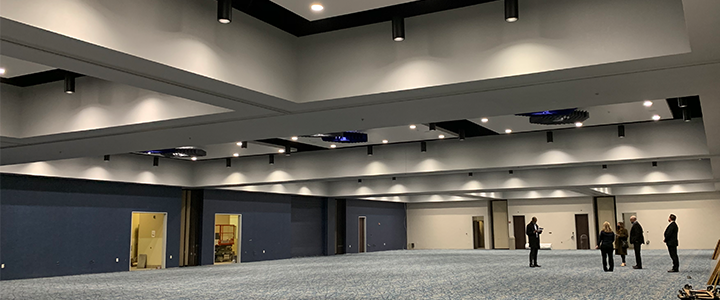 Champion Convention Center
Boasting 30,000 total square feet with an impressive 11,000-square-foot ballroom, the Champion Convention Center is now open and booking events. Champion Convention Center has the flexibility to accommodate groups of all sizes, ranging from ten guests to a large gathering of 1,500. Groups can expect quality events in versatile meeting spaces, expert event management, state-of-the-art technology, and on-site catering options: buffet, plated and station services. The center is adjacent to the Hilton Garden Inn, which offers 161 rooms and is conveniently located within 3 miles of 1,000 Champion-owned hotel rooms. Complimentary parking and shuttle services are also included with every booking, removing the hassle of transportation to and from properties. Located less than 5 miles from Will Rogers World Airport, the Champion Convention Center is the perfect meeting spot for groups looking to stay near the airport. More information on floor plans, layouts and capacities can be found here.
Oklahoma City Convention Center
Due to a one-cent sales tax initiative—MAPS3 capital improvements program—the Oklahoma City Convention Center was fully funded when its doors officially opened for business in January 2021. The $288 million downtown center offers nearly 500,000-square-feet of flexible indoor and outdoor meeting space. The exhibit hall is divisible into four individual halls that can operate independently—the perfect canvas for a trade show, convention, product launch or general session. The two ballrooms combined add up to 30,000-square-feet of event space and can be broken up into classrooms, theater and banquet areas, and the fourth-floor terrace provides attendees with ample room to get some fresh air while overlooking Scissortail Park across the street. The brand-new venue features Narduli Studio's "Virtual Sky" light display that graces the glass atriums throughout the building, in addition to a glass wall design that floods the center with natural light. The artwork and bright colors throughout the building evoke Oklahoma's beautiful skies and the state's links to aviation history. Also, the nearby Oklahoma City Streetcar stop at Scissortail Park creates easy transportation to and from meeting sessions. The Oklahoma City Convention Center cleaning protocols and floor charts with capacity information can be found here.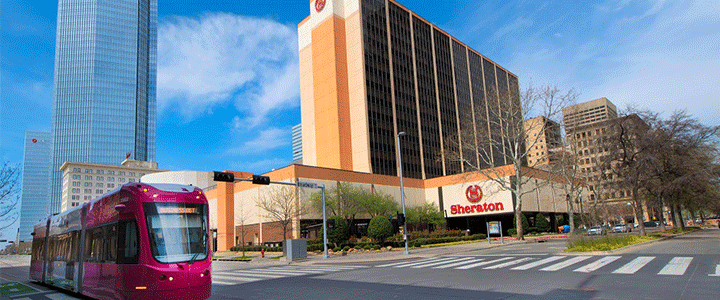 Sheraton Downtown Hotel
With recently renovated event space, the Sheraton Downtown Hotel is a prime meeting location for both small and large business events. The Sheraton features nearly 30,000-square-feet of updated meeting space, including 17 event rooms. Each of the three ballrooms can accommodate up to 400 people, with stellar AV and presentation equipment available. Treat attendees to excellent fare and design a custom event menu using the catering options from the on-site restaurant, Block 23. The hotel is situated along the Downtown and Bricktown loops for the OKC Streetcar—making transportation around the city's vibrant districts a breeze. For more information on room set-up and capacity, visit this page.
Embassy Suites Northwest Hotel
The brand-new 10,000-square-foot ballroom, nine various meeting rooms, outdoor event space, and 216 top-notch guest rooms make the Embassy Suites Northwest a standout meeting location. The Grand Ballroom can host events for up to 800 people while the Scissortail Room is set for more intimate gatherings of no more than 40. Attendees can take advantage of the indoor pool, on-site restaurant, business center, mobile check-in, and a variety of group activities nearby at Lake Hefner, Western Avenue, Penn Square Mall, and Classen Curve.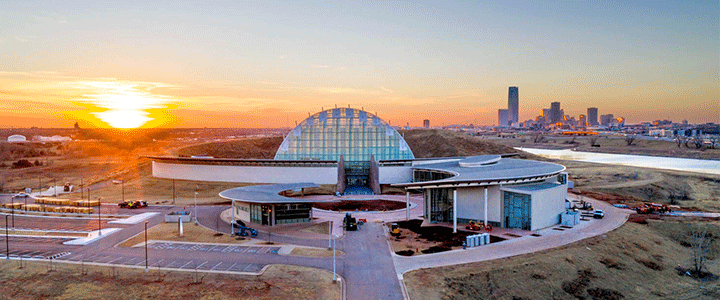 First Americans Museum
A project that was conceived in 1994 is finally coming to life along the Oklahoma River! Opening September 18, 2021, the 175,000-square-foot First Americans Museum will showcase a wide array of engaging and vibrant experiences including state-of-the-art exhibitions in First American history, culture, and art; educational programs; a full-service restaurant presenting authentic indigenous cuisine; and a museum store featuring authentic one-of-a-kind hand-made items or products by premiere First American artists. Attendees with a passion for history and heritage will love being immersed in the traditions of 39 distinct tribal cultures at the First Americans Museum. Located at the crossroads of four major interstates in the heart of Oklahoma, the future-focused museum is positioned as the gateway to First American Nations to the east and west—serving as a dynamic center that promotes awareness and understanding of cultural diversity and authentic history. Stay tuned for more details on event space and information to start booking!
Renaissance Hotel Bricktown 
Construction on the 10-story, 182-room Renaissance Hotel is also moving full steam ahead in Bricktown. Located at the southeast corner of Sheridan and Oklahoma Avenue, the property will be the entertainment district's first full-service hotel that will include a hotel, bar, valet parking and other amenities. The project is expected to be completed in Fall 2021.