In Oklahoma, there is a brief period in spring and another in fall when we get to enjoy patio weather.
Yes, random days crop up in the other seasons, too, but mostly we recognize that summer and winter are coming to drive us back inside. For this patio season, though, we thought we'd highlight some great choices for al fresco group dining or just drinks with friends after a long day in the conference room.
While it may seem a little counterintuitive, one of the best views related to the Devon Tower is at the base of the tower on Flint's patio. The downtown eatery features good food, a solid wine list and craft cocktails, all on a spacious, shaded patio, complete with misters and comfortable furniture. Flint is inside the Colcord Hotel, making it very convenient to Myriad Gardens, the Chesapeake Energy Arena, and other downtown destinations.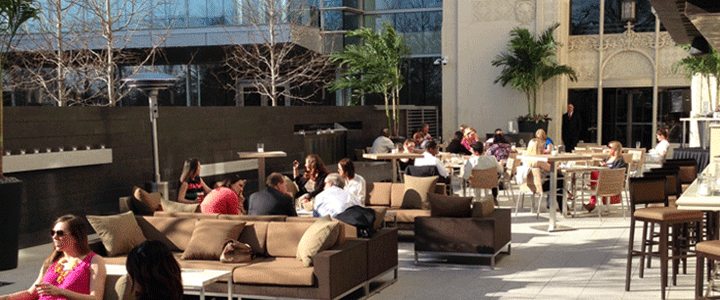 Like the idea of a secret garden? Pizzeria Gusto has you covered. While it's adjacent to one of the most popular patios in the metro—Pump Bar—Gusto holds its own thanks to a tall privacy fence, shade trees, beautiful greenery, and flagstones beneath the tables. Gusto's bar serves up exceptional cocktails and the wine list is one of the most approachable in OKC. We should mention that the pizza is stellar, and vegetarians will find a host of options on the menu.
Keeping with the garden theme, The Hutch on Avondale's patio is accessed by a short, flower-lined path that leads to a shaded patio with umbrellas and a pergola. The menu at the Hutch focuses on delicious modern American cuisine, and the bar features an excellent wine list and one of the city's best whiskey menus.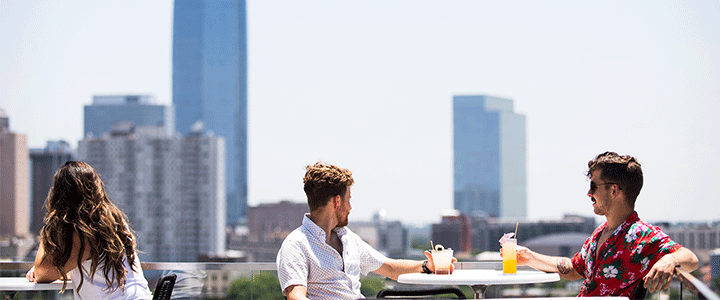 If it's drinks you want, the view of downtown from O Bar's rooftop patio is impossible to beat. The bar sits atop the Ambassador Hotel in Midtown, and many of the city's best bartenders have spent time at this craft cocktail destination. The small-ish wine list is very eclectic, including affordable, approachable glasses from most of the world's major wine regions. Also located in Midtown, the Hall's Pizza Kitchen serves wood-fired pizza, beer and wine in an industrial-chic space with a rooftop patio that overlooks the city—it's perfect for large groups. 
A couple of years back, Ranch Steakhouse did a full redesign on their patio, making an already popular destination an even better idea. Delicious prime steaks, a remarkable wine list, and top-notch service make the Ranch a go-to for special occasions, business dinners and casual fine dining. The patio is well appointed and comfortable. The only thing better than aged, prime beef is aged, prime beef on a patio on a beautiful evening.