Vast is Oklahoma City's top-of-the-world restaurant on the 49th floor of the Devon Tower. Windows open up views of the city—central Oklahoma, really—for 360 degrees. One floor up from the restaurant is Vast's event space. The entire floor is dedicated to events, in fact, including a separate kitchen and dedicated staff.
Formerly known as V2, the space features four separate rooms of varying sizes that can accommodate parties of 15 all the way up to 300, making it flexible enough to handle a board meeting or a cocktail party for the whole company. Every room has a spectacular view of the area: downtown, Myriad Gardens, Lake Hefner, architectural curiosities like the gold dome and the "egg church," and, of course, the ongoing construction sites all over town as the city expands.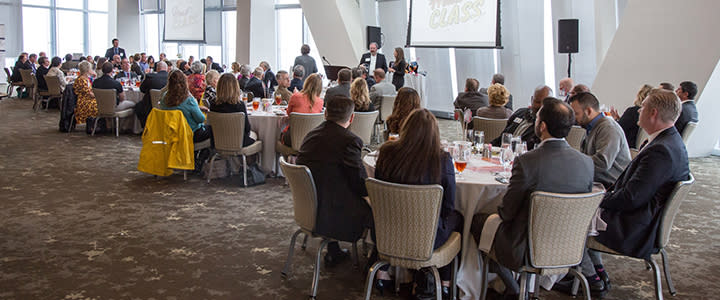 If your event needs food, you will have access to some of Oklahoma City's best cuisine, featuring the culinary work of executive chef Kevin Lee. Breakfast, lunch and dinner are available, as well as snacks, menus for dietary restrictions, hors d'oeuvres, and, yes, a full bar when you need one. Senior sales manager Allie Fleischfresser says her team provides everything except décor and entertainment.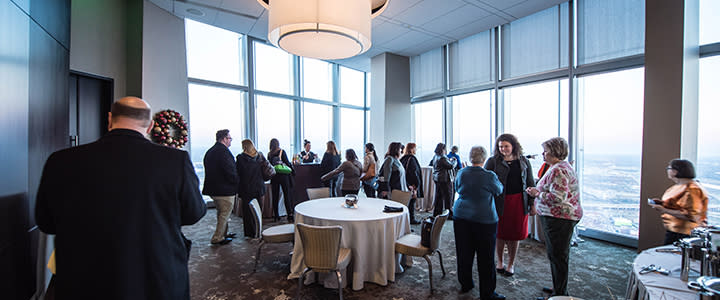 Technology available in all four rooms (Infinity, Skylight, Summit and Vista):
Projectors
Screens
Handheld microphones
Lavalier microphones
Music (via phone, compute or tablet) can be plugged into the Vast system
Vast is located on the southern edge of downtown, making it easily accessible to any size group. Two parking garages make it easy for locals or other joiners to access the facility. When the streetcar begins operations later this year, three platforms will be a one-block walk from the front entrance to the Devon Tower, so all downtown hotels are only a short ride from the meeting.
As for hotels, Vast is adjacent to our city's oldest hotel, the beautiful, historic Colcord, built in 1910, and connected to the Devon Tower by a short, enclosed causeway on the ground floor just off the Colcord's foyer. The Colcord sits on one of the city's busiest, option-dense intersections: across the street from the Chesapeake Arena, Mahogany Prime Steakhouse, and the Myriad Botanical Gardens.
If your group needs a midday break and some fresh air, just walk across the street to our city's 17-acre urban park, featuring a sunken lake, hundreds of varieties of plants, beautifully landscaped grounds, and plenty of walking trails, space for lounging, and isolated spots for collecting thoughts, practicing presentations, and decompressing.
Although it's not officially an event amenity, meeting upstairs from one of our city's best restaurants is a perk. At the end of the day, you're one short elevator ride from incredible food, a remarkable wine list, craft cocktails with a view, and a high energy happy hour. For informal dining or drinks, opt for the cocktail lounge. Like the event space, every room at Vast has a view of our amazing city, and night or day, the cityscape is beautiful.