Saturdays and Sundays are for brunching!
If you're in Oklahoma City for a meeting or conference on a weekend, check out one of these local brunch eateries where you and your colleagues can go for a fantastic meal in Oklahoma City that you don't have to cook or clean up after. Below are a few spots that are perfect for groups of any size.
Café Kacao
Café Kacao offers excellent brunch with a somewhat daunting wait. Our best advice is to get your group on the waitlist app. Once at a table, the service is quick. Get your caffeine fix with one of their craft lattes or choose between a variety of brunch cocktails made from scratch. We recommend ordering a community pancake or waffle for the table to share, but no matter what you choose, you can't go wrong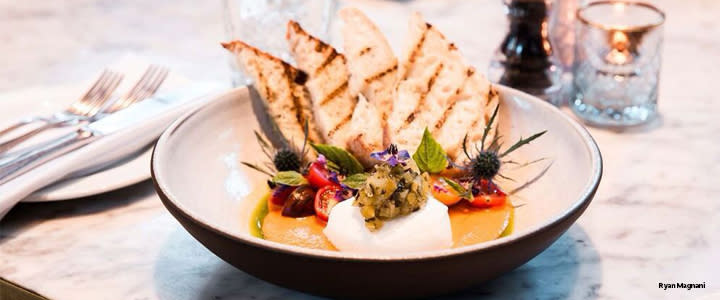 Jones Assembly
This OKC entertainment destination is the perfect place to grab brunch and snap a selfie. Clink glasses on the outdoor patio trimmed with macramé & succulents or move indoors to the main dining or intimate lounge. The Jones Assembly menu offers modern American fare and a spirit-forward craft cocktail menu.
Aurora
Aurora Breakfast Bar & Backyard is a quaint, stylish restaurant in the Plaza District that specializes in local foods, coffee and cocktails made from scratch. The menu emphasis fresh, local and thoughtfully-sources ingredients. While there's not much group seating inside, head outside and enjoy the full brunch experience in their community backyard that will make you and your group feel right at home.
The Bleu Garten
Reservations aren't necessary for this unconventional brunch experience! The Bleu Garten is OKC's premier food truck park. Grab your coworkers or fellow conference attendees and enjoy a laid-back meal with food options ranging from Greek cuisine at Let's Do Greek, Middle Eastern fare from Turkish Delight, Italian eats at the Saucee Sicilian and incredibly rich edible cookie dough from Cookie Dough To Go. And if it isn't brunch without a cocktail, Bleu Garten has you covered.
Grand House
Grand House's weekend Dim Sum invites families to gather around the table. Dim Sum can be described as eating by sampling. Servers walk around with various items loaded up on their trolleys. Take what you like and they'll make a note on your table card. Your whole group can eat until they're full and be entertained by all the new things arriving at the table.
Neighborhood Jam
The new Neighborhood Jam location in Midtown is perfect for early risers. They open at 6:30 am and have a wide range of brunch and lunch offerings that will please a variety of palates. Maybe not at 6:30 am, but we highly recommend you use the waitlist app for this one. The vibe is lively and there's plenty of space for groups.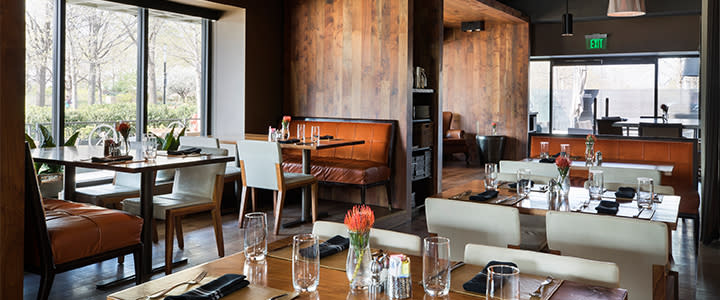 Flint
Part of the historic Colcord Hotel, Flint is a weekly brunch destination for those who love a great eggs benedict, steak and eggs and creole shrimp and grits. The upscale casual restaurant features contemporary American cuisine in one of Oklahoma City's most picturesque restaurants.
Hunny Bunny Biscuit Co.
Hunny Bunny offers scratch-made biscuits in a whimsical, laid-back environment. Order at the counter and they'll bring hot biscuits to your table as they're ready. They have a coffee and espresso bar, mimosas, bloody mary's and beer available for adults, in addition to offering quality meals at a reasonable price.
Grab-n-Go
For the morning when you're short on time, we recommend swinging by Holey Rollers in the Paseo for donuts, breakfast tacos and coffee. Or, stop in Elemental for a quick brunch (served on weekends), pastry and coffee, then take your group to the Myriad Botanical Gardens or Scissortail Park to stretch your legs and roam.