With more than 235 days of sunshine annually, Oklahoma City is home to a diverse spectrum of outdoor spaces and special event venues for groups of all sizes. From urban rooftops to serene parks, here are seven outdoor meeting spaces to host your next meeting or convention in Oklahoma City:
As a gathering place between the Oklahoma City Convention Center and Omni Hotel, Mick Cornett Drive is a mixed-use, pedestrian-friendly plaza that will serve as a prime outdoor meeting spot for conference attendees. The outdoor space will create room for food trucks and provide attendees with an alternative meeting spot just a few steps away from the convention center. This outdoor venue and the convention center complex is serviced by the Oklahoma City Streetcar which will get you around the city's vibrant districts for $3 per day.
Across the street from the Oklahoma City Convention Center is OKC's newest and largest downtown park. Scissortail Park offers 70-acres of urban green space. Meeting attendees will have room to roam with a variety of meeting spaces for groups of all sizes. Smaller groups will enjoy the picnic groves and garden trellises while larger groups can meet on the Robinson lawn or the Great Lawn that offers up to 194,000-square-feet of outdoor meeting space. With native prairie grasses, tree-lined walk-ways, several outdoor activities and a streetcar stop, Scissortail Park is a top-notch urban destination and outdoor venue. 

Oklahoma Contemporary Arts Center features inventive meeting spaces paired with cutting-edge exhibitions. Campbell Art Park, located on the grounds of the art center, is easily accessible by the streetcar and features an expansive lawn for private meetings with outdoor art installations. Additionally, the 2,900-square-foot terrace offers an outdoor space overlooking sculpture gardens and Campbell Art Park. 
Camp Trivera is a $12.2 million property that's home to the Girl Scouts Western Oklahoma, but it was built with private events in mind. The urban camp sits across the lake from the Oklahoma City Zoo, featuring a 350-person meeting room, two outdoor meeting decks, an amphitheater in the woods, treehouses and regular camping sites. There are 60 beds on-site in a variety of room sizes. Camp Trivera is near plenty of hotels and only 10 minutes away from the downtown convention center complex. It's a unique and safe experience for smaller association meetings or other events.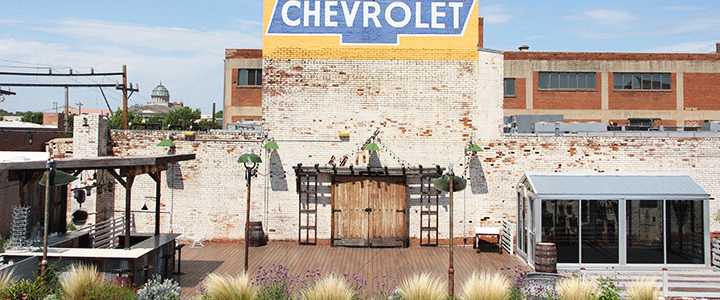 The rooftop of Plenty Mercantile in Automobile Alley is a 2,300 square-foot venue that can accommodate up to 150 meeting or convention attendees. The rooftop is well lit with a spacious open floor plan and both interior and exterior stair access. During breaks from the meeting, attendees can stroll through Automobile Alley and experience some of Oklahoma City's best shopping, dining and nightlife. This venue is a short walk away from an Oklahoma City Streetcar stop for easy transportation to and from meetings. 
Located in the Boathouse District, RIVERSPORT is a prime meeting spot for adventure seekers. With the new additions of Surf and Ski OKC, RIVERSPORT is the first facility in the world to offer snow skiing, surfing and whitewater rafting all in one location. The unique facility also offers upgraded outdoor pavilions, new corporate event venues and team building activities with scenic views of the Oklahoma River and downtown OKC. The dramatic architecture of the boathouses and expansive outdoor space creates a unique attendee experience – from intimate cocktail parties to corporate picnics.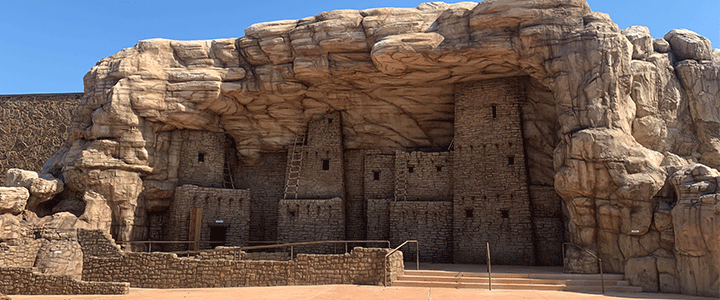 The National Cowboy & Western Heritage Museum can host groups ranging in size from a small board meeting to one thousand guests in their six distinct venues. The new Annie Oakley Society Event Center is an ideal venue for events with a western flair. The venue offers a large ballroom for banquet-style seating or a cocktail style reception. The event center doors open up to Liichokoshkomo' (Chickasaw for "Let's Play!"), an outdoor educational experience that brings to life diverse stories of the West with interactive fun. A variety of setup options are available throughout the Liichokoshkomo' outdoor experience. Or, transport your guests to a bygone era as they experience Prosperity Junction, a turn-of-the-century cattle town with rail connections. During breaks from the meeting, browse the museum's collection of Western and Southwestern Art, all themed around the contributions of Western culture.