OKC can be a scorcher in the summer, but we make up for it by having plenty to do.
Have a little time to kill before your next meeting? Plan on these must see-and-dos group activities this summer.
1. Climb to success. If you're staying near downtown, check out the converted grain silos known as Summit Gyms. Rock climbing, yoga and fitness come together at this Oklahoma City rock climbing gym, offering heart-pounding classes that build confidence, strengthen partnerships and help overcome challenges. The inside of the silos are climate-controlled, but weather permitting, there are several routes on the outside of the building, which allow you amazing views of the downtown skyline. 
2. Take a ride on the Oklahoma City streetcar. Think a $1 doesn't go far these days? For just a buck, the Oklahoma City streetcar takes you all around downtown OKC and through several fun districts. Use it to scoot to all your favorite locations or ride just to see the sights. For groups that can carpool, park at one of EMBARK's four public garages (open 24/7) along the route and use your receipt to ride the streetcar for free all day long. Each parking receipt is valid for two people to ride for free for 24 hours from the time of parking. Visit this page for more information on the parking garages and their closest streetcar platform.
3. Pick summer-ripened veggies at a farmer's market. Nothing is better than an Oklahoma-grown tomato in the summertime. Farmer's markets pop up throughout the metro every Saturday morning all summer long. Try OSU-OKC's Farmers Market at its new location, Scissortail Park, from 9 a.m. - 1 p.m. on Saturdays.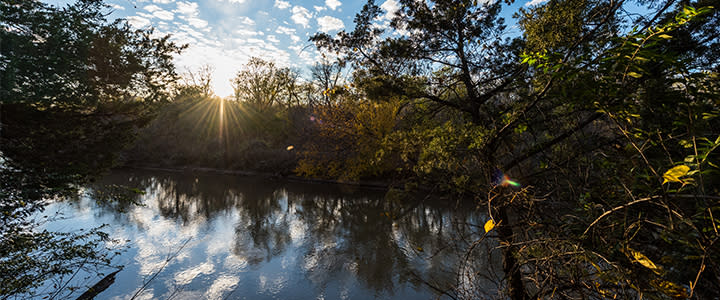 4. Drop a lure and cast your line. Fish the day away at the Stinchcomb Wildlife Refuge, Hefner Lake or Route 66 Park. An abundance of fishing areas can be found so make sure to get a state and city fishing license at the Oklahoma Department of Wildlife and Conservation offices by the state capitol. If fishing isn't your forte, pack a picnic lunch and enjoy the scenery.
5. Take in a double feature at the drive-in. OKC's long-standing drive-in, Winchester Drive-In, is open seven days a week and shows a double-feature every day. Summer lovin' at its finest.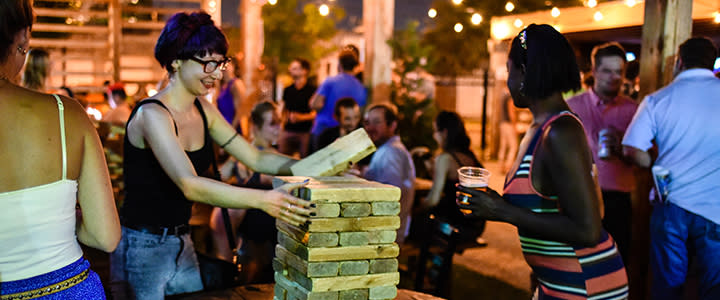 6. Chow down at a food truck park. Unwind at OKC's outdoor food truck park with covered seating, a state-of-the-art bar and life-size Jenga. Bleu Garten is an open-air food truck park that allows for social distancing and space to unwind on a sunny summer day. 
7. Explore outdoor street art. Head to the Plaza District for one of the best art walks in the city. Plaza Walls is a rotating mural project that features an array of colorful murals produced by local artists. To find the best backdrop for a group selfie, use this guide by Camels & Chocolate for the coolest OKC murals that highlight the thriving public art scene.
8. Take on white water rapids in the Boathouse District. Are you and your colleagues ready for a watersport adventure unlike any other? Book some time with RIVERSPORT Rapids and its Class II-IV whitewater rafting course. Go with a guide on a whitewater raft, try it on your own or tube or riverboat through its $45.2-million whitewater rafting and kayaking center. Too much for one afternoon? Grab a flatwater kayak and set out on the Oklahoma River at your own pace. Sign up for lessons and let the breeze off the water cool you down. Season or day passes and rafting reservations can be arranged here. Keep an eye out for Surf OKC opening at Riversport later this summer.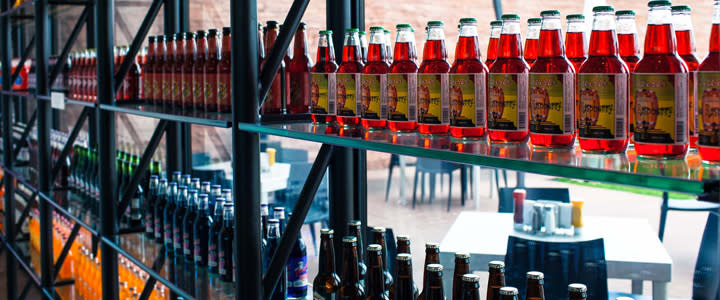 9. Get your kicks on Route 66. Stop at POPs for delicious burgers and hundreds of different sodas. You'll know you've arrived when you see the neon soda bottle towering outside that's at least twice as tall as the building. The expansive outdoor patio allows for easy social distancing while indulging in a classic American meal. 
10. Head to the shore. At Lake Hefner, you'll find walkers, runners, bicyclers, roller-bladers and skateboarders enjoying the trails that circle the lake. Catch some of the city's most glorious sunsets, as well as some waves, especially if you're into sailing or water sports like kitesurfing. Surrounded by local restaurants, Lake Hefner also offers a variety of group-friendly indoor and outdoor dining options to indulge while enjoying the view.