Frontier City is Oklahoma's only (only!) amusement park.
If that wasn't enough to make sure you've put it on your summer bucket list, need we remind you that it's also a Western-themed park that offers frontier-town living and live gunfights alongside its loopy coasters and water rides. No matter what the age of your kiddos, you can plan a day that is tailor-made for their interests.
In light of COVID-19 concerns, Frontier City now requires reservations to be made in advance of your visit, and face masks must be worn.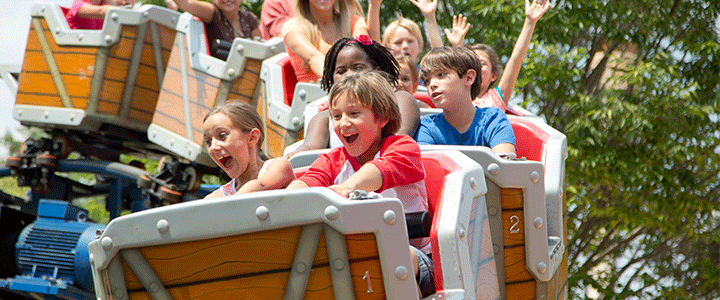 For the littles
Often, theme parks carve out a tiny area for little kids, leaving most of the park for older kids and adults. This leaves mommas stuck to strap babes to them, push a stroller or worse, stay home altogether until everyone is older. Frontier City, boasts its' woodsy-themed interactive kids' area, Timber Town. It's filled with rides and attractions designed for even the littlest theme-park-adventure-seeker-in-training.
Take your littlest ones on Frankie's Mine Train for a coaster anyone can handle or Billy's Frog Hopper, Sheldon's Balloon Race and Rocky's Rangers Planes to go up and down and all around. And those are just the additions new this year: These attractions join longtime classics like Tina's Tea Cup Twirl, Hootie's Tree House, Bucky's Whistleship Depot and Bubba's Honey Swings. With the addition of new fluffy characters to fill Timber Town like Bucky the Beaver, Hootie the Owl and Bubba the Bear, Timber Town would entertain the 0-5 crowd for the entire day.
For older kiddos
For more independent kids, Frontier City is a sweet spot of rides that will thrill their need for an adrenaline rush and excitement, but it also has shows and entertainment options to allow you to rest and enjoy the park with them.
Frontier City offers four classic, thrilling roller coasters – the Silver Bullet, the Diamondback, the Steel Lasso and the Wildcat. Park officials suggest heading to the park during the early part of the week to enjoy shorter lines to ensure your kiddos can ride every one (even more than once).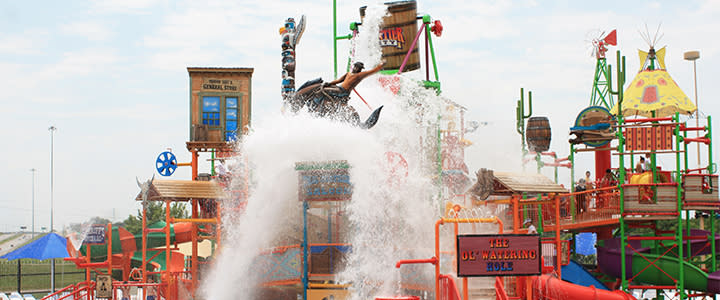 For every kid
Is there any kid in your life that doesn't love water rides and splash areas? New in 2012, Frontier City opened Wild West Water Works, which is a water park inside the theme park. Every kid you bring to Frontier City will love playing on the largest water treehouse structure of its kind and the tallest waterslide complex in Oklahoma—appropriately named the Gully Washer. It plunges riders off a 66-foot tall tower down three enclosed body slides. Your braver, bigger kids will love it and your littles will splash in the treehouse while they slide.
What your kids will remember
What sets Frontier City apart for kids is not the attention paid to little ones' needs or big kid traditional coaster fair. No, Frontier City is Oklahoma's amusement park because of its Wild West Shows. Every day, at different times of the day, a (staged and choreographed) gunfight breaks out for attendees to enjoy. This is the heart of the character of Frontier City, and it's something you can't experience anywhere else. These gunfights have been a part of Frontier City since the park first opened more than 60 years ago. What once erupted in the middle of the park's streets now are set in a Hollywood-style stunt show complete with high-falls and explosions.
Overflowing with cool pools and super-soaking slides, dive into fun at Frontier City's partner park, Hurricane Harbor!