With your trip to Oklahoma City right around the corner, you drag luggage out of the closet and begin packing.
Your beloved pooch, an ever-faithful companion for the most mundane of tasks, is right beside you, suspiciously sniffing the luggage and looking up at you with imploring eyes. You can't escape the feeling Fido is begging to go with you, and just like that, you join millions of pet parents who are increasingly traveling with furry family members for everything from vacations to business trips.
There are so many hotels in OKC that are more than ready to welcome you and your pet! Some even offer services and amenities designed to make your special canine's tail wag with delight. Discover pet-friendly hotels in Oklahoma City here. Most hotels charge a fee for pets, and some may have certain restrictions. Since fee amounts, conditions and pet-friendly services vary, we recommend calling ahead for details before you book your stay.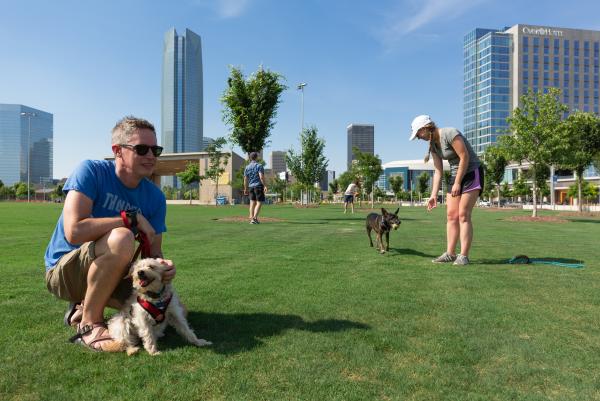 Consider a stay at the Omni Oklahoma City Hotel with your furry friend. It's the perfect location, with Scissortail Park located directly in front of the hotel, complete with a dog park. The park has 70-acres of space full of green grass for your pet to play and plenty of other options for humans to have fun. Those options include a boathouse, amphitheater, children's park and more. Just down the road in the Boathouse District is Bar K, a dog park and restaurant. There's both outdoor and indoor places for the dogs to play, a splash pad for your pup to cool down in, several bars and a gift shop. 
Midtown offers a dog park and a multitude of nearby dog-friendly restaurants. The Ambassador Hotel, part of Marriott's Autograph Collection, is in the heart of Midtown in a beautifully renovated 1928 building listed on the National Register of Historic Places. Formerly known as the Osler Building, the hotel is an example of Mission and Spanish Eclectic architectural styles. The hotel's pet-friendly environment includes pet concierge services such as helping guests find a groomer, dog park or pet sitter, and each pooch gets a yummy treat upon check-in. 
Aloft Oklahoma City Downtown-Bricktown is conveniently located near a wide variety of popular destinations and caters to modern travelers who enjoy an urban lifestyle and vibrant social scene. Through their ARF program, Aloft provides canine guests with complimentary treats and a bed, bowls and toys for use during their stay. Also, the Deep Deuce dog park is a few steps away from the hotel.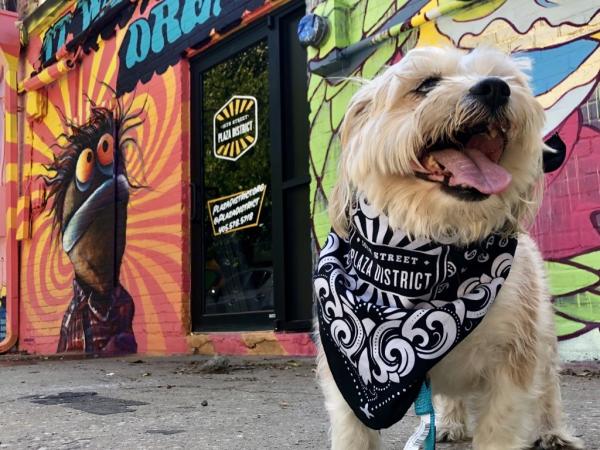 Fordson Hotel, in Oklahoma City's historic, revitalized West Village District, is situated in the renovated former home of a Ford Motor Company assembly plant and listed on the National Register of Historic Places. This spacious, airy hotel features guest rooms reminiscent of loft apartments, Mary Eddy's Dining Room and the Pool Bar & Bodega. Dog guests booking in advance will receive VIP treats at check-in.
Other popular pet-friendly accommodations in the downtown area include the Colcord, a contemporary boutique hotel housed in the renovated Colcord Building, initially constructed in 1910; the Skirvin Hilton Hotel, another renovated historical gem built in 1911; and The Renaissance Oklahoma City Downtown Bricktown Hotel located near the Paycom Center, home to the Oklahoma City Thunder.   
Check out these pet-friendly spots in OKC while you're in town with your furry friend!