Nestled on the northwest side of Oklahoma City, you'll find Lake Hefner bustling with activity. Along the 18 miles of shoreline, you'll find activities and flavor suited for every preference.
On Water
Lake Hefner has ample opportunity to get enjoy the water, though swimming is not permitted. Those with a valid fishing license are invited to fish along the shoreline or off the docks, there is a heated dock for those cooler days! Permitted boating is welcome on the lake. On perfectly breezy days you'll find the lake alive with sails. Sailboat captains and crew man sailboats of all sizes. Sail boarders become one with the water, flipping and flying across the surface. They are a sight to see from the shoreline or you may be brave enough to try it for yourself!
RIVERSPORT offers kayak and stand up paddleboard rentals at Lake Hefner, along with sailing lessons and camps for all ages. The Lake Hefner Boathouse is open weekends and occasional weekdays.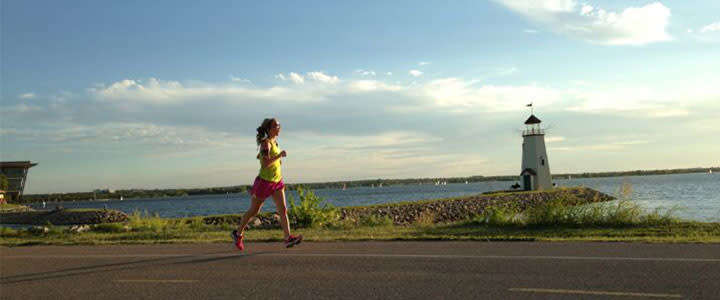 On Land
Lake Hefner is encompassed by a multi-purpose, 9.8-mile paved trail. The trail is well maintained and perfect for running, jogging, a leisurely stroll, dog walking with leashes, in-line skating, and cycling. Do heed cautions and warnings and yield to the rules of the trail.
Just off the Lake Hefner Drive is Stars & Stripes Park. In addition to the new skate and BMX park, Stars & Stripes also offers picnic tables, pavilions, playgrounds, volleyball, kickball, soccer, and baseball fields. The park is also the start and ending point to many community organized races.
Spend a day on the south shore out on the greens at the Lake Hefner Golf Club. Featuring two challenging courses, the course remains suitable for all ages and skill levels. Both of the courses are dotted by water hazards as well as bunkered fairways and greens. Stop in the pro shop for all your gear needs and grab a bite to eat in the club. The burgers are great!
On the North shore of Lake Hefner, Bluff Creek offers more rugged activities such as an open field to roam, off-road bike trails, and outdoor exercise equipment. Picnic tables and shelters are also available for use. Mountain and hybrid cyclists enjoy these trails as do hikers and trail runners. Use caution, share the trail and be aware of your surroundings!
A bird or a plane? If you're on the south shore of Lake Hefner, you'll likely see RC airplanes taking flight at the TORKS RC Air Field. The Oklahoma Radio Kontrol Society manages the 12-acre field for flying. Use caution and be aware of wind conditions when flying!
A Bite to Eat
The East Wharf has flavor suited for any craving. Enjoy the lake or it's trails and head over for a bite to eat or make a special trip. The restaurants at Lake Hefner are all delicious and unique. They offer amazing sunset views and their patios are a perfect spot to enjoy the breeze coming off the lake.
A blend of Southwest and American style, Red Rock Canyon is a local favorite. You'll find locals belly up to the bar in the center of the restaurant. The friendly, laid back atmosphere will greet you as you walk in the door! A little bit of a wait? Head over the outdoor bar and relax there or by the fireplace. Red Rock is abuzz with energy. Their menu is perfectly crafted. The open kitchen provides a peek at the careful attention paid to each dish. You should really go all out here, get dessert, have another drink!
Hefner Grill is an Oklahoma City classic, offering a premier lakefront view to accompany fine dining. A great wine list and intimate, yet casual environment makes Hefner Grill the perfect place to wind down and enjoy the sights and eats lakeside.
Possibly the only place you'll find a harbor side cabana feel, Mama Roja is a mexican favorite! Enjoy the festive feel with familiar favorites like tamales, tacos, plentiful chips and salsa, and classic mexican drinks. Their patio is a great place to catch a sunset while sipping a margarita.
Cool down with a cold one from Louie's large beer and cocktail menu. Come as you are for their American classics, pub food and classics. With ample and large screen TVs, Louie's is the perfect place to catch the game or just kick back with friends.