In the middle of cattle country, finding a meal for a clean eating diet may seem like an endeavor. 
Oklahoma City has risen to the task, satisfying all types of cravings and dietary preferences. We've rounded up our top picks for vegetarian, vegan and gluten-free offerings in OKC.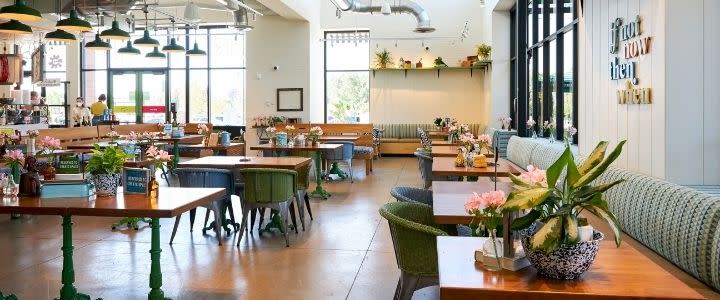 Flower Child is OKC's restaurant for clean eaters. Whether you're vegan, paleo, gluten-free or just hungry, Flower Child serves simple farm-fresh bowls, grains, greens and wraps. Dine-in or order a meal to-go and make sure you try the flavored kombucha and lemonade or a glass of organic wine.
Plant OKC is a gem in the heart of Midtown. Plant serves fresh local and plant-based food that loves you back. All those with allergies and food sensitivities, rejoice! Their kitchen is entirely gluten-free, dairy-free, soy-free and peanut-free. The Athlete smoothie, made with house-made almond milk, could be a meal in itself. The Bonsai Bowl is a must-have.
Located on the first floor of the Oklahoma Contemporary Arts Center, Café Contemporary offers healthy eats ranging from fresh salads and small bites to inventive pasta dishes and desserts. Café Contemporary is open for dine-in, terrace seating or curbside pickup.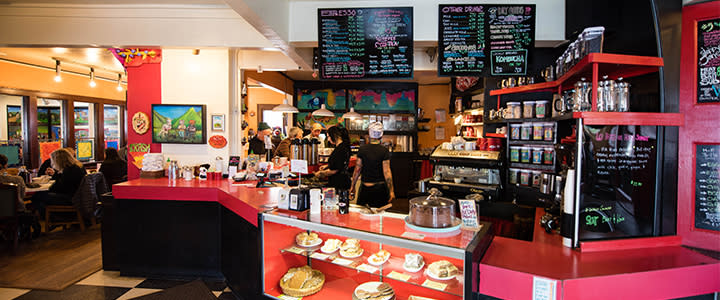 The Red Cup continues to be a vegan and vegetarian staple in OKC. They've mastered the art of plant-based with their Cashew Caesar Salad, Avocado Wrap and Red Cup Chili. The menu ranges from light to comfort foods; the meat and cheese won't be missed here.
Health Nut Cafe is a health-conscious deli with multiple locations in and around downtown OKC. They offer quick service using quality ingredients. The Black Bean Burger is perfectly spicy. The signature Health Nut Salad will leave you full and satisfied. There is truly something for everyone at Health Nut Cafe!
Nourish Food Co. is a grab and go food bar in Downtown OKC. While the Chickpea Smash is a favorite, all of the salads are drool-worthy and packed with plant-based protein! They offer gluten-free and plant-based sandwiches, pastries, soups, smoothies, coffee, tea and snacks.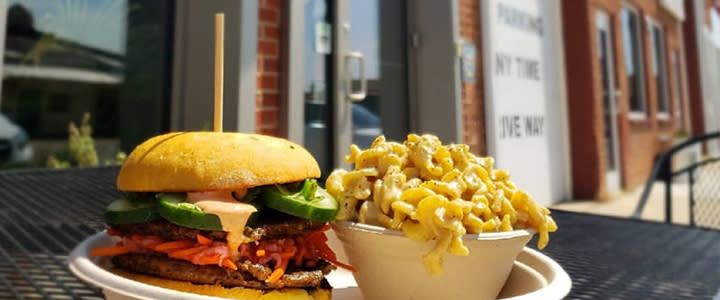 The Loaded Bowl prides itself in serving conscious comfort food with offerings that are all plant-based and sustainably sourced. The Cashew Mac + Cheese is what they're known for and the Square Root Bowl is delicious and nutritious. The Loaded Nachos (made using their house-made chips) are what our cravings are made of! The Loaded Bowl is currently offering curbside pickup and delivery service only at their location in the Farmer's Market District. 
Picasso Cafe in the Paseo serves health-conscious food and proudly accommodates dietary needs and preferences. The menu is bright and inviting. The staff is welcoming and will ensure your needs are met. The Vegan Quinoa Tacos are a highlight but many dishes can be modified to fit your preferences. Be sure to ask about the specials and don't miss the monthly Veggie five-course wine dinner!
To calm the sweet tooth, head to Green Goodies where you'll find gluten-free, vegan and paleo treats. The quick-service cafe and cupcakery provide wholesome food for all dietary needs. Holey Rollers crafts creative donuts daily with natural ingredients, featuring a delicious dairy-free and egg-free recipe. You don't want to miss the rotating specials and seasonal flavors!