If you can't tell, we love summer.
From our 100 Days of Summer Fun list to our endless resources like our calendar of events and guide to summer camps, we've given you more ideas than ever before for making your summer memorable. Between summer activities, sports and vacations, the season will fly by. Whatever you do, make sure to make time for these five iconic Oklahoma City summer experiences.
Editor's note: Due to COVID-19 precautions, some of the following events and venues may have adjusted their hours or programming. Please check with each venue directly to verify. 
1. Take a cruise on the water
Summer time and water play go hand and hand in Oklahoma City. Shake up a basic park trip with a human-powered water cruise at Scissortail Lake. The boathouse has rental paddle boats and all the needed safety equipment for a 45-minute trip around the scenic lake. Each boat fits up to four passengers and one 45-minute excursion costs $12. Finish off your fun day with a picnic high atop the hill for a picturesque view of downtown and a cool down in the fountains near the Children's Playground.
2. See a movie under the stars
It's just not summer without seeing a blockbuster at an local park. Several nights a week throughout the summer you'll find movies playing at outdoor venues across the metro. Air conditioned movie theaters are great, but there's just something magical about seeing a movie from your spot on the picnic blanket with your family. One of our favorite places to catch a flick is at Myraid Gardens (301 W Reno Ave). Resuming on Wednesdays in July, the Great Lawn becomes the backdrop for a fun summer flick. Find several other outdoor movie showings on this list if you're up for even more summer fun.
Or, go old school and visit a metro drive-in for a heeping dose of Americana!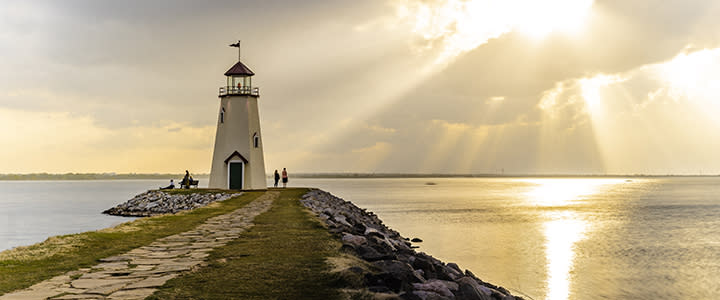 3. Head to the "beach"
Now I am sure you are think that beach trip is not in the cards this year, right? But, your waterfront fun is closer than you think! While we know Oklahoma is a land-locked state, we have miles and miles of lake and reservoir shoreline that can whisk you away with some splashing fun. Pack your "beach bag," load up the family and head to one of these great Oklahoma beaches for some summer time fun!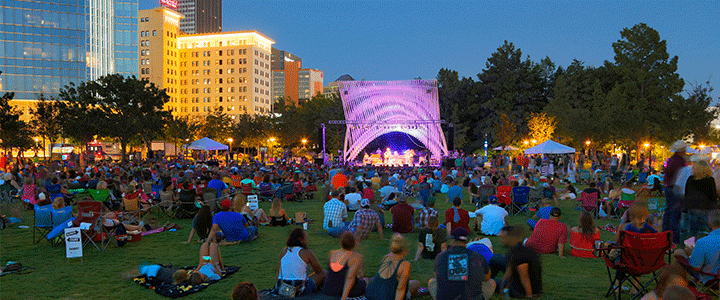 4. Catch an outdoor concert
No matter how hot summer gets in Oklahoma City, locals are willing to sweat it out to enjoy a fun outdoor experience. Live music has a way of drowning out thoughts of heat, making family-friendly outdoor concerts a must for the season. Neighborhoods throughout the Oklahoma City metro buzz with live music throughout the summer. A favorite is the concert series at Hafer Park in Edmond. Kick back under the park's shady canopy of trees and enjoy the tunes in a laid-back atmosphere. Find other outdoor concerts happening this season on this list.
5. Go fishing
Parents who grew up fishing during the summer understand just how much fun this seasonal pastime is, but it can be difficult for city dwellers to go to all the trouble to have their kids take up this summertime hobby. Between purchasing a pole and bait and taking the time to get a fishing license and scope out a good spot to drop your line, it may not seem worth the effort. We have good news! Oklahoma City offers two opportunities for kids to learn to fish without purchasing equipment or getting licensed. Weekly lessons are available at various Oklahoma City parks throughout the summer so there's no excuse not to give your little ones a taste of this iconic summer experience.  Find six kid-friendly fishing spots in Oklahoma on this list.