From playgrounds and skate parks to water sports and urban trails, OKC has plenty of ways to play outside.
With more than 235 days of sunshine annually, you can enjoy a variety of outdoor recreation options year-round. We've rounded up a list of places for the whole family to burn energy, or relax, while safely enjoying a full day in the great outdoors.
1. Lake Hefner
Lake Hefner has long been an outdoor hub for all ages, with trails for biking, running, in-line skating, or a casual walk to take in a gorgeous OKC sunset. The lake features sailing and kitesurfing, as well as one of the state's largest public golf courses. If it's a family outing, make sure to stop by the Lion's Children's park on the southeast side of the lake where you'll find a playground, picnic tables, trails and open fields for games and kite flying, then head to Stars & Stripes Skate Park on the south side of the lake and press your luck on the course designed for intermediate skaters.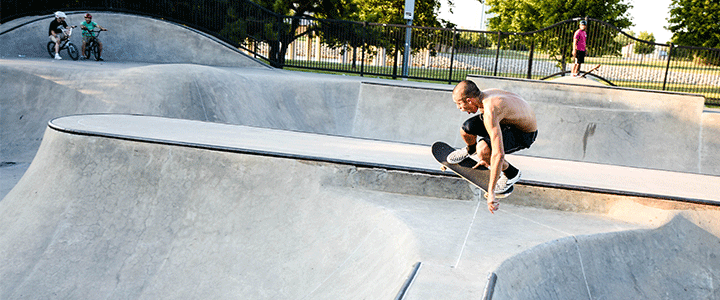 2. Mat Hoffman Action Sports Park
If skateboarding is your style, grab your helmet and head out to Mat Hoffman Action Sports Park—you might even spot a professional! Ranked in the top 10 skate parks in the U.S., the action park is divided into two areas – a flow course with bowl combinations and a street course with ledges and handrails. This 26,000-square-foot outdoor sports park for BMX riders, skateboarders and rollerbladers, is the state's largest and most challenging.
3. Martin Park Nature Center
More than just a park, Martin Park Nature Center is a hub for education and nature exploration for all visitors. Secluded amid 140 acres of lush grasslands, rocky streams and rich foliage, Martin Park Nature Center is an enchanting and exhilarating escape from urban life. More than three miles of trails wander through the wildlife sanctuary and recreational area. The park features a hands-on educational facility, a nature-themed playground and picnic pavilion, a bird observation wall and 12-foot watchtower. Pack a picnic and start exploring!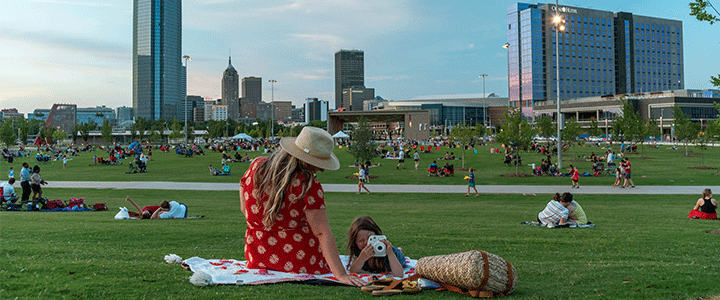 4. Scissortail Park
If the kids are in tow, your first stop should be the Play Pavilion on the east side of the park. The Children's Play Pavilion and Playground offers endless opportunities for play and discovery with geometric dome climbers, a net lens, a large fort with a tower and slides, rope climbers and more. From a roller skating rink and pedal boat rentals on the lake to live music and serine garden spaces, there's a lot to be discovered and plenty of room to spread out at Scissortail Park.
5. Oklahoma City Zoo and Botanical Garden
The Oklahoma City Zoo covers 119 acres and is home to more than 1,900 animals in OKC's Adventure District. One of the many popular attractions at the zoo is the Jungle Gym that offers families a space to gather and participate in creative play. In this jungle haven, you'll find swings for children and parents to swing together, an ADA accessible merry-go-round, an expansive jungle themed-playground and more slides than you can imagine.
6. Memorial Park
This park is centrally located and offers several outdoor recreational options for all ages including basketball goals, a soccer field, tennis courts, a seasonal splash pad, playground, walking paths and a recreation center. No matter your style, Memorial Park offers outdoor fun for all ages.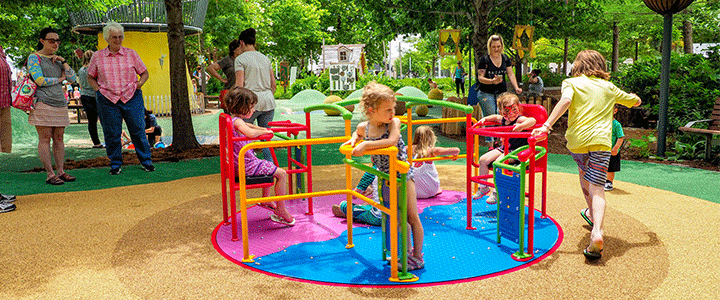 7. Myriad Botanical Gardens
As one of the local favorites on this list, you'll find the downtown crowd dancing in the gardens, walking dogs, sharing a picnic, listening to free concerts and enjoying the beauty of this 17-acre urban oasis for all ages. In the Children's Garden, you'll find a playground and a plethora of seasonally inspired activities and events, including a water feature in the summer and an ice rink in the winter.
8. Earlywine Park
Located in south OKC, Earlywine Park is a pet-friendly, 99-acre outdoor mecca that features tennis courts, a golf course, sports fields, trails, a playground and an aquatic center with several seasonal water activities for the whole family.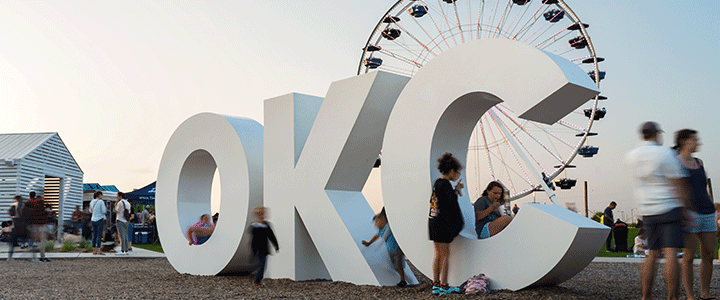 9. Wheeler District
Sitting along the south bank of the Oklahoma River, the Wheeler District is home to the historic Santa Monica Pier Ferris Wheel. The district is also home to several locally loved outdoor events throughout the year. Take a ride on the wheel, snap a photo in front of the giant OKC letters, relax in a hammock, or play a yard game in the expansive green space. The possibilities are endless!
10. Lake Overholser
Looking for a quick getaway outside of the urban core? Get out on the water with a kayak, canoe, or stand-up paddleboard on Lake Overholser (visit this page for boating permit information). Nestled on the west side of Lake Overholser, just a few blocks from the original highway, Overholser's Route 66 Park features a watchtower, a rent-able park shelter, an amphitheater, fishing wetlands, a skate park and its own walkable version of the historic highway. Head directly north of the lake and you'll discover Stinchcomb Wildlife Refuge, a tranquil forested wildlife area with bird-watching, fishing, and hiking and biking trails.
Visit the parks & trails page for more ways to get back to nature while never leaving the city.