Hydrate, grab your running shoes and get ready to run around OKC!
Oklahoma City offers various trails and runner friendly routes. The wind that comes sweeping down the plain provides an extra challenging headwind or a nice breeze at your back. Are you up for the challenge? Here's a list of top running trails and routes according to running enthusiasts about the city.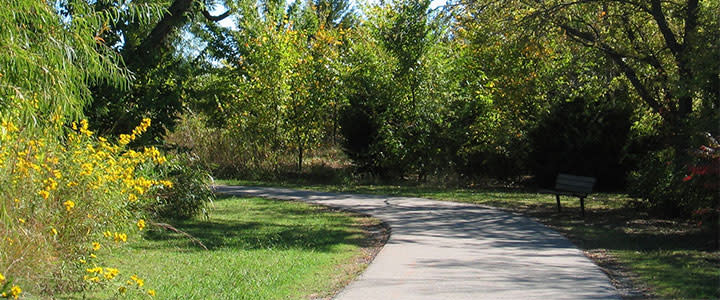 Northwest OKC
Bert Cooper Trails (also known as Lake Hefner Trails)
Between Wilshire & Hefner, just west of the Lake Hefner Parkway
Lake Hefner boasts a 9 mile paved loop around the city's beloved urban lake. As you run you'll likely come across sailboats, fishermen, kite surfers, and stand up paddleboards on the water. You'll share the trail with cyclists, joggers, walkers, and dogs walked on leashes. On the East side of the lake there are various restaurants waiting to serve you post or pre run.  The trail is well maintained and well populated.
Hefner-Overholser Trails
Britton Road & Lake Hefner Drive to NW 39th Street at Overholser Drive
If you're looking to take your run the extra mile hop on the trail connecting Hefner & Overholser Lakes. This trail is mostly paved and protected, with about two miles alongside paved streets. As you approach Lake Overholser keep an eye out for the Hefner Canal goats! They maintain the foliage and are sure to bring a smile to your face. A portion of the trail will take you alongside the beautiful Stinchcomb Wildlife Refuge finally bringing you to the Overholser Trail.
Martin Nature Park
5000 W. Memorial Road
Tucked away just south of the Kilpatrick Turnpike, Martin Nature Park is a sanctuary in the city. As you conquer the 2.5 mile trail system, you may just have a pleasant run in with nature. Keep an eye out for wildflowers, birds, butterflies, deer, foxes, coyotes, owls and armadillos.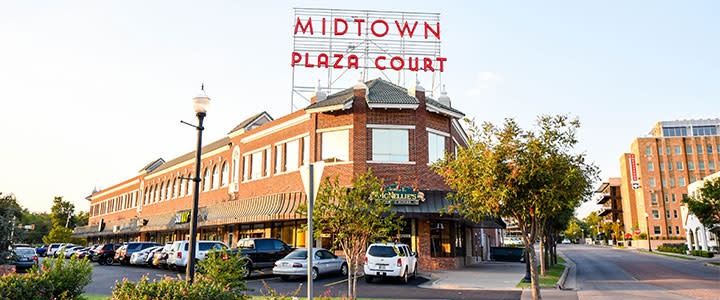 Heart of OKC
Bricktown/Downtown/Midtown
Enjoy the sights and sounds of the bustling Downtown OKC and surrounding area. Be sure to check out the trail systems, but don't run past the opportunity to get a view of our districts and historic neighborhoods.
Bricktown & The Bricktown Canal
NE 1st to OKC Boulevard, EK Gaylord to Centennial Expressway
Take in all that the entertainment district has to offer on foot. The district consists of restaurants, coffee shops, bars, and shopping. The sidewalks are wide enough to accommodate runners and those taking a leisurely stroll. The Bricktown canal stretches 1.6 miles and provides a nice place to enjoy the city views with ambient sounds of people enjoying OKC!
Deep Deuce
NE 4th to NE 1st, EK Gaylord to Centennial Expressway
Looking for some light hill training? The Deep Deuce district, just East of Downtown and North of Bricktown has well maintained sidewalks and a few hills to climb. The area has undergone redevelopment over the last decade. You'll come across some of OKC's great local businesses and hospitality establishments as you run.
Heritage Hills/Mesta Park
North Robinson to Western, NW 13th to NW 23rd
Just north of Midtown you'll find neighborhoods listed on the National Register of Historic Places. The Oklahoma City Memorial Marathon route runs through portions of this neighborhood. You'll run on maintained sidewalks under massive trees that provide shade in the spring and summer, displaying vibrant color in the fall. The homes range from charming to grand, all with characteristics unique to the early 20th century craftsmanship.
Oklahoma River Trails
800 Riversport Drive
The City rejoiced at the completion of the Oklahoma River Trails system! Enjoy 6.5 miles of dedicated trails on the north and south banks of the Oklahoma River (13 miles total). Take in scenic views of parks, wetlands, plants and trees with a grand view of downtown OKC to the North. This trail is multi use. You'll find cyclists, walkers, other runners, dogs on leashes, rollerbladers and skateboarders. You'll run through the Boathouse District, home to the U.S. Olympic and Paralympic Training Site, featuring canoe, kayak and rowing. You'll also encounter visitors enjoying Riversport Adventures on kayaks, whitewater rafts, paddleboards, ropes courses, and climbing walls. Be sure to take the detour for the Skydance Bridge. The bridge provides safe passage over I-40 and dances with color at night. You can't miss the Wheeler District! There you'll find the giant OKC letters and ferris wheel, perfect for a photo op! At the east end, the north river bank meets the Bricktown Canal Trail at Regatta Park. Continue West to meet the West River Trails.
Myriad Gardens
301 W Reno
A 15-acre botanical garden, the Myriad Gardens provides an urban oasis in the heart of downtown OKC. Here you'll run paved paths alongside native plants, a dog park, and families at play. The gardens have stairs and ramps; it's a great place to get your heart pumping.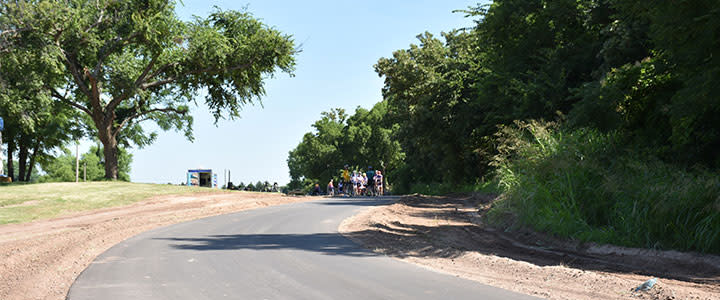 West OKC/I-40 Corridor
Overholser Trail
E. Overholser Drive, NW 39th to NW 10th
The Overholser Trail offers 3.2 miles of paved trail alongside Lake Overholser. This trail is quiet and less trafficked than others. Enjoy a serene run alongside other runners and lake visitors. The West River Trail/Oklahoma River Trail connects to this trail. The Riversport Adventures also offer amenities here.
West River Trail
NW 10th Street west of Council to SW 15th Street at Meridian Avenue
Completed most recently, the West River Trail spans 7.5 miles. The asphalt trails run alongside the Canadian River and is connected to the River Trails by a bridge at Meridian. The trail is multi-use, but often quiet. The trail connects to the Overholser Trail as well.
Visit this page for more information on the virtual OKC Memorial Marathon. If biking is your style, check out the urban biking guide—Tour de OKC.