The Orr Family Farm just launched a glamorous camping getaway unlike any other.  Experience a one-of-a-kind overnight adventure in a historic Conestoga wagon in Oklahoma City. The 13 unique wagons are completely handcrafted in the U.S. and modeled after 19th century pioneer wagons that were used to travel west but with a luxury twist. Sit around a campfire with a small group of close friends or your entire family and enjoy western-style camping in an unforgettable way.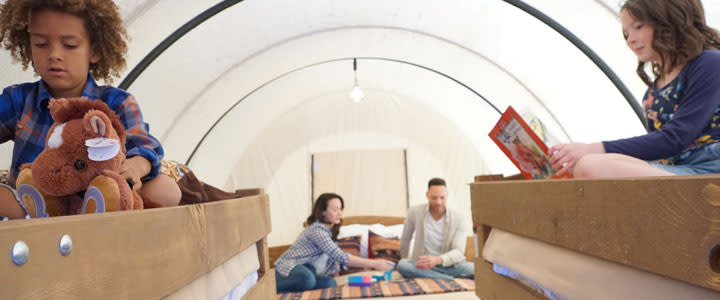 Guests at the Farm can choose between two unique Conestoga wagon experiences. For the campers who prefer modern amenities while camping (the glampers), two packages are available, each with a private bathroom and shower, deluxe mattresses with bedding, temperature-controls, picnic tables, a charcoal grill, and a central fire pit that is topped off with a complimentary s'mores packages. The first glamping package sleeps four people with a king-size bed, a bunk bed and a large table. The second package sleeps six people with a king sized bed and two bunk beds.
For the solely nature adventurers, the camping-style package is perfect for large groups or family gatherings. Each of the eight wagons has eight beds with deluxe mattresses, guests will just need to bring their own bedding or sleeping bags.
The packages are $195 plus tax per night. Additional campers have the option to pitch a nearby tent for $10 per camper.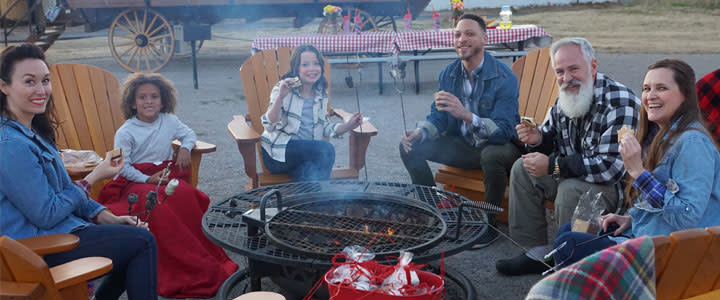 Besides experiencing the magic of the west in the Conestoga wagons, there is still plenty of fun to be had for visitors of all ages. Orr Family Farm features a fully-restored 1974 vintage carousel, a four-lane zip line, pedal boats, human foosball, fishing, pony rides, slides and much more.
This remarkable family-friendly getaway is the only one of its kind in Oklahoma and surrounding areas.  Head out to Orr Family Farm for a refreshing break under the open sky without even leaving the city.