Changes to Oklahoma's alcohol laws last year led to an acceleration of what was already a craft beer boom in the city. With more than 40 licensed breweries in operation or development statewide, OKC is now at the heart of a thriving beer culture. The addition of the streetcar means that accessing an "ale trail" is now easier than ever, but most of the breweries are still "off the rails," so to speak.
Angry Scotsman opened at the end of 2018, and while the full facility is not yet complete, a pop-up taproom is open every weekend, Friday-Sunday, with six taps. Angry Scotsman focuses on traditional if lesser-known styles, but we expect a wider range of options when the facility is at full capacity.
Local Favorite:
Gateway to Helles. A crisp, clean, approachable German lager with low ABV and superb balance. Makes a fantastic introduction to the Angry Scotsman's style.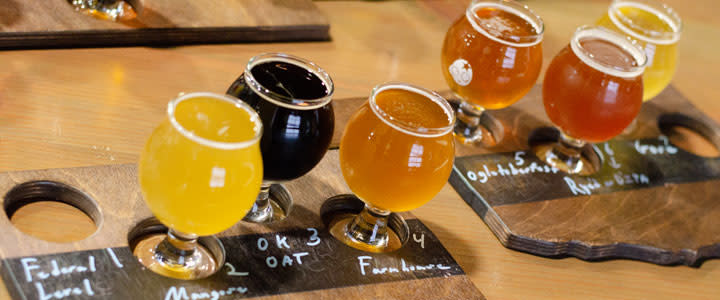 Anthem Brewing Company. One of the more established breweries in the city, Anthem focuses on traditional styles and approachable beers. The taproom is open seven days a week, and there are typically 4-6 seasonal or limited release beers on tap in addition to the core beers.
Local Favorite:
OK Pils. A clean, refreshing German pilsner that makes for perfect everyday drinking. This is the one you choose to convert your macrobrew-drinking friends.
The Brewers Union is a little off the beaten path, but having four breweries under one roof makes it worth the trip. The first class of brewers "graduated" in 2018, and the new group features Crossed Cannons, Cross Timbers, Mad Hopper and Skydance. The taproom is open Monday through Saturday and includes beers from all four brewers, allowing you to sample the city's newest brewery startups.
Local Favorite:
These guys haven't been around long enough to form an opinion yet, so enjoy the adventure!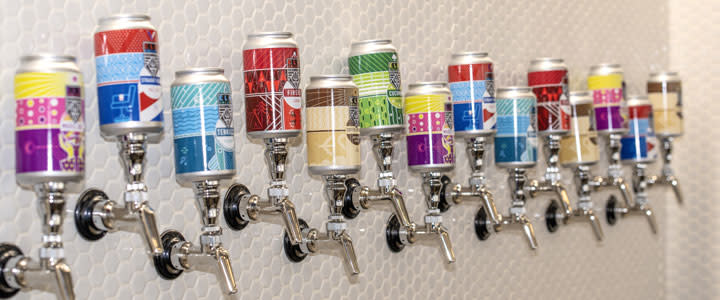 Elk Valley is the newest taproom in the downtown area. Located in Midtown, Elk Valley has a rooftop patio with a tremendous view of the downtown skyline. The streetcar stops right next to the taproom, which is open seven days a week. Expect traditional styles and at least one barrel-aged brew on tap.
Local Favorite:
Magic Juice. A ton of citrus makes this Northeast-style double IPA very drinkable and keeps the three different hops from making it a bitter bomb. Relatively high alcohol at 8 percent, but doesn't mar the mouthfeel or taste.
COOP Ale Works is the pioneer in Oklahoma City craft brewing. The company has redefined itself over the past decade, but the core beers remain the same. The company will move to a new home in 2020—the old NE 23rd Street Armory just east of Uptown 23rd. The 87,000-square-foot building will house all of COOP's brewing operations, a taproom, a hotel and mixed-use space for retail and restaurants. The current taproom is open Wednesday through Saturday with all their core beers on draught, as well as limited releases like their popular Territorial Reserve line.
Local Favorite:
DNR. A Belgian-style strong dark ale, with a nutty, malty, sweet character and 10 percent ABV (so be careful).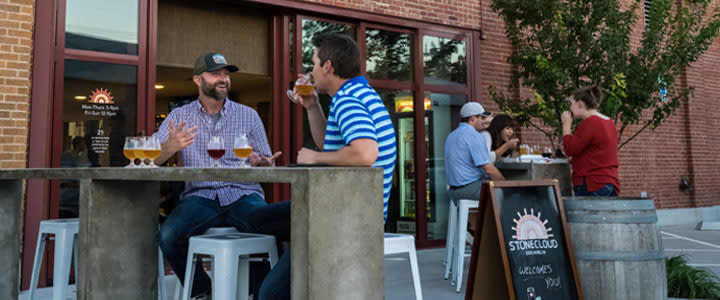 Stonecloud features two Avery Brewing Company veterans, making some of the state's very best beers. With a state-of-the-art taproom and an eclectic menu combined with the beautiful, historic Sunshine Laundry building as its home, Stonecloud is one of the most popular beer meccas in the city. The taproom is open seven days a week, with three year-round beer and a dozen "rotators," including some of the most creative sours and stouts you're likely to find anywhere.
Local Favorite:
Neon Sunshine. The addition of tangerine peel to this traditional Belgian Wit-style brew makes for an interesting citrus twist. The 5.5 percent ABV means it's also a quaffable session beer.
Vanessa House is located just off Automobile Alley, making it convenient to the streetcar. The five owners—all friends from college—lived in a house on Vanessa Street while at the University of Oklahoma, thus the name. The taproom has twelve taps, four of which are their core beers. The other eight feature one-offers, seasonals and "whatever the guys are thinking about." The taproom is open seven days a week, with occasional food trucks out front.
Local Favorite:
11:09. This blackberry Berliner-style kettle sour is a rush of fruit and just the right amount of pucker. It's as delicious as it is beautiful, and if you've never had a Berliner, this is where you should start.