Oklahoma City isn't just a great place for families to visit, eat and explore - it's also perfectly fantastic for Fido too.
Famous for its dog-friendly parks, restaurants, hotels and events, Oklahoma City is dog-friendly and doggone fun for furry family members too.
EATING OUT
You'll find a plethora of eateries in Oklahoma City where your dog is welcome, and some even have special menus or treats just for canine cuisine.
More than 121 pet-friendly restaurants that welcome dogs at their outdoor tables are located throughout the city. Most allow dogs on patios, but some welcome pooches inside as well.
Fassler Hall, located at 421 NW 10th Street, is an authentic German beer hall famous for its duck fat friees, brats, schnitzels and German beer.
The beer garden has a vast outdoor space with a ton of dog-friendly tables where your companion can share your house-made sausages and brats. Fassler Hall is open from 11 a.m. to 2 a.m. seven days a week.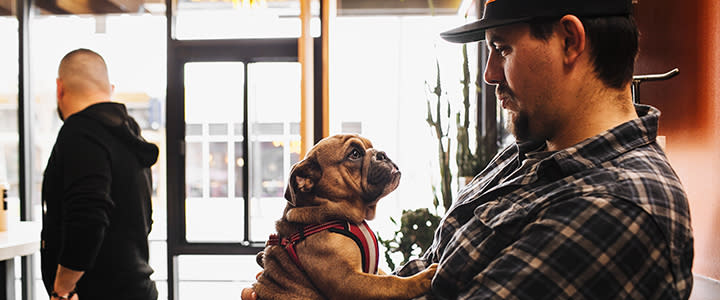 Waffle Champion at 1212 N. Walker Avenue is a neighborhood favorite, serving up classic waffles, chicken and waffles, waffle fries and more. The sweet stop has five dog-friendly tables and is open from 7 a.m. to 2 p.m. Tuesday through Sunday with a late-night window open until 2 a.m. on Fridays and Saturdays.
If you and your dog are more into casual burgers and beers, then stop off at The Garage Burgers and Beers, located throughout the city, and S&B Burger Joint, also with multiple locations. Your pup will enjoy the outdoor patios while you can sample burgers and sliders with some of the most unique toppings offered in the city.
Elemental Coffee at 8:15 North Hudson is a popular coffee spot that serves up healthy breakfast and lunch options. The five dog-friendly tables outside lets you people watch while sipping a classic espresso or munching down on a Rico Suave sandwich made with pork carnitas, fried egg, grilled queso fresco, roasted poblanos, avocado, and chipotle mayo.
If pizza is more your thing, then the Wedge Pizzeria and Empire Slice House are not to be missed. The Wedge, located at 230 NE 1st Street and 4709 N. Western, has large dog-friendly patios while Empire at 1804 NW 16th St. has several dog-friendly tables outside.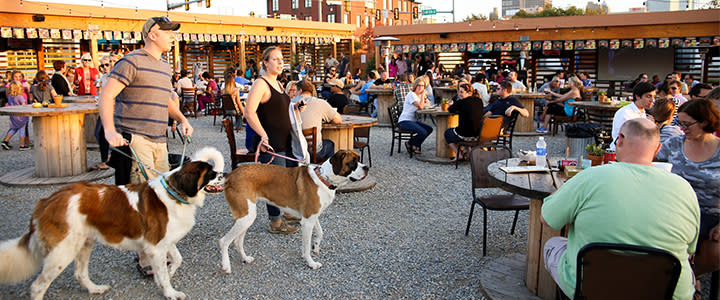 Don't forget the dog-friendly bars in Oklahoma City either! The Pump Bar, The Jones Assembly, Stonecloud Brewing, Bleu Garten, Social Deck + Dining, among so many others, all welcome Fido while you enjoy a cocktail or a beer.
PET-FRIENDLY HOTELS
Plenty of hotels in Oklahoma City welcome your beloved pets and many have special treats for them as well. The 21c Art Museum and Hotel in downtown Oklahoma City was the former home of a Ford Motor Company assembly plant, which dates back more than a century and is listed on the National Register of Historic Places. It has pet-friendly rooms available and a great art gallery to boot.
Other pet-friendly places to rest in downtown include the historic Colcord Hotel, the legendary Skirvin Hilton Hotel, The Aloft in Bricktown, The Renaissance Oklahoma City Convention Center Hotel and Homewood Suites by Hilton, just to name a few.
DOG PARK DELIGHTS
The great outdoors and vast sunshine can make Oklahoma City a fun place for your furry friend. The Oklahoma City Parks and Recreation has a playground for pups at the PAW Park at 3303 NW Grand Blvd. With two acres of off-leash play space with separated spaces for large dogs and small dogs, this dog park a place to romp in the sun.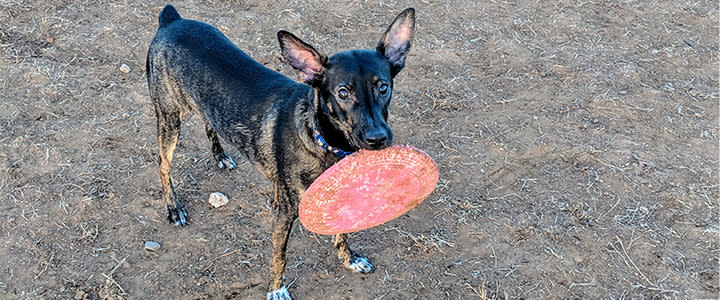 The PAW Park is such a favorite for dog lovers that it even gained national accolades. Dog Fancy, the world's most widely read dog magazine, announced its picks for its annual America's Best Dog Parks contest, and PAW OK was ranked one of the top 13 in the United States.
The Midtown Mutts Dog Park is one of the city's newest parks. Located at 407 W. Park Place, it is a smaller park designed to give area apartment pups a way to get out and play, but it's in easy walking distance to a lot of great dog-friendly patios and businesses.
The Myriad Botanical Gardens in Oklahoma City also offers a small off-leash dog enclosure on the southeast side of the grounds. With the exception of PAW Park and Myriad Gardens Dog Park, all dogs must be on a leash when in city parks.
Visit this page for urban parks & trails in OKC.