Oklahoma City is where authentic Western heritage meets thriving modern metropolis.
Whether you show up in cowboy boots or a business suit, there's more common ground in Oklahoma City than you might think. Although it's hard to fully experience the city's rich culture in just one weekend, here are some recommendations for ways to spend 48 hours in the Modern Frontier and make your trip exactly what you want it to be. 
Day One
Where you stay sets the tone for the whole trip. From a restored motor inn to glamping under the open sky, there's a wide variety of unique lodging experiences and historic hotels in OKC.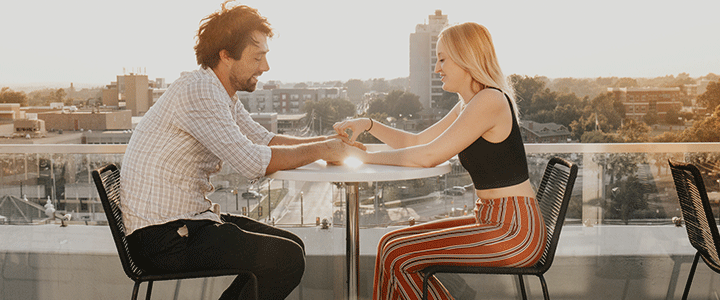 If you choose to stay in Midtown, the Ambassador Hotel will welcome you with one of the best views of Oklahoma City's skyline from the rooftop bar, O Bar, as well as excellent accommodations and a fabulous on-site French-style bistro, Café Cuvée. 
Located in the hub of downtown OKC, the Skirvin Hilton is a sophisticated hotel with luxurious amenities, comfortable furnishings and beautiful décor. The Skirvin Hilton features a charming on-site restaurant and a lavish cocktail bar where you can enjoy live music a few nights a week. The Skirvin is just a few blocks from the Bricktown Entertainment District where you'll find OKC's nightlife hub.
From the Skirvin, the Oklahoma City Museum of Art is only a short walk or streetcar ride away. At the museum, you'll find three floors of traveling installations and permanent exhibits, including one of the largest collections of Dale Chihuly glass in the world and the renowned Samuel Roberts Noble Theater that screens international, independent, documentary and classic films year-round.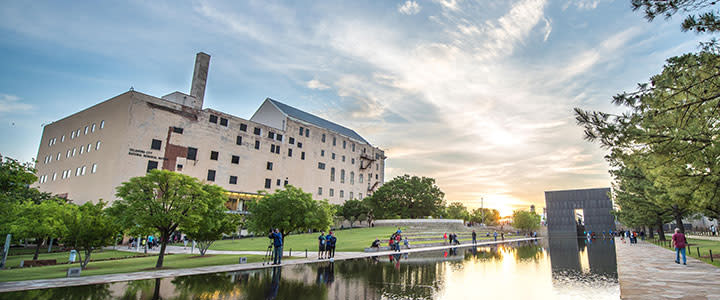 The Oklahoma City Museum of Art puts you just a short walk (less than five minutes) or one streetcar stop away from the Oklahoma City National Memorial and Museum. Yes, the topic is a heavy and tragic one, but you will be amazed at the beauty the city has managed to reclaim in order to pay tribute to the victims and survivors, honor the volunteers and first responders and celebrate our city's resilience and determination. In honor of the 25th anniversary of the Oklahoma City bombing, admission is free on the 25th of every month this year. Access to the Outdoor Symbolic Memorial is always free.
From the Memorial, you can walk over to Automobile Alley, just two blocks east, and spend the afternoon in one of our city's original districts. Shop for souvenirs at Plenty Mercantile, Shop Good and Tin Lizzies then grab a snack at the Parlor, the district's newest culinary concept and food hall. For stronger libations, check out Sidecar Barley & Wine Bar or head to Waters Edge Winery for more than 50 different locally-made fine wines. As you explore Automobile Alley, keep an eye out for a vibrant building with an iconic boom box outside. Although the inside of Factory Obscura's Mix-Tape is temporarily closed, the outside of the immersive art exhibit is one of OKC's most Instagramable spots and it's worth the stop. Tip: press any button on the boombox and watch what happens next.
For dinner, Vast is a must. The wine list is spectacular and the view is even better. As OKC's leading AAA Four Diamond restaurant, Vast offers fresh fare and inventive cocktails. Dressed casually for summer? Don't worry about it. You don't need a tie and tails to dine at Vast, but the dress code does exclude ripped or torn clothing, gym wear and ball caps. Dine 726 feet up in the Devon Tower and raise a toast to the best view in OKC.
Day Two
On day two, start with breakfast at Oklahoma's oldest continually operated restaurant—Cattlemen's Steakhouse in Stockyards City. The diner by day-steakhouse by night concept has been around for more than 100 years and celebrities like John Wayne and Ronald Regan have dined there. Locals especially love it for breakfast—steak & eggs and chicken-fried steak & eggs are two of the favorites. You'll need to work off the food, so day two involves one of our most adventurous attractions in the Boathouse District.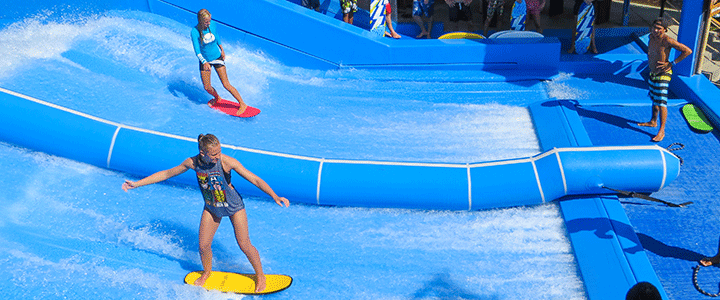 One of the city's premier destinations is the Boathouse District, located along the Oklahoma River. Even if you aren't a world-class athlete, you can find something fun within your physical abilities at the $45.2-million whitewater rafting and kayaking center. Rent paddleboards, kayak the river, hit the zipline, brave the whitewater rapids, or just take a walk or run along the river's edge. Keep an eye out for Surf OKC opening later this summer!
Escape to a tropical oasis in downtown OKC. The beautiful Myriad Botanical Gardens features a wide variety of beautiful plants, music stages, a children's garden with interactive features, a splash pad and a beautiful lower "pond" with koi, duck, geese and water plants. The Myriad Botanical Gardens outdoor grounds are always free but you can also buy a ticket to explore the Crystal Bridge Conservatory, home to thousands of tropical and desert plants, a waterfall and two climate zones. After an evening stroll through the gardens, make the short walk to Scissortail Park to catch one of OKC's show-stopping sunsets. 
Finish up the night with an unforgettable dining experience at Grey Sweater. Each night, Chef Andrew Black crafts a rotating, three-tiered tasting menu that highlights the freshest and most unique flavors from all over the world. Dinner spots fill up quickly so be sure to make a reservation before you visit. For after-dinner drinks, stop by Ludivine then head next door to R&J Lounge & Supper Club for perfect classic cocktails. You'll fall in love with all that OKC has to offer!