Oklahoma City's origin story is as complex and interesting as the diverse food scene you'll find today.
Food writers and adventurous eaters have gradually become more cautious about using the word "authentic" to describe food, especially food from different ethnic groups or nationalities. As writer and food expert Gustavo Arellano pointed out in a recent interview, "Just because it's 'authentic' Mexican food doesn't mean it's good. Authentic might just mean it's awful food but made by someone from that place."
The caveat is important. Everyone's parent isn't a great cook, wherever they're from, but the food is authentic, so authenticity probably isn't a good standard anyway. Arellano talks about "traditional" a lot in his writing, and that's the best place to land, but what is important for a guide to food in a city is to note that these traditional foods become part of the overall landscape of a place; they become a part not just as "ethnic" food but as staples in the diet of the people in that place.
Because of the Land Run and subsequent immigration, Oklahoma has nothing we can point to and call "Oklahoma food" -- unless it's pre-Colombian dishes from indigenous people. That's one of the strengths of our food scene: hang around long enough, make good food, and we'll say it's local food, because it is, and it contributes to our set of wonderful, complex, exciting and adventurous options. Our staples are drawn from menus and spice cabinets of the East Coast, Deep South, Texas, New Mexico and Mexico, Vietnam, Lebanon and Laos, Guatemala and Honduras, etc. When people come to a place, they bring their food with them, or at least their recipes, and some of their parents are and were great cooks. We're happy to add them to our menu of local staples.
The heaviest cluster of local restaurants are within the urban core, a roughly three-mile by one-mile rectangle with downtown proper as the center of the south edge. But as is often the case in cities with plenty of land, great local restaurants are scattered in every direction, including our Taco Trail southwest of downtown. For the truly adventurous, simply type "tacos SW OKC" into the search engine, and enjoy the moveable feast. For everyone else, we have suggestions, but we'll start with what Oklahoma is mostly known for.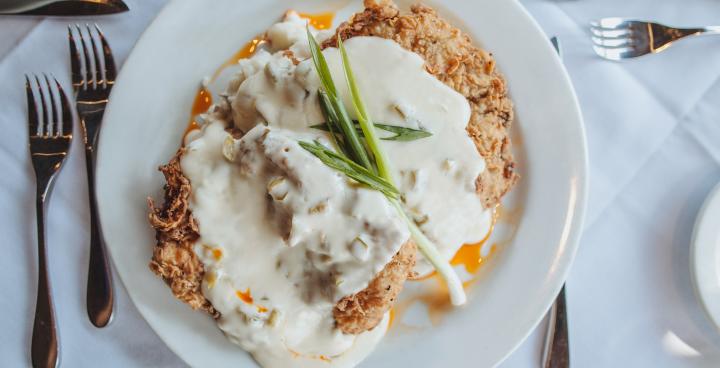 The chicken-fried steak with jalapeño cream gravy at Cheever's Cafe has been on every local's must-try list for 20 years, primarily because it deserves to be. Huge portions of beef with mashed red potatoes covered in white gravy means it's dinner for two, or three honestly.
The burger at Bar Arbolada went from a classic burger that a few people knew about to a burger that everyone wants, and it took less than a year. Owner Riley Marshall crisps the edges on the flat-top, and then adds cheese if you want it, pickles, finely diced onions, ketchup and mustard. It's burger magic, and since you're getting it in one of the city's best bars, have a house beer, glass of wine or cocktail with it.
One of the city's best biscuits (with or without gravy) is at Stella Modern Italian. Yes, an Italian restaurant. It's on the brunch menu, and it's so delicious that you'd be happy eating with no accompaniments, but get the bacon-jalapeño gravy anyway.
Clark Crew BBQ is where you'll find Jack Daniel's Barbecue champion Travis Clark overseeing some of the city's best barbecue. The brisket, ribs, burnt ends and beans have all won championships, and his house beer is only available in the restaurant. He'd be happy if we told you about his friends at Edge Craft BBQ (get the sausage) and Jo-Bawb's BBQ (get the ribs). Basically, you have great choices here.
Frida Southwest features the combined efforts of Chef Quinn Carroll and pastry Chef Rachel Porter to serve some of OKC's premier food - in this case Southwestern cuisine -- in one of its most beautiful spaces. Don't leave without trying something from the seasonal menu, a tamale and the Mexican hot chocolate cheesecake. Excellent options abound for vegetarians and vegans.
Head over to Scratch Kitchen & Cocktails to find the purest evolution of Okie-centric food crafted by Chef Zach Hutton who delivers farm-fresh food inspired by his childhood in Apache, Okla. You'll find okra, peaches, pork dishes, smoked fried chicken, trout, heirloom tomatoes and beef, of course, served in ways you've never seen it, and it's all delicious, including the cocktails.
For more Okie influence, The Hamilton Supperette & Lounge is casual fine dining with a brilliant bar program, a stunning lounge, mind-blowing desserts and hearty Oklahoma dishes like quail, pork chops, salmon, chicken succotash stack and ribeye. Also a hotspot for local vegetarians.
Mahogany Prime Steakhouse is one of our standout prime steakhouses -- we have seven -- and the service, wine list, steak and sides are all stellar. This next bit is important: get the lobster cargot.
When Vietnamese refugees started moving to OKC in the late 1970s, one of the first things they did was open pho restaurants. The delicious noodle soup can now be found all over the metro, but the Asian District had it first and still does it best. Pho Cuong, Pho Lien Hoa (cash only) and VII Asian Bistro are just a few of the options close to downtown. They're all very vegetarian and vegan friendly.
You can find Guatemalan cooks in the majority of OKC kitchens, but you can also try stellar Guatemalan food at Cafe Antigua. Best known for their breakfasts, you can choose from traditional items like motuleños and machaca or go with more familiar options like chilaquiles or carne guisada. For the truly adventurous, head over to Tienda Guatemala for outstanding rustic cuisine, but you'll need cash.
Lao food has been in the state almost as long as Vietnamese food. James Beard Award-nominated Chef Jeff Chanchaleune opened Ma Der in 2021, and it features his very traditional take on Lao dishes like larb, papaya salad and mushroom stew, but the nam khao is the star. Head over to Four Js for larb, or grab the city's best egg rolls at Queen of Eggrolls.
Back to tacos. Trompudo's Tacos opened in 2021, too, and owner Lupe Garcia, who grew up in the TexMex side of the food industry, has turned his attention to Mexico City cuisine. It's fair to call his the best al pastor in the city -- he does it trompo style as is traditional -- but he also does outstanding suadero and asada.
The first Lebanese immigrants arrived in the late 19th century, so "Mediterranean" food has been a staple here for nearly 140 years. Oozie Mediterranean serves the most traditional version, and you'll definitely want stuffed eggplant and the cabbage rolls, but you can find delicious options at Jamil's Steakhouse -- our last Lebanese steakhouse -- Nunus's (get the hashwa), and Mediterranean Imports, Deli & Gastro Goods, where everything is delicious.
Chef Jonathan Krell serves up memorable Italian at Patrono, but it's important to note it's a modern approach, not rustic. Still, the pasta, chops, seafood and steaks are all excellent. For a more country/rustic take, Gabriella's is a local favorite.
The city's soul food is on the northeast side, and Florence's has been doing it well for 70 years. Yammed fried chicken, neck bones, Southern fried chicken, cornbread and pear pie are all on the menu, and all done expertly.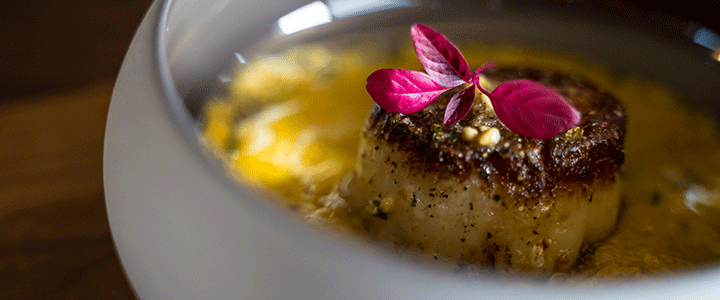 Finally, the pinnacle of OKC dining is Chef Andrew Black's Grey Sweater. It's a beautiful, elegant tasting menu restaurant with exceptions food and cocktails in an environment designed to be an experience more than a meal.