Spring Break Planning Guide
From family-friendly fun for all ages to a much needed relaxing getaway, Oklahoma City has everything you need for the ultimate Spring Break vacation. With so much to see, do and taste, you won't be disappointed with all OKC has to offer.
Adventure District

Like its name suggests, endless adventure awaits in OKC's Adventure District. From cowboy culture and wild encounters to mad scientists and horse racing, who knew you could fit so much fun within just one mile of another?
Oklahoma City Zoo and Botanical Gardens
Oklahoma City meets Asia in the new 14.5-acre exhibit. Sanctuary Asia offers food service in the two-story Lotus Pavilion so guests can dine adventure style with stellar views of the red panda, tanuki and Komodo dragon.
Get up close and personal with some of OKC's wildest residents with the Zoo's "Wild Encounters" experience, attractions, and rides.
National Cowboy & Western Heritage Museum
Spring Break at the Cowboy Museum is full of family-friendly activities inspired by the museum's current exhibits. The newest exhibit, Prosperity Junction, allows visitors to authentically experience what it would be like to live in a turn-of-the-century western town. This town replica includes its own social elements such as schools, residences and businesses.
Boathouse District

Spend a day on the Oklahoma River at our world-class urban white water rafting facility, RIVERSPORT Rapids. The entire family can enjoy whitewater rafting, kayaking, adventure courses and so much more! RIVERSPORT offers varying levels of difficulty, allowing both first-timers and experienced rafters of all ages to participate. Whitewater rafting and kayaking will be available on weekends from March 16-May 19, 11-5pm.
Bricktown

Oklahoma City's hotspot for entertainment is a favorite for both locals and visitors alike. From cruising down the canal on a Bricktown Water Taxi ride to a game-filled afternoon at Brickopolis, there is no shortage of activities for a day out in Bricktown.
Downtown

Oklahoma City's downtown is full of arts, culture and family fun. Catch a show at the Civic Center, channel your inner artist at the Museum of Art or take a stroll in the Myriad Botanical Gardens. Whatever you're in the mood for, you're sure to find it downtown!
With warm weather on its way, the Myriad Gardens is the best way to enjoy a spring day. The focal point of this spectacular oasis is the Crystal Bridge Conservatory that spotlights a large cascading waterfall as the centerpiece. The 13,000 square foot gardens include two distinct climates in the display, featuring 2,000 varieties of plants and extending over 15-acres.
Oklahoma City Museum of Art's exhibit, "Off the Wall: One Hundred Years of Sculpture" will be on display all Spring Break long.
The highly anticipated exhibit, Photographers of the West, brings works by Ansel Adams to OKC. The exhibit that includes 40,000 photographs inspired by environmental movements will be in the city from February 1-May 26.  
Check out the Museum of Art's long-serving art installation of glass and drawings by Dale Chihuly, his largest permanent collection in the world. The 55-foot exquisite glass tower represents over three decades of his finest work and can be viewed in the Museum's atrium.  
Experience Broadway's hit new musical: A Bronx Tale. This slick, high energy show will be at the Civic Center Music Hall from March 5-10.
Get ready for a night of laughter during Waitress, a modern show with music by Sara Bareilles. Catch this musical before it's gone on March 24!
Midtown

The perfect mix of retail, restaurants and recreation.
When the weather is nice, round up the family and hang out at Bleu Garten, Oklahoma City's open-air food truck park. With lawn games, several large TV's and a rotating lineup of food trucks, Bleu Garten is the perfect place to soak up some sun and grab some delicious food truck fare. Plus, adults can enjoy their full-service bar.
Ready for a blast from the past? Reserve a lane at the Dust Bowl, Midtown's 12-lane bowling alley with retro décor.
Spend time shopping in midtown's hottest boutique stores. The Black Scintilla is a boutique for all ages, including your furry best friend. The novelty gifts, local vendor items and clothing for kids, make it the perfect one-stop shop for the whole family. Mode is the hottest new women's boutique in Oklahoma City. Their fresh looks and modern style have landed them a spot as OKC's "best women's clothing store" for two years running.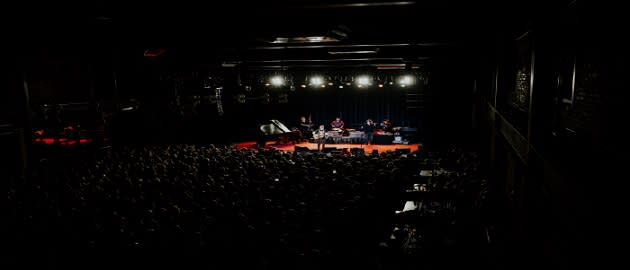 Live Music
From pop to acoustic, OKC is the go-to destination for concerts this Spring Break.

<div id='woobox-root'></div>
<script>(function(d, s, id) {
var js, fjs = d.getElementsByTagName(s)[0];
if (d.getElementById(id)) return;
js = d.createElement(s); js.id = id;
js.src = "https://woobox.com/js/plugins/woo.js";
fjs.parentNode.insertBefore(js, fjs);
}(document, 'script', 'woobox-sdk'));</script>

<div class='woobox-offer' data-offer='9b8m22'></div>